Today's artist creates beautiful textured landscape paintings inspired by her love for the bush. Elle Pervez from Living Small, paints with passion and joy which shines through in her gorgeous art.
We were thrilled to sit down to chat with this up and coming contemporary landscape artist.
Related article: Aiai Zhang: The contemporary watercolour artist behind Breezy Bird Studio
Related article: The vibrant colours and intricate details from landscape architecture artist Nate Hornery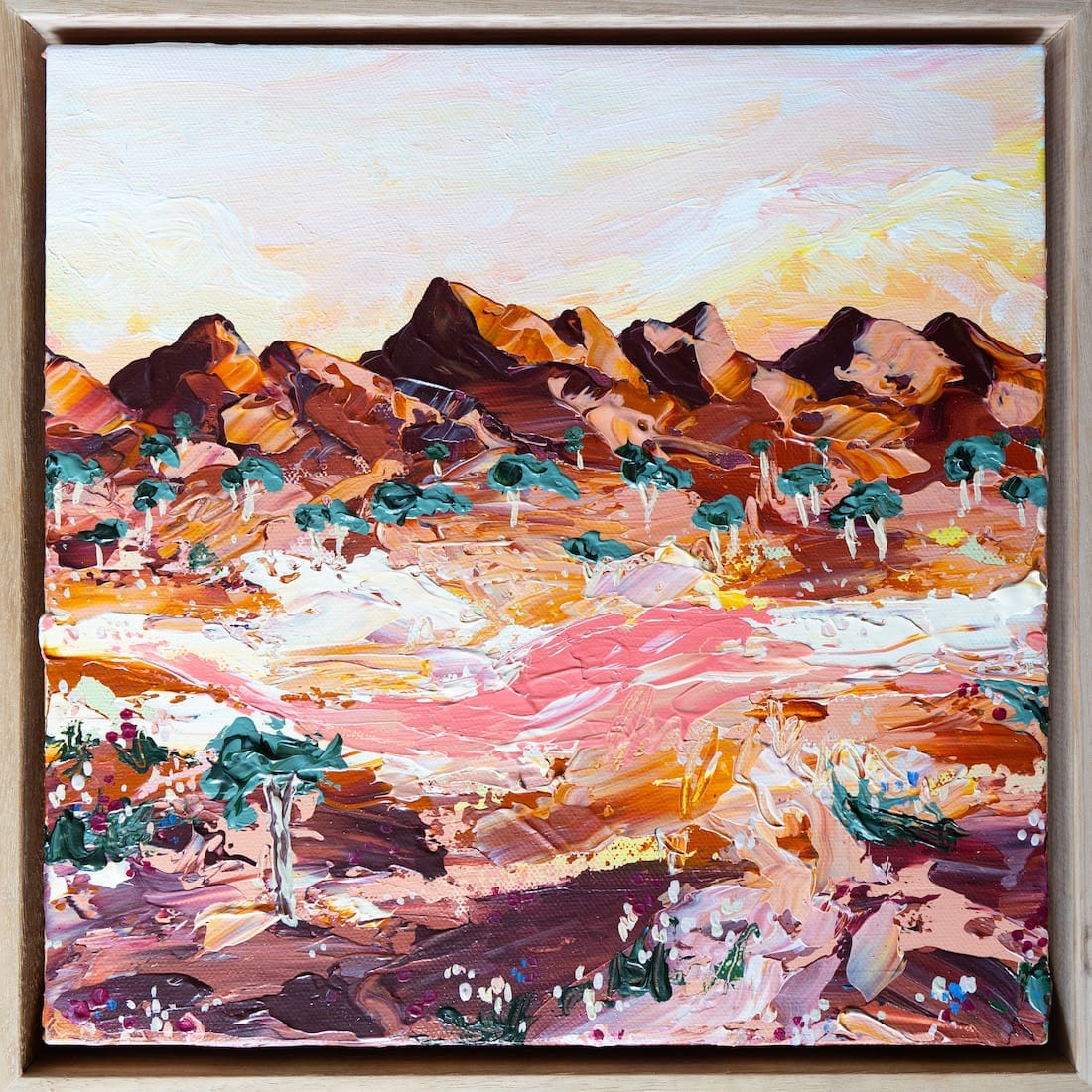 A country girl at heart, Elle is inspired by nature — especially the bush and outback Australia.
"I recently moved from Canberra to Melbourne to live closer to my sisters. I made the move with my husband and 3 year old daughter, Zoya Frida — Frida for the amazing artist herself. Zoya often features in my art photography which I love, and so does she," Elle smiles.
"My art practice is a part of her life — you'll often see my artworks showcased with a side of toddler chaos!
"The country is really in my heart. I grew up between a farm near Forbes, NSW and remote communities in Arnhem Land in the NT. This started me on a love affair of wide open spaces, distant horizons and endless skies.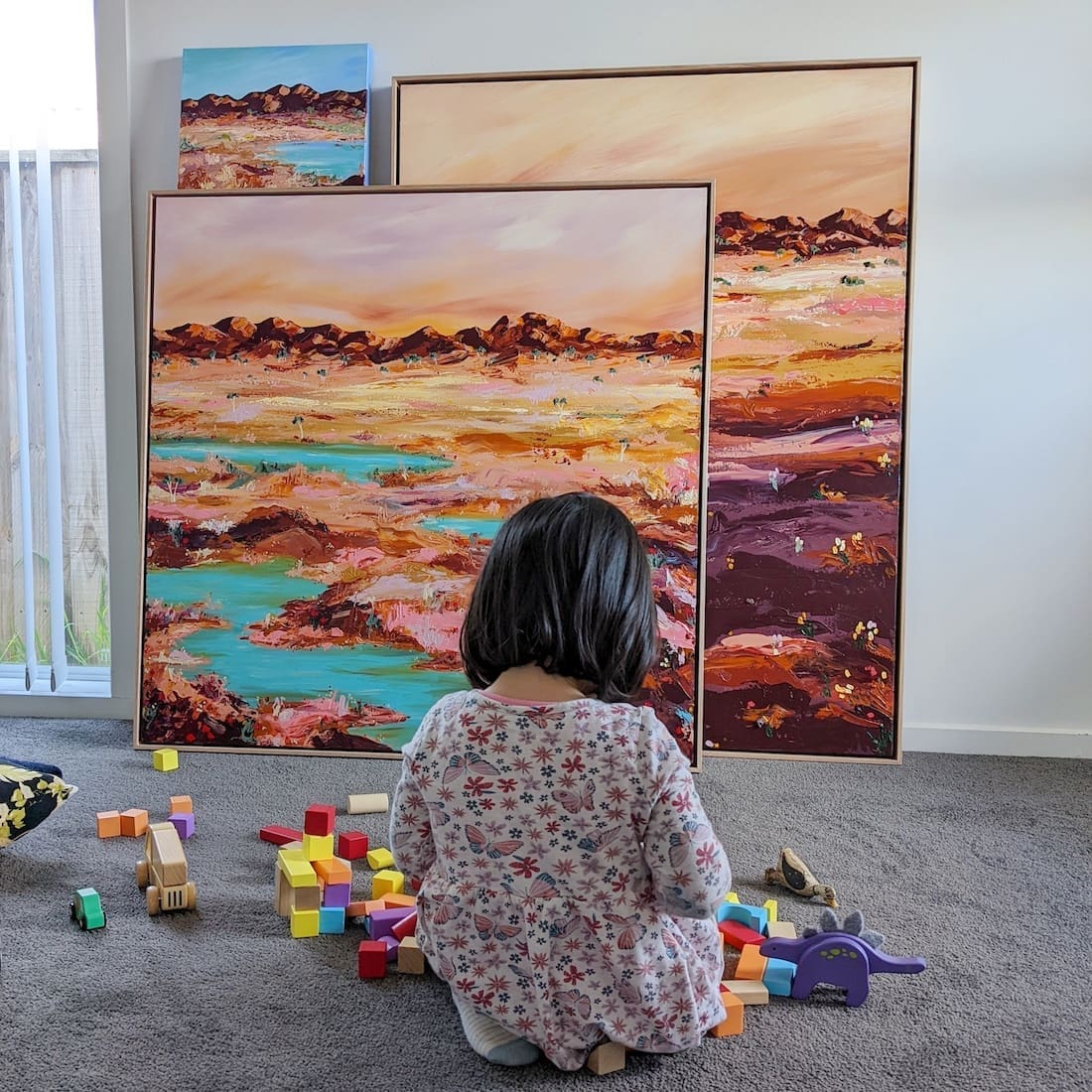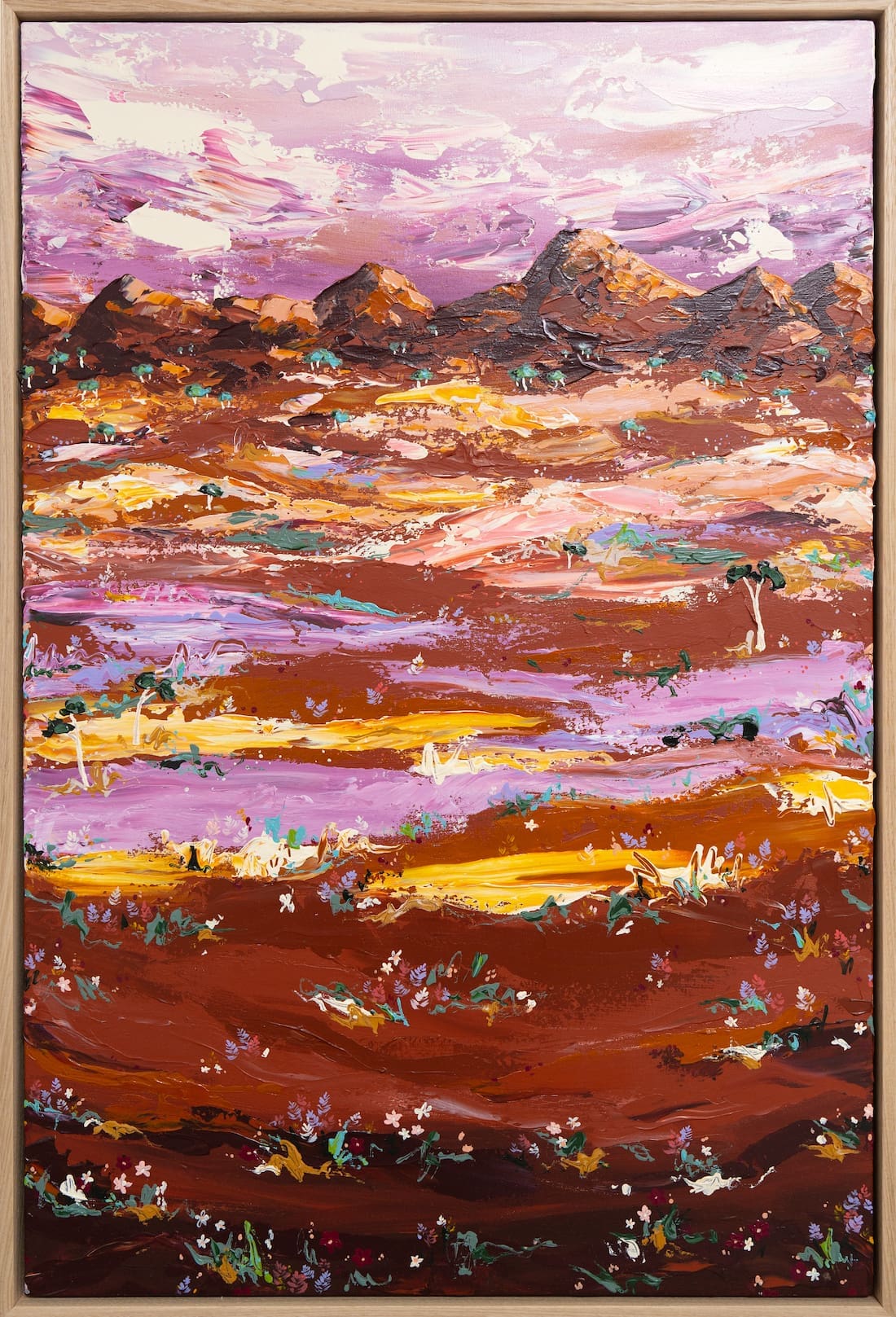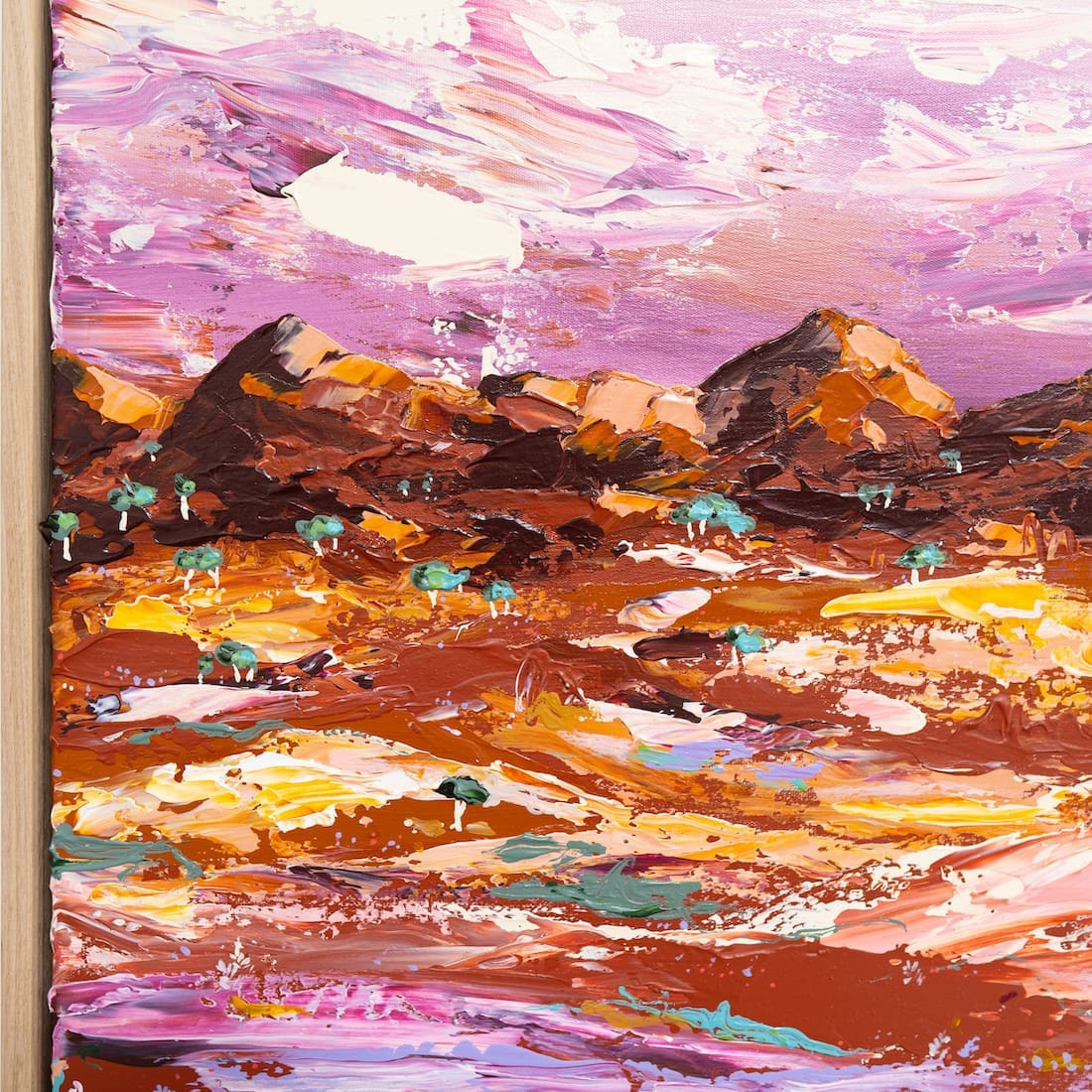 It wasn't until her husband gave her the gentle push she needed that Elle began sharing her textural landscape paintings with the world.
"Art is currently my side hustle," Elle says. "But I would sincerely love to turn it into a full-time job, and I am working towards that.
"It's a bit of a juggle at the moment with another full-time job, being a mother and life in general!
"I'm the daughter of an artist so have always been creative. I've been painting ever since I can remember! I really only began selling my art when my husband announced that we didn't have enough wall space to keep hanging it all!
"From there, I started selling on Instagram, then slowly through various stockists and galleries. It's really exciting — I have my own website now and stock my Mum's gorgeous art there too. It's been a satisfying journey and I have learnt a lot!"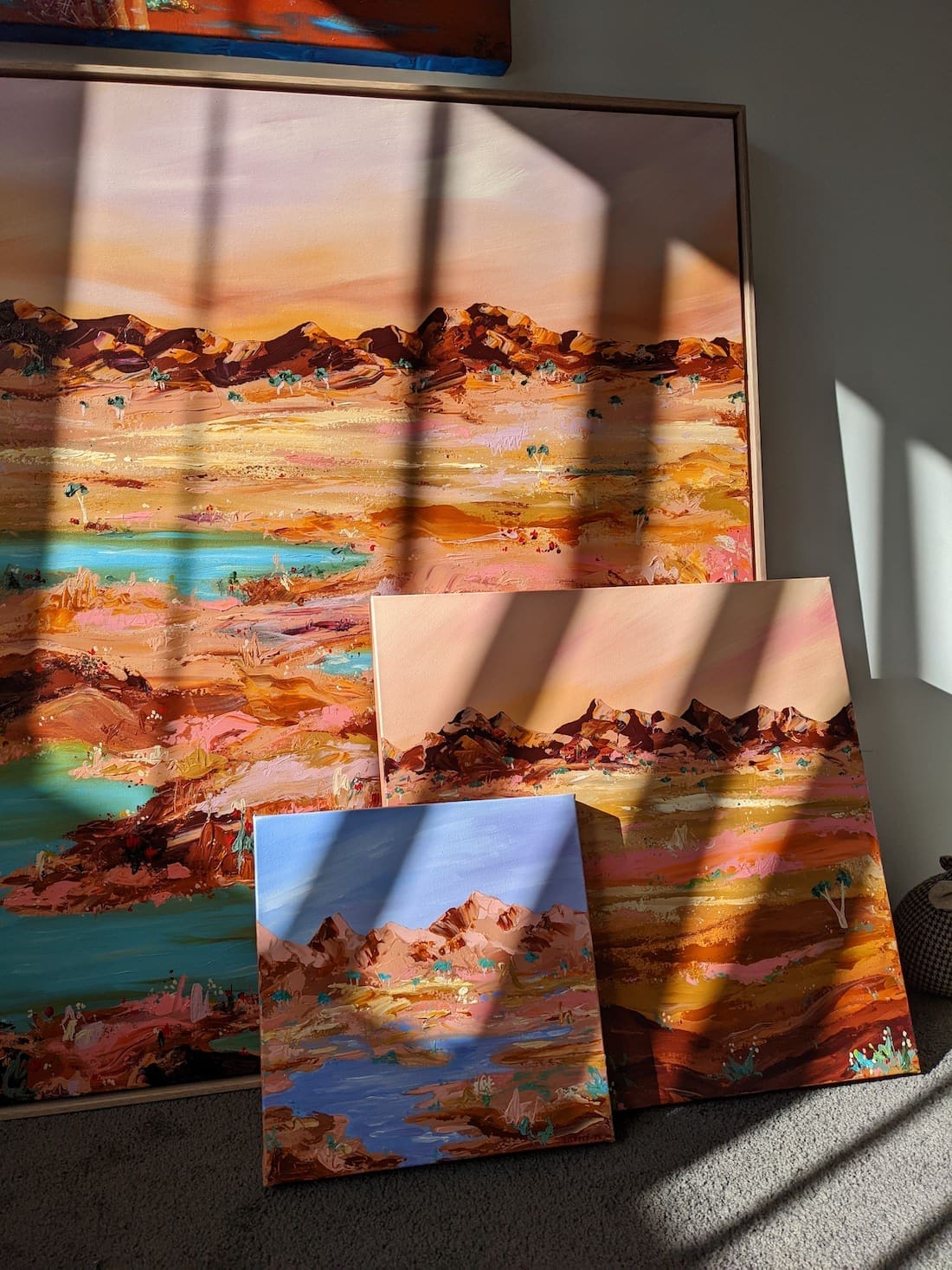 Elle's paintings have a distinct landscape feel to them. Sometimes with a side of florals.
"My first love is landscapes, and I must admit, I often find florals a challenge… a satisfying one though!
"Growing up in rural settings has had an impact of where I feel most at home — always the bush," says Elle fondly.
"I love the stark desert landscapes and skies that go on forever. And all things country just give me a beautiful sense of nostalgia.
"When I do tackle florals, it's often in the theme of roadside wildflowers I recall collecting as a kid on the farm, or tropical hibiscus from memories of Darwin holidays. I guess I just paint the things that stole my heart!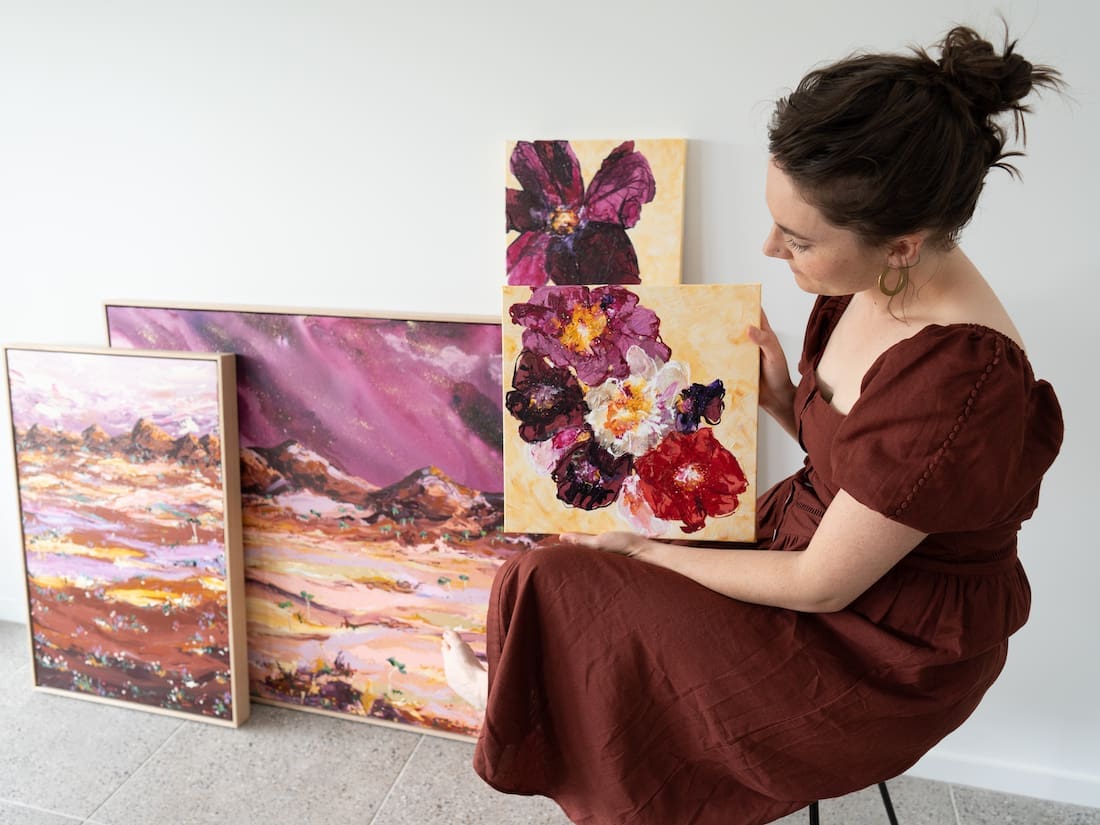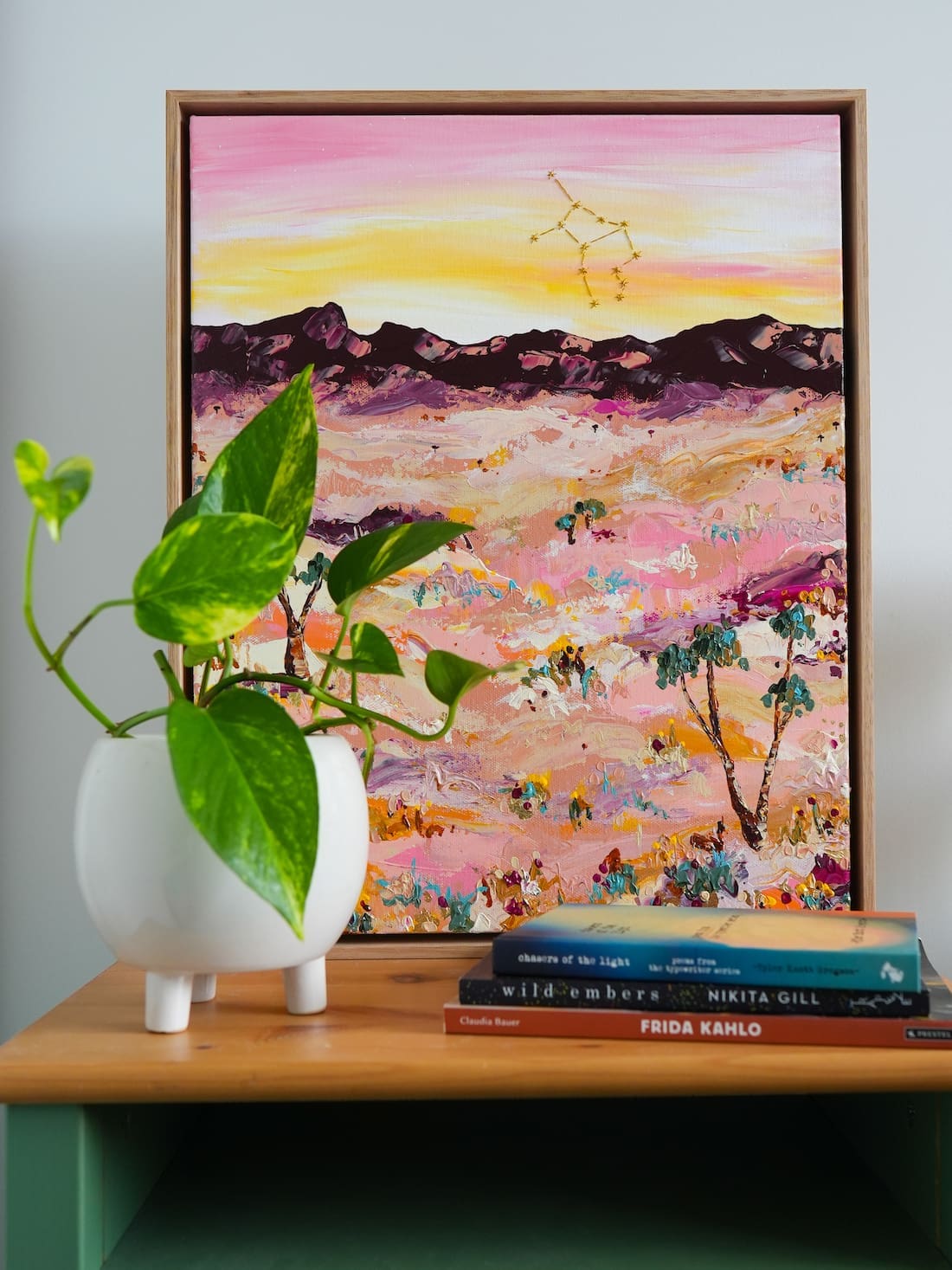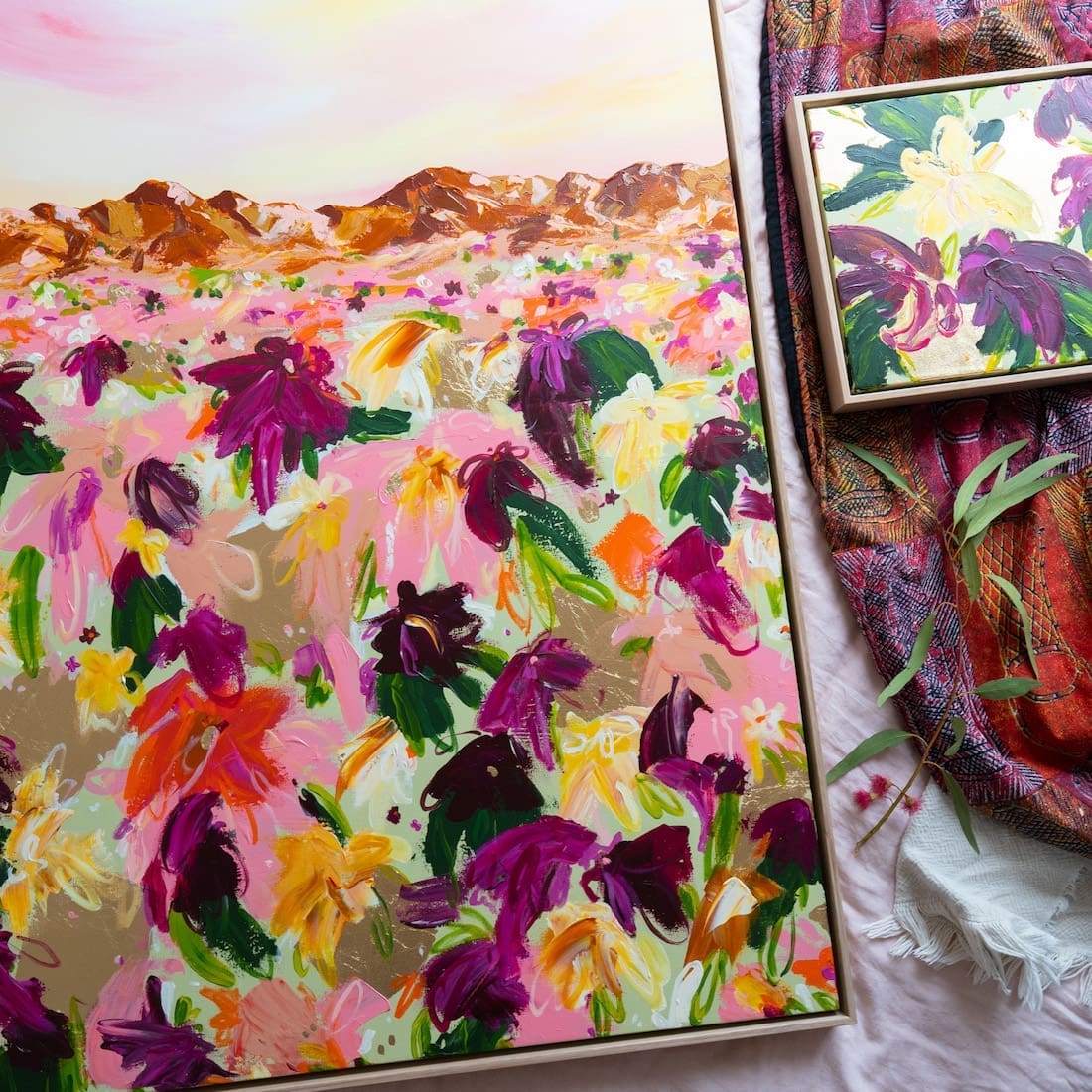 The landscape paintings that Elle creates have layers of colour and texture to discover.
"I have trouble painting with blue! No idea why, I just can't do it! Instead, you'll find maroons and pinks, splashes of green and orange on my canvases. They make me feel most at home, and give me an Australian bush feel of the earth just waking up at sunrise. Such a magical time of day.
"When it comes to starting a new landscape painting, I start with the sky and work my way forwards through the hills and down to the landscape in the foreground.
"It's a bit like going on a mini journey through the place itself. I'm more of an intuitive painter and don't always look at photographs. I like relying on my memory and how a place makes me feel.
"In my art, I use a variety of media including acrylic, ink, gold foil, collage, gemstones and even sand! I love texture and the idea that you can close your eyes and touch my paintings and still get a sense of what it depicts.
"I love that art can be for all of the sense… although perhaps not taste in this case!" Elle says with a laugh.
Big thank you to Elle for sharing her gorgeous landscape paintings and floral artworks with us. You can find more of her's and her Mum's art on her website, including a list of local stockists. Be sure to check out her Instagram page too. Especially if you want to see more of the gorgeous Zoya!