This year the focus is on staying healthy, both physically and mentally. After the last few years of struggling with the global pandemic, people want to feel safe in their homes. Try making your home a relaxing space where you can retreat from the challenges of the rest of the world.
Here are some tips to give you home a mood boost and help you stay healthy and happy.
Clear the Clutter
First things first! Before you begin, clear the clutter. Decluttering can reduce stress, help you focus, and get rid of those pesky germs that gather in accumulated dust. Attack one area at a time, get rid of what you don't need and think about getting a cabinet or bookcase to hold things you want to keep. Speciality cabinets like wine cabinets, media consoles and lingerie cabinets are particularly helpful.
Choose "Greener" Furniture
Synthetic fabrics like rayon, polyester and nylon take a lot of resources to produce, since they are petroleum based and are generally coated with chemicals. If you are concerned about bringing toxins into your home, opt for natural, ecofriendly fabrics like cotton, linen, leather and bamboo. Furniture made with sustainable natural materials like stone, wood, metal and glass go a long way in keeping your furniture "green".
Include Plants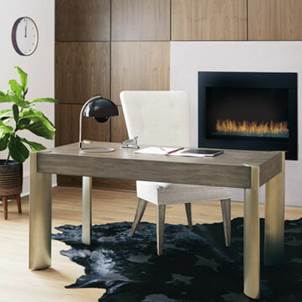 By including house plants in your interior decor, you are bringing the outside in for a feel good home design. If you don't have a green thumb, choose succulents that do not require a lot of care. Experts say that plants have health benefits like reducing the level of carbon dioxide, pollutants and airborne dust in your home.
Use the Power of Color
Recent design trends involve neutral color palettes of whites, beiges, creams, grays and black. But now people are starting to harness the power of color to affect our mood. Choose cool colors in a warm climate and warm colors in a cool climate. Relax with greens and evoke memories of a day at the beach with blue. Darker moody blues are popular for a cozy bedroom and warm rust colors are trending for a welcoming home. Relax with greens and evoke memories of a day at the beach with blue.
Join the Fun with Family Activities
Strengthen family ties with activities everyone can enjoy, even the kids. Try setting aside time for board games that encourage strategizing and lead to excitement and conversation. Of course video games are still going strong, so playing alongside the family is a good choice to reinforce family bonds.
When you are thinking about updating for a healthier home, visit Home Living Furniture online or in person at the showrooms in Howell and Middlesex, New Jersey. Home Living Furniture offers a full range of name brand furniture for every room at discount prices.
For further information visit homelivingfurniture.com.