If you love the elegant look of traditional home decor, you're in luck. Today you can choose from a large selection of traditional furniture for the bedroom, dining room and living room. Name brand furniture manufacturers now offer furniture collections with classic designs that are modified to enhance our modern lifestyles.
Today's traditional furniture features updated styling that reflects the way we live now. Gone are the dark, heavy pieces that make a home look dated. Instead, modern traditional styling is more streamlined for modern sensibilities, but still retains the charm of timeless styling.
A Mix of Time Periods

The rules have changed for decorating with a traditional feeling. You no longer need to choose traditional furniture all from the same time period to give your home a classic look. Today's traditional decor mixes furniture styles like Victorian and Queen Anne that were popular in years gone by. Updated classics are typically lighter in feeling than the original styles, while retaining some more highly decorative elements compared to modern designs.
Traditional Shapes Without Fussy Details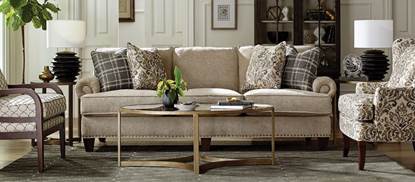 When you shop for updated classic dining room sets, bedroom sets and living room furniture, expect to see classic lines without the fussy detailing. New traditional furniture features timeless elegance with traditional shapes without the overly ornate details that were so fashionable years ago. You would be hard pressed to find ornate features like elaborate carving and claw feet, but the basic traditional shapes are instantly recognizable.
Blending the Old with the New
Sophisticated traditional home decor often begins with basic pieces with classic styling, and then brings in accent furniture with a more modern look. So you may see a living room with a tufted Chesterfield sofa near a cocktail table with straight lines, or a mid-century modern nightstand beside a sleigh bed. Adding the lighter feel of other styles can bring a delightful, unexpected element to traditional decor that can sometimes appear too imposing and dark.
Ditch the Knickknacks
When you decorate with traditional furniture, be sure to keep things simple and elegant by displaying a few choice pieces that you love instead of placing an array of knickknacks all around. Your goal is to create a calm and peaceful atmosphere for a more streamlined look. After all, your home is your haven, and while you want to showcase items that express your good taste and personality, decorators say you should not overdo it.
To find updated traditional furniture with the look you love, visit homelivingfurniture.com or go to Home Living Furniture showrooms in Howell and Middletown, New Jersey.