The keys to making a tasty meal all come down to having the right tools: ingredients, equipment, and space. Ever try making a meal without them? Cooking is no fun when you barely have any space to prep, especially in a tiny Manhattan apartment. Movable kitchen islands are the perfect space adding solution and they come in a variety of colors, sizes, and styles. Stop in either of our Central, New Jersey, Monmouth County furniture stores or browse some of our favorites below.
Kitchen Islands That Double as Tables
Preparing food on a regular table can be cumbersome. Kitchen islands that double as tables save space and are convenient.
E.C.I 3325-99 Accent Glass Tile Top Island
This 4-seater is great for small spaces that need a little extra storage. Stow cutlery in its drawer and display wine, food, or dishes on one of its two shelves. The glass top is easy to clean and pull out shelves offer extra space.

E.C.I 3095-50-IT Lexington Dining Room Island Bar
Thinner than most kitchen islands, this piece of home furniture is great for narrow spaces. In addition to space for four seats, it includes a full extension drawer, towel rack, bottom shelf, and more. Due it its urban look, it reminds of something that can be found in homes or apartments in Jersey City and Hoboken. Bar stools are sold separately.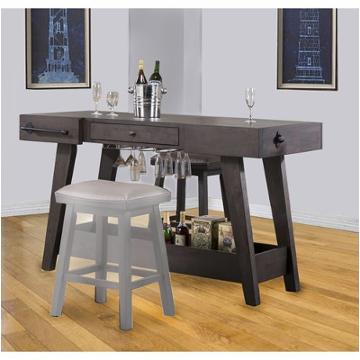 New Classic Heather Dining Room Island Table Top D1309-12T
When you have a big kitchen but little counter space, this country style island table is a perfect solution. In addition to its size, all the space New Classic offers with this piece makes it functional. Store away your everyday kitchen products: glasses, dishes, and of course wine. Add on its matching server, stools, or chairs. To bring out its colors and give your dining room extra warmth, add a dark brown throw rug under the collection.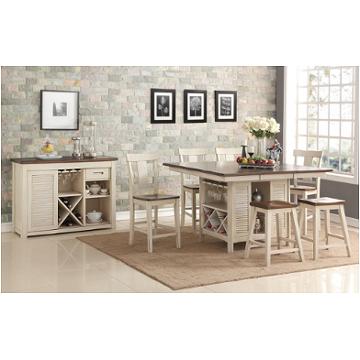 Traditional Kitchen Islands
Coaster Furniture 910013 Island
Islands with wheels such as Coaster 910013 always make cooking easier. When you're meal prepping, move it close to the stove for easy access. When you're done, store it away in the corner of your kitchen. This island will glide seamlessly. We also love that it has storage cabinets for hiding away pots and pans and has a casual yet country style.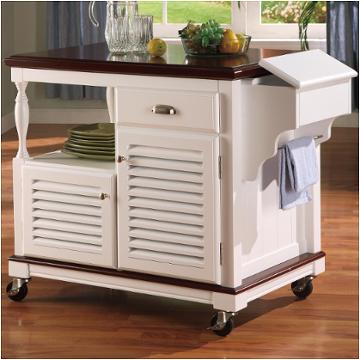 Hillsdale Furniture 5465-883W Kitchen Cart
This cart doubles as the movable kitchen island you need for all your baking needs. We can just see its drawers being filled with sprinkles, sugar, baking powered, cupcake wrappers, and spatulas. Unlike some other kitchen islands, it's light and easy to move.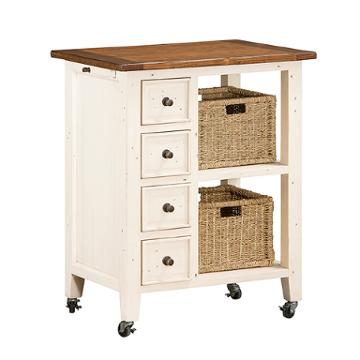 Hillsdale 4793-855W Tuscan Retreat Granite Top Small Kitchen Island
When I moved into my first college apartment, I had something similar to this small kitchen island. At the time I was not much of a cook and used it for my microwave, paper plates, and paper towels. If you already have a decent amount of counter space but need a little something extra in dark wood with an old century style, Hillsdale 4793-855W is a sturdy selection.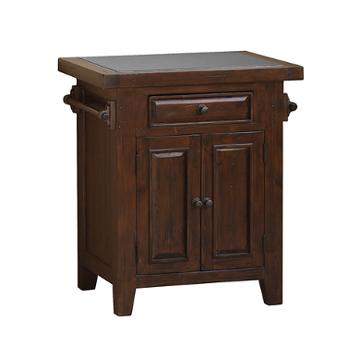 Have you looked into upgrading your kitchen with a permanent island? Doing so could cost thousands of dollars. With the number of kitchen islands available in the market, it's easy to find something to accommodate your needs, which may include matching your existing cabinets. As part of your search, make sure you purchase a product that is strong and durable to support all your chopping, kneading, and storage. Looking for something you don't see here? We may be able to special order it for you from any of the brands we sell such as Ashley, Hooker, Liberty Furniture, Aico, and others. In addition, we have a team of design consultants that will work with you at no charge to choose a piece that's in-line with the existing style of your kitchen and budget. Give us a call today: 800-275-4647.
Further reading: