Living in an area that has some of the best food around (in our opinion) – the New York City areas and New Jersey areas – every good party, such as a summer party, needs to have excellent food. But what else makes the ultimate summer party? Read on for some ideas.

1. Top Food Ideas
We polled our Instagram followers: What food is a must have at a summer party? The options were:
Barbecue
Sandwiches
Catered food such as pasta dishes.
Other – send in your own.
To our surprise, sandwiches got the most votes. We thought barbecue would come in at the top of the list for sure. Consider what your guests like and maybe even casually poll them before throwing your party. There's also always the idea of having a potluck – everyone brings a dish and it's less work for you.
2. Comfortable Outdoor Furniture
When selecting your outdoor furniture, we suggest outdoor sectionals or furniture that's laid out in a circle, square, or rectangle so that conversations can easily flow. Your guests will want to sit back and relax. Some outdoor furniture examples include:
Abbotts by Ashley Furniture
This collection offers a convenient table for drinks and snacks along with two chairs and a loveseat. Its generously stuffed seat cushions make it comfortable and the material it's made with is easy to clean.

Ashley Sectional Peck Park
Peck Park comes with a corner ottoman with cushion, loveseat, pillows, sectional seat, back cushions, corner seat, and ottoman seat. It can comfortably seat five people and is small enough for compact spaces.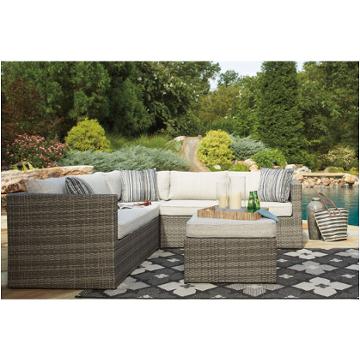 Ashley Rectangular Dining Set
This is the ultimate piece for eating outdoors. Order yours with or without swivel chairs and an umbrella. It seats six people.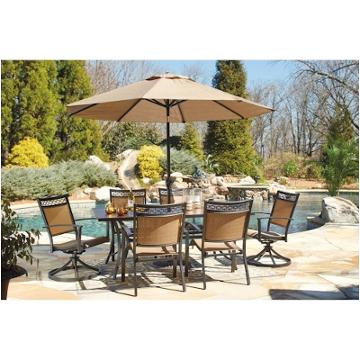 3. Games
You can't go wrong with your traditional outdoor games:
Volley Ball
Cornhole
Ring Toss
Bocce Ball
Frisbee
If you're looking for something unique, Belmar, New Jersey based woodworking company Moon Tide Treasures makes these adorable beach-themed Tic Tac Toe games that would look perfect on your outdoor tables.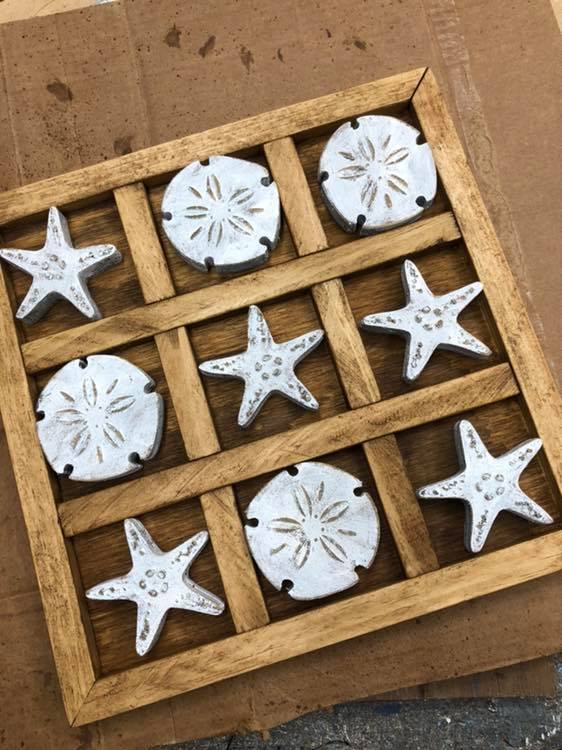 Photo credit: Moon Tide Treasures Facebook
4. Add a Fireplace or Heat Lamp
A fireplace or outdoor lamp can create an extra cozy ambiance and is perfect for warming up cold summer nights. When not lit, this outdoor fireplace can be used as a bar. Ashley's Outdoor Hatchlands Patio Heater has a battery operated electronic ignition. In addition, Hatchlands includes four glass panels, lava rock, and a 10 ft. hose. Have some s'mores making fun around the fire pit.


Pictured: Ashley Furniture Square Fire Pit Table
5. Pump Up the Music
If you really want to wow your guests, hire a DJ. But, if you can't, a playlist on an iPhone works too. Spotify offers an assortment of playlists you can use. Check out:
Summer Party – ft. Magic In the Hamptons, Show Me, Shooting Stars, etc.
United States Top 50 – ME!, SOS, Without Me
Summer Acoustic – Fever to the Form, Front Porch, Wildwood Flower
Poolside Disco – Hello Happiness, Good Life, Countdown
Summer Throwbacks – Lean On, Waves, We Found Love
Beach Music – Red Red Wine, Don't Worry Be Happy, The Lion Sleeps Tonight
6. Choose a Theme
Want to add an unexpected element to your summer party? Consider choosing a theme and having your guest dress accordingly for it. How about one of these themes?
America the Beautiful – red, white, and blue everything.
Beach Theme – break out the sand bucket pudding, flip-flops, and beach balls.
Mexican Fiesta – did someone say guacamole?
Take Me to the Tropics – a tropical rainforest theme.
Disney – for the kid in all of us. Dress up as your favorite Disney character and serve foods like ratatouille, yellow snow cones (Monster's Inc.), and spinach puffs (The Emperor's New Groove)
7. Send Your Guests Off With a Goody Bag
Just like you would get at a wedding, bridal shower, or baby shower, send your guests off with a goody bag or favor. Maybe a cup with your summer party date on it? Or how about a bag of taffy, hangover kit, shot glass, or a small bag of snacks? A farewell goody bag or favor would be unexpected and we are sure, your guests will be pleasantly surprised.
Have a great party!