It's rare to come across a floor plan of a new home build that doesn't have a second living area. Whether that's a playroom, rumpus room, man cave or home theatre, having a dedicated space for recreation other than your living room is a modern-day home luxury. But we say, why not create a hybrid space that can be all those things?! These are our 7 tips for creating the ultimate media room!
Related article: Home cinema reveals on The Block
Related article: Stay at home date night ideas
1. Forget cliche home theatres
We've all seen the impressive home theatre rooms on The Block but let's be real… how many of us have the space or budget for a dedicated home cinema? So ditch the reclining chairs and popcorn machine for a more contemporary media room solution.
By that we mean, a space that looks like a second living area when it's not in use but can easily transform to be a space for movies, gaming or whatever else! The advantage of moving away from a cliché home theatre is that you create a more flexible space that can adapt to your many needs. And we're all for that!
2. Decide on your rec room needs
So what are your needs for this space? Before you click 'add to cart' on any new furniture, take time to consider how you want to use this space. Will it just be a room to chillout or do you also need to squeeze in a home office space? Is this a kid-free zone or will you need it to be a hybrid playroom too?
The first step of design is to understand the problem. Create a long list of how you intend to use the space, considering the needs of everyone who lives there. Of course, it won't be possible for one space to do everything! But with this list you can prioritise what's most important to you, come up with innovative solutions or even find ways to adapt other spaces in your home to tick off some of these requirements.
3. Get the right furniture
With a clear design brief, you can take the first step of getting the right furniture. Generally, you would start with the largest furniture item being the sofa. But there's no such thing as 'just a sofa' — sofas with a chase, statement sofas or sofa beds are all popular options.
If you're limited on space or want a more flexible seating solution, don't overlook bean bags. Before you scoff, these have come a long way since bean bags of the '90s! Incredibly comfortable, affordable and easy to clean, there's a lot of reasons to love them. Check out this article on the advantages and disadvantages of bean bags.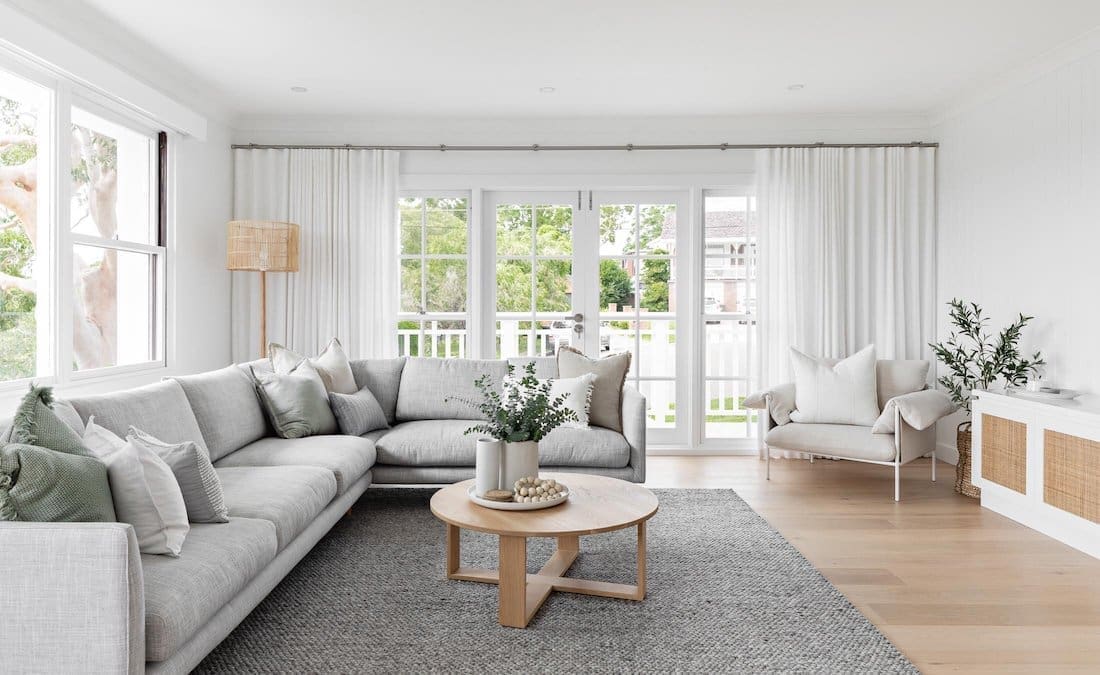 4. Get your lighting and speakers right
What media room would be complete without the ultimate movie experience? While we don't suggest embracing recliner chairs, getting your AV system right is a must!
Once you know your furniture layout, your electrician or AV expert if you can afford one, will be able to recommend how to maximise your at-home movie experience. Think lights on dimmer switches (preferably wall lights), integrated speakers or sound bars, and other ways to optimise your environment.
5. Pick the right display
The biggest splurge item will likely be your TV or display screen. If watching movies or gaming are the main activities you'll use this space for, getting the perfect picture will be a high priority. 
Of course, if it were up to us, we'd opt for the most stylish TV, such as the Samsung 'Frame' TV, which can look just like a piece of art when it isn't in use. But this may be one area of decorating the space that you'll need to compromise on to keep other people in your household happy. Whatever you do, be sure not to mount the TV too high and try your best to design the room so it isn't the focal point or first thing you see.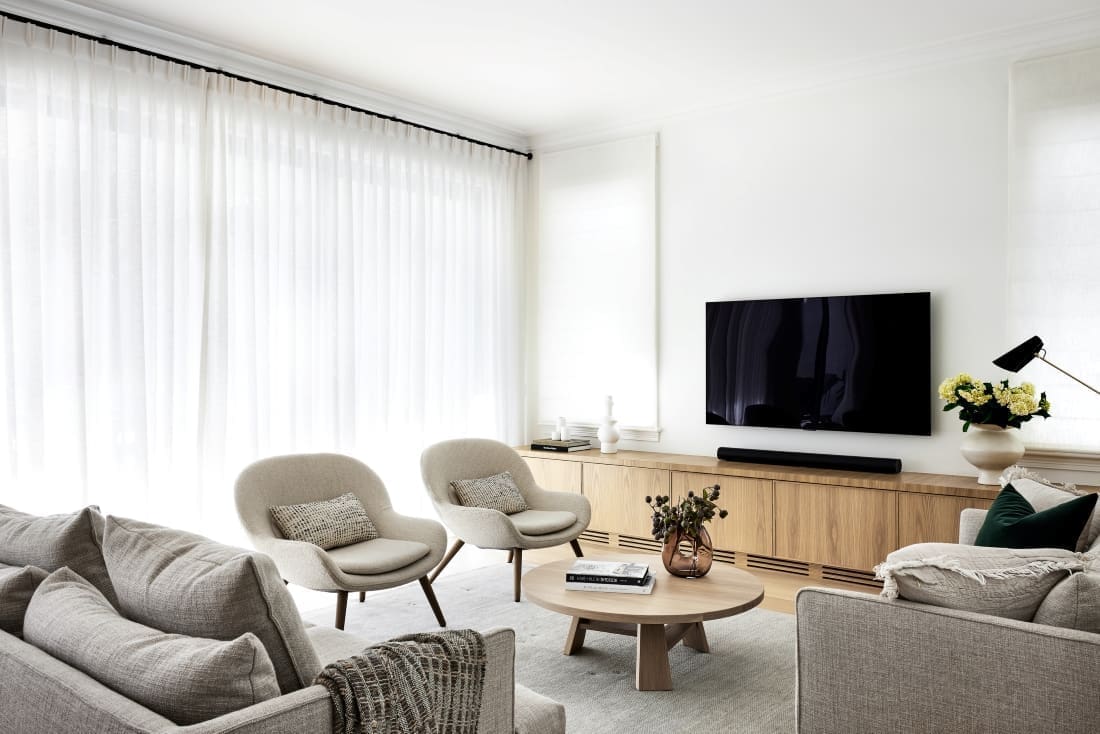 6. Don't overlook your window coverings
We say it often but one of the most overlooked aspects of home design are window treatments! Having the right blinds and/or curtains has so many benefits, including light control, glare reduction and thermal benefits. 
Installing curtains in your media room can also improve acoustics. This is because soft materials, like curtains and carpet, absorb sound and reduce echo.
7. Furnish the space
Naturally, the final step to finishing off a space in our book is to add that final layer of style. A statement piece of art can set the tone and provide a colour palette for you to carry across the rest of the room.
Consider your media room like any other room of your home where you can continue your signature style. Avoid stereotypical 'media room decor' and treat it like your second living room… unless of course you like framing movie posters or having superhero figurines on display!
All our go-to styling tips apply, in particular:
less is more: keep your styling simple, especially if you want your media room to be a hybrid space
comfort is key: we're giving you permission to shop all the cushions you want and need
consider your other senses: a candle or diffuser is always a good idea. 
We hope these tips for creating the ultimate media room help you create a modern and practical space. Do you have any other insights to share? Post a comment below!