The Ashley Furniture Alliston Durablend Sofa is perfect for watching football this season.
There is no question that seeing the football game in person is very exciting, but watching it at home can be even better. With today's oversized TV screens and top audio/video quality, the football experience from the comfort of your own home has many advantages. Invite guests, stock the refrigerator and make sure you have enough seating to root for your team and enjoy the game in warmth and comfort.
Here are some of the best furniture pieces for watching football this season:
Rocker Recliners
Rocker recliners are a perennial favorite for watching the game. The Ashley Furniture Foxfield rocker recliner comes in an array of colors, including brown, gray and tan. If your space is limited, choose a zero wall recliner that fits against the wall. Rocker recliners come in a wide variety of styles to suit your taste.
Cocktail Tables
The Riverside Furniture Magnolia Hill cocktail table.
You need the right refreshments to watch the football game with friends. Choose a large cocktail table to hold chips and dips, drinks, sandwiches and desserts. Cocktail tables are typically 2/3 the width of your sofa and stand the same height, generally 16-18 inches high for convenience. Leave at least a foot of space between the table and nearby seating.
Club Chairs
Club chairs are designed for comfort and feature deep seats with upholstered arms. Some club chairs come in leather to withstand years of use, since they are destined to become a favorite for watching football and other games. Use an ottoman with a club chair to put your feet up or to hold a snack.
Reclining Sofas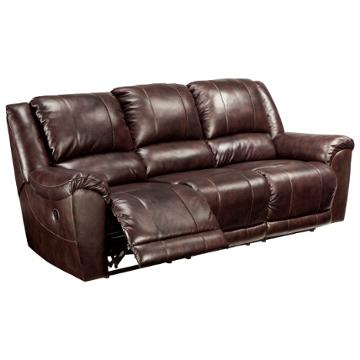 Ashley Furniture Yancy Reclining Sofa
Reclining sofas offer the best of both worlds, with the comfort of a reclining chair and the seating capacity to welcome guests. You can choose a reclining sofa with the look and feel of top-grain leather with back support and stuffed arms for relaxation. Choose power seats or manually operated.
Sectional Sofas
The Coaster Aria sectional sofa is ideal for seating guests who come to watch the game. Other sectionals give you the flexibility of designing your sofa to fit your needs by adding a wedge, a left or right arm chair and a console to store the remote and hold a drink.
Accent Tables and Chairs
Make sure you have enough accent tables around the room for your guests to use when watching the football game. Chairside tables can be placed near seating, and long and narrow console tables are perfect in back of a sofa. Armless occasional chairs deliver additional seating when guests come to see the game.
TV Consoles
Last but definitely not least, make sure your TV console is in place to show the game. A TV console provides a space for the television as well as storage for electronics and gaming equipment.
Going to the game is a lot of fun, but enjoying the game at home can be a lot more comfortable. Invite the crowd to watch the game in warmth and coziness while cheering on your team.