This Betrillo sofa sleeper from Ashley Furniture provides extra sleeping space for overnight guests.
Hosting guests overnight during the holidays is something to look forward to, especially if you plan ahead for your visitors. Give some thought to your accommodations and consider making some changes to entertain guests in style. Inviting people to stay over can be a lot of fun, especially if you have everything you need to help the visit go smoothly.
Here are some suggestions for planning ahead for overnight guests:
1. Check the Sleeping Arrangements
If you have limited space or if you are expecting more overnight guests than your guest room will hold, consider a sofa sleeper. Sofa sleepers are comfy loveseats or sofas by day andtransform intofull or queen size beds by night.
2. Check out the Guest Room
This stylish Claudette accent chest from Stein Worldprovidesextra storage space for guests.
Before your guests arrive, inspect the guest room where they will be sleeping to make sure everything is in order for the visit. Clear the clutter and inspect dresser drawers to see if there is enough storage space for your guests' clothing and other items. If there isn't, consider adding an interesting accent chest to the room. Take a look at the mattress to determine if it is still in good shape if you haven't done so in a while.
3. Add Seating to the Dining Room
The small round table in the dinette may be great for casual meals with your family, but inviting overnight guests can mean that you need extra chairs around the dining room table to seat more people. Armless dining room chairs are a good choice because they take up less space than armchairs.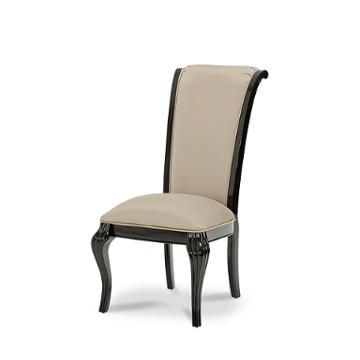 Hollywood Swank armless chairs from Aico are the perfect addition to a dining room table to create additional seating.
4. Think about Entertainment
What could be better than a leisurely card game with friends in front of the fireplace on a chilly evening? Today's freestanding electric fireplaces make it easy to add a luxurious touch to your main living space. If you have the room, think about a permanent card table for the entertainment area. Consider a freestanding bar to set the stage for a party or a relaxing happy hour before dinner.
5. Light up Their Lives
A well-lit room is an inviting room. A beautiful chandelier and a pair of table lamps for the nightstands are welcome additions to the guest room to make family and friends feel at home. Show your guests that you take their comfort seriously by placing lighting on an adjustable dimmer.