The Ashley Furniture Savesto-Ivory Sectional
Today's spacious open concept great rooms provide the flexibility and casual easy living people are looking for these days to fit their lifestyle. Before you purchase a great room living room, dining room and entertainment furniture, it makes sense to have a plan. Get your ideas about style, color and the living spaces you would like to include, and layout your thoughts in a floorplan to make sure your plan will work.
Here are some easy steps for organizing the space in your great room:
Step 1: Start with a Plan
Browse decorator websites, visit showrooms and thumb through home furnishing magazines to decide on the look you want. Then do what decorators do and break out the ruler pencil and graph paper. Measure the room and assign one inch for each foot. Make sure to include any windows and doorways.
Step 2: Consider your Lifestyle
The Dimplex Fireplace Max Media Console
Your great room should be designed to accommodate how you live. You will probably want to include a living room seating area, a dining area and an entertainment space. If you have small children and enough room, add a play area off to the side. The furniture style you choose should reflect your lifestyle. If you have small children, a casual contemporary look can work well.
Step 3: Define your Living Areas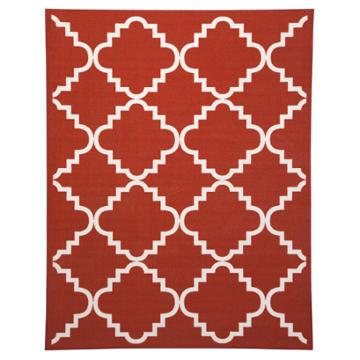 The Ashley Furniture Medium Rug
Break up the room into areas by using decorator tricks to delineate space. Area rugs are a great way to define living spaces in a large, open concept great room. Place one area rug in the living area and another in the dining area. Color, lighting and furniture style can also help differentiate the living spaces. You can use different furniture collections, colors and styles, but ensure that they all coordinate well.
Step 4: Record your Ideas
Use your graph paper to layout your furnishing ideas to break up space in your great room. Sketch in tables, chairs and any other pieces you need, like an entertainment unit, a bar or an electric fireplace. When you place the furniture, make sure to leave enough space between pieces and around doorways and traffic paths.
Home Living Furniture offers discount pricing along with weekly sales, promotions and coupons. Our family-owned business staff offers experienced sales representatives who will guide you in choosing the right pieces for your taste, your lifestyle and your budget.
For help picking out the right furniture to make your home a showplace, browse our online shop or stop by at one of our Home Living Furniture central New Jersey showrooms.