Ashley Furniture Outdoor Furniture Set
These days most of us know that we should give up smoking, make better choices for a healthier diet and change our routine to include more physical activity. Now that we know the basics, the focus is shifting to making our homes as healthy as our lifestyle, both indoors and out.
Here are some tips to create a healthier home:
Bring the Outside In
Houseplants give your home an indoor/outdoor vibe, something especially important in the dead of winter when temperatures can prevent us from spending much time outside. Plants are useful for filtering out the toxins lurking in your house. English ivy, foxtail ferns and Purple Heart are particularly good at absorbing chemicals that circulate in the air. A mix of plants, one for every hundred square feet in your home, can help.
Ventilate
Ashley Furniture 75000 Living Room Set
Let the sunshine in by drawing back the drapes, pulling up the shades and opening up the doors and windows to ventilate your house. Years ago we didn't pay much attention to ventilating, but today homes are well insulated and we no longer use all natural products. For some homes, mechanical ventilation systems may be a better answer.
Choose Healthier Furniture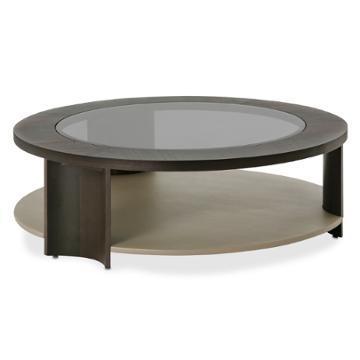 Aico Furniture Cosmopolitan Round Cocktail Table
It is only recently that choosing "healthy" furniture has been on people's radar. Many nationally known name brands – including Ashley Furniture, the largest manufacturer in the nation – have eliminated toxic fire-retardant chemicals in their furniture collections. Solid wood furniture and styles made of metal, stone and/or glass are also good choices.
Switch to Non-Toxic Cleaning Products
Many conventional cleaning products are labeled with warnings – with good reason. Components like ammonia and chlorine can have a powerful negative affect on our health, especially for people with breathing conditions like asthma. Choose "green" cleaning products or make cleaners yourself by using natural products like vinegar in place of bleach, lemon juice as a window cleaner and hydrogen peroxide as a stain remover.
Furniture for Smaller Spaces
Find a wide range of solid wood bedroom, dining room and living room collections at discounted prices at Home Living Furniture. We also carry a huge selection of name brand furniture collections fashioned from metal and glass. Browse our online shop or stop by at one of our Home Living Furniture central New Jersey showrooms. Look for weekly sales, promotions and coupons.