Award-winning Natuzzi is a luxury Italian leather furniture manufacturing brand respected worldwide for high quality construction and sophisticated design. The Natuzzi Editions collection features fine leather sofas, sectionals and chairs with high style and exceptional comfort. Natuzzi was founded back in 1950 when Pasquale Natuzzi opened his workshop in the town of Puglia in the southern part of Italy. His son, Pasquale Junior Natuzzi, was appointed Creative Director and Stylist in 2018. Natuzzi items are distributed in furniture stores around the world and the company remains one of the most recognized brands in the global furniture industry.
Natuzzi Editions Stationary Sofas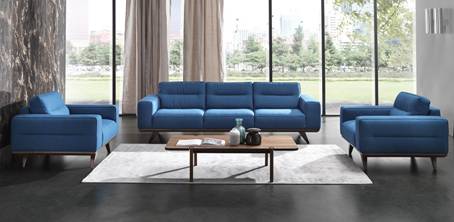 Natuzzi Stationary Sofas – Adrenalina

Natuzzi stationary sofas are a testament to your good taste and add style to your home to make it a showplace. The sleek and bold Adrenalina stationary sofa pictured above is just one of the stunning sofas in the Natuzzi Editions collection. This model is designed with style and comfort in mind. Angled wood legs and rounded edges conjure a mid-century vibe, perfect for sophisticated living rooms. The Adrenalina and other stationary sofas are available in the softest leather and a choice of beautiful fabrics to enhance your home.
Natuzzi Editions Sectionals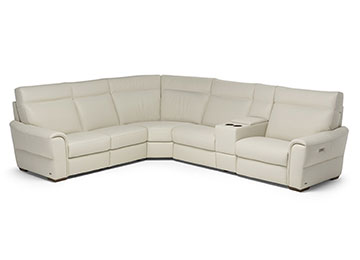 Natuzzi Editions Sectional Sofa
From a smaller loveseat for two to a sprawling sectional with a comfy chaise longue, Natuzzi
Editions offer the best sectional options to and accommodate your lifestyle. A stationary sectional is a good choice to when you need seating to welcome family and friends. Choose sumptuous leather in a range of colors or decorator fabric to achieve the look the right look. Choose as many modular units as you need and a couple of sections with storage for the remote and cup holders for convenience.
Natuzzi Editions Motion Sectionals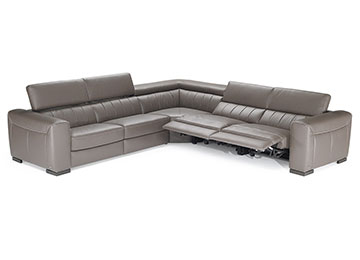 For the ultimate in comfort, lean back and put your feet up with Natuzzi Editions motion sectionals. Enjoy a high-tech relax system with a motion option that allows you to relax in style. When not in use, the sectional returns to the initial position for the sleek look of Natuzzi that you enjoy.
Natuzzi Editions Recliners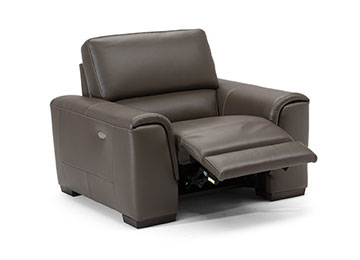 Natuzzi Editions Motion Recliners
A Natuzzi Editions motion recliner chair is destined to become your personal favorite for years to come. Choose from an array of beautifully designed armchairs powered by electricity so you can kick back at the touch of a button. Soft leather and cushioning add to your comfort.

Find discount Natuzzi Editions leather and fabric furniture at Home Living Furniture in central New Jersey, or shop online at homelivingfurniture.com.