You know we love home organisation and today we're talking all things herbs and spices! We've heard many of you asking for photos and inspiration on how to store your spice collection and we're delivering the goods with this round up of clever spice storage ideas!
No matter if you're renting and have a tiny kitchen or you've just built your dream home, scroll through this round up of herb and spice storage inspiration and pick up an idea or two on how you could store your own.
Related article: 7 steps to a Pinterest worthy pantry
Related article: 8 kitchen drawer organising ideas: Kitchen organisation made easy
Use a tiered shelf
There are heaps of ideas out there to organise your spices, but one that's gone viral is the tiered shelf picture above — it's actually a Kmart hack by Fliss using bamboo trays.
If you don't want to hack your own, there are plenty of tiered shelves on the market to achieve a similar look. These are a great solution to see your whole collection in a glance.
Shop spice organisation essentials
The rotating spice rack
A rotating spice rack is a classic choice. They're smart on space — especially making good use of awkward pantry corners — and make it easy to grab the spices you need.
You can buy a rotating spice rack complete with jars or achieve a similar concept for less by placing your spices onto a lazy Susan or two.
Wall-mounted shelves
If you've got the luxury of available wall space in your pantry, how's this for a stylish and functional solution?! We had to pick our jaws up off the floor when we stumbled upon this pic — so simple but effective. Oh, and because we know you'll ask, you can buy those fabulous spice labels on Etsy here 😉
Try a wine rack
Sometimes a little out-of-the-box thinking is all you need to solve your home organisation woes. And using a wine rack to store your spices could be the perfect solution.
If all your wine racks are currently in use (guilty as charged over here!) why not DIY your own? This one is by Anika's DIY life and she shares all the steps with plenty of photos over on her blog.
Shop spice organisation essentials
Tap into dead-space
Ok, so this one isn't quite as glam as the others on the list but it's clever and effective… and if you really wanted to, you could style it up by using a mini timber trolley and matching jars with stylish labels 😉
Create the ultimate spice drawer
If you can spare a drawer in your kitchen and dedicate it to herbs and spices, this is one of the most convenient ways to store your spices.
Here are 3 different ways on how you could create your own spice drawer!
Labelled lids
There's no better way to maximise the space in your drawer than standing spices upright — just look at how many fit into the drawer below! Avoid the issue of not knowing what spices are what by adding labels to the lids. You can find plenty of spice jar labels on eBay or Etsy.
Gina recently took inspiration from this image to create her own version of the ultimate spice drawer. Using affordable Kmart canisters, she made minimalist black vinyl labels for the timber lids. See all the photos and get her tips to create a dreamy spice drawer here.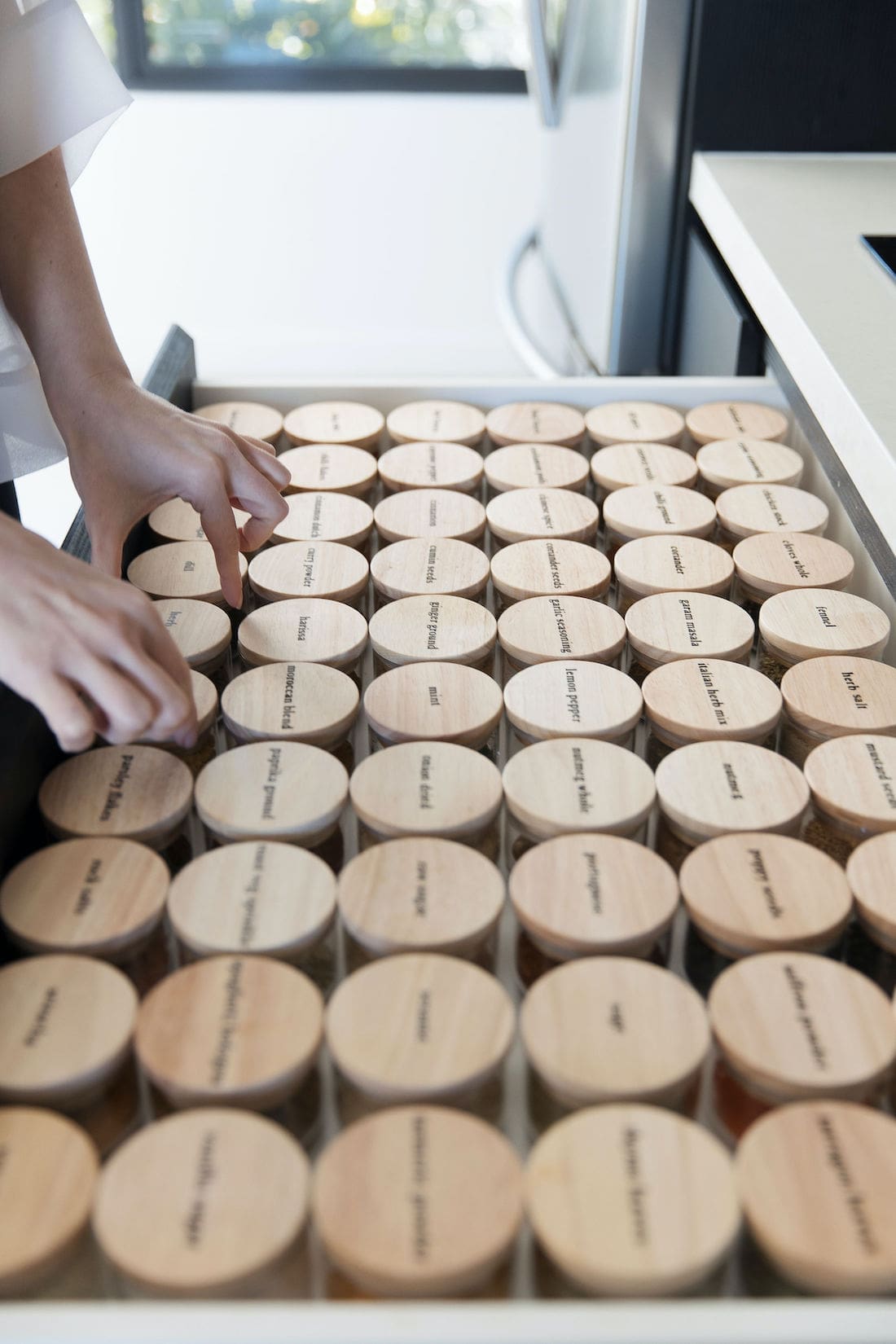 Silicone drawer liners
This Pinterest-worthy spice drawer solution is surprisingly affordable and simple to recreate! Linda says she wanted a cost-effective and elegant solution to serve her while renting and used a combination of mini mason jars, a foam spice drawer liner and fine point paint pen. Genius!
Tiered spice drawer insert
Trust our friends over at Hafele to have a fab spice drawer insert! Available in 3 finishes, it can be cut to size to fit the exact width of your drawer.
Or if you don't need something quite so large, you can find a smaller and more budget-friendly option at Kitchen Warehouse.
Shop spice organisation essentials
Try an under-shelf solution
Often having limited space in the kitchen is the biggest challenge to keeping things organised. That's why we love this under-shelf rack which magically creates storage in an otherwise un-used space. Simply attach it to the underside of a shelf, such as in your overhead kitchen cupboards or pantry. Presto!
The Holy Grail of spice organisation
Sure to have many of you clicking 'Add to cart' is this epic wall-mounted spice organisation solution. Looking at it gives us all those happy feelings only a perfectly organised space can. And while it's a big investment for storing spices, customers who have bought the product swear it's "100% worth it".
What do you think of our ideas for how to store your spice collection? Do you have any other tips? Share them with us in the comment section below! If you give your spice collection a makeover, we'd love to see it! Be sure to tag us on Instagram!
Disclaimer: This post was first published in February 2021 and continues to be updated with the latest and best ideas to store your spices. It contains some affiliate links. This means that when you click on a link and purchase something from that site, we may make a small commission at no extra cost to you.