Natuzzi Editions Living Room Furniture
Decorators know that a small room can feel warm and cozy, or it can feel cramped and uncomfortable. There are ways to trick the eye into believing the room is larger than it really is, like using strategically placed mirrors and scaled-down furniture. Make a small room feel bigger by using color, lighting and furniture arrangement to create a more expansive look. According to social media influencer Mary Kondo, it's time we decluttered by getting rid of chachkas that can make the room seem crowded and incorporating a few larger pieces instead.
Decorate with Light Colors
Ashley Furniture Milari Linen Sofa
Lighter paint and upholstery colors can make the room look larger by reflecting light. Off-white has a timeless appeal, and soft hues of blues and greens are trending. Paint an accent wall in a contrasting color to accentuate the lighter colors. Using a color that is a couple of shades lighter on the moldings can make the walls recede and to make the room appear more spacious.
Pulaski Furniture Accents and Curios Door Console
Too many items that are all clamoring for attention can make the room feel busy and crowded. If you can't part with that extra set of dishes from grandma, open up your home by keeping it organized and neat. Store items away from sight to avoid an overcrowded look. A spectacular accent piece is a good way to express your good taste, hide the clutter and expand a small room.
Open Up the Space with Light
A dark room makes a small space seem even smaller, while natural light can make your home appear larger. If you have a beautiful picture window with a great view or a French door, ditch the window covering to bring in natural light. If the view is not great or if you crave privacy, use sheer window coverings. Houseplants on the windowsill can distract from a poor view. Even if you don't have a profusion of natural light, add chandeliers and lamps to brighten up your space.
Create a Focal Point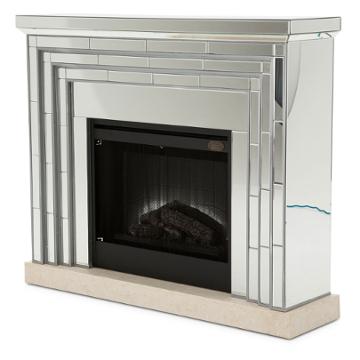 Aico Furniture Montreal Fireplace
The way you arrange your furniture can go a long way in making a small space appear larger. Many interior designers create a focal point to attract the eye to one item create a spacious look. The focal point can be an architectural feature like a fireplace or a window, or you can create a focal point yourself with an oversized piece of artwork, a spectacular lighting fixture or an outstanding accent piece.
Discount Name Brand Furniture
Find a wide selection of stylish furniture collections at Home Living Furniture in Howell and Middletown, New Jersey. When you are ready to add furniture that makes your home look bigger, shop online or visit the showrooms in person to see a large choice of furniture groupings from nationally known name brands. Home Living Furniture sales representatives are ready to help you select the right pieces for your home. Look for discount pricing all year, and weekly promotions and specials.
For further information about Home Living Furniture and to shop online, visit homelivingfurniture.com