We love spending time outdoors and with the warmer weather in full swing, it's the perfect place to be! But decorating your outdoor space can be expensive, so we're bringing you the best outdoor Kmart hacks which can help spruce up your outdoors without the price tag!
Related article: 20 of the coolest Kmart hacks EVER!
Related article: Before and after makeover: Quick, simple and stylish outdoor entertaining space on a budget
Indoor ottoman gets a render overhaul
Self-confessed DIY lover Jodie from Caves Coastal Renos took the garishly pink Kmart ottoman and turned it into this beauty.
Using some render and a bit of DIY know-how she took it from meh to ah-MAZING! Check out her video below to see how she did it if you want to give it a go yourself!
DIY your own outdoor dining table
Never one to shy away from a challenge, our very own Gina decided to tackle her own Kmart hack. She took 2 sets of the Kmart oak look side tables and created this stunning curved dining table with tiled pillar legs.
Ambitious… yes! But as an amateur DIYer herself and having never used a jigsaw or tiled before… if Gina can do it, so can you! She shared a blog post and how-to instructional video here.
Inexpensive outdoor umbrella
Outdoor umbrellas cost a bomb which is what prompted Alison to come up with this clever hack! Using a $15 white plastic outdoor pot from Kmart that she filled with a brick and sand mix, she placed one of the $12 umbrellas inside.
Her husband made the timber top from offcuts they had which holds the umbrella in place and is the perfect spot to rest a cold drink!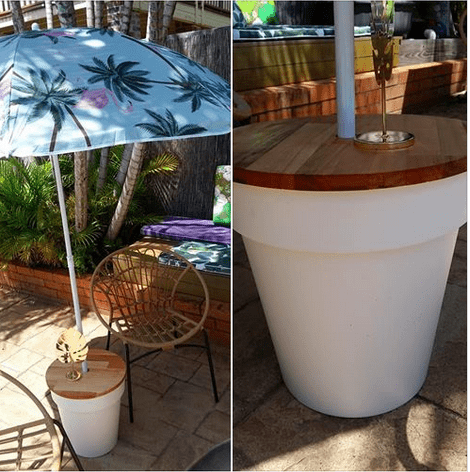 Layering style
This one is not so much a hack as a styling trick. Inside the home you can layer a smaller rug on a larger rug. And you can do the same for your entry… adding a smaller door mat on a larger one for an instant luxe look.
Imogen layered her personalised door mat on top of the Kmart jute mat, making her front entry look ten times more stylish, don't you think?!
Bamboo storage box as planter box
Shay wanted to add some tropical plants to her rental home. She used a couple of bamboo storage boxes that she painted and lined with weed mat as a cheap and instant solution. Although the bamboo is likely to swell over time, she says this is the perfect solution for now.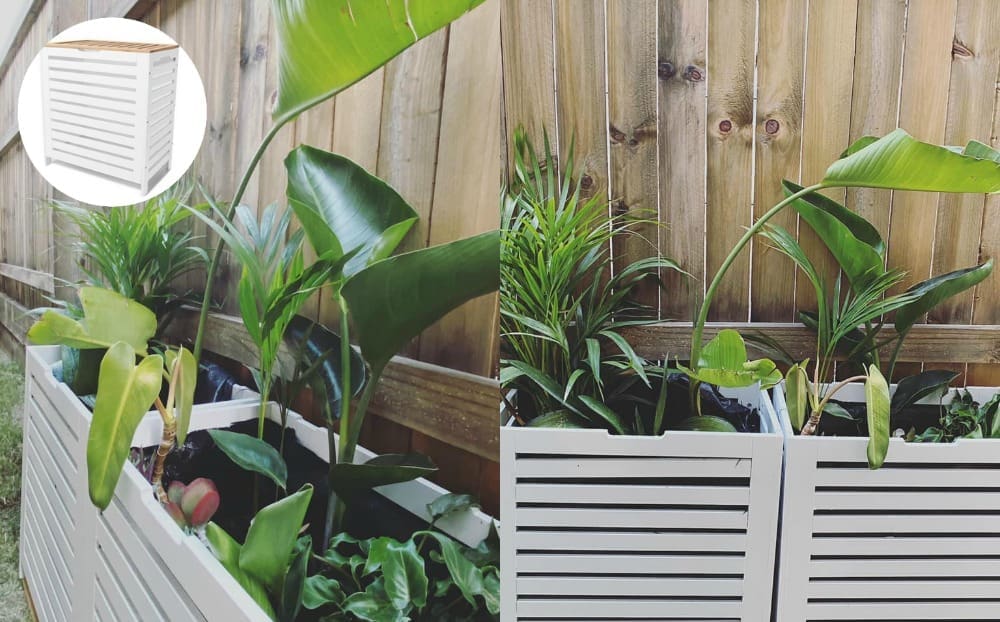 Plastic dinosaur toy becomes cool plant holder
Krystal turned a typical T-Rex kids toy into a cool plant holder for her aloe plant. By simply cutting a hole into the back and painting the dino black, she created a fun piece that would be ideal in an outdoor kids play space or even their bedroom.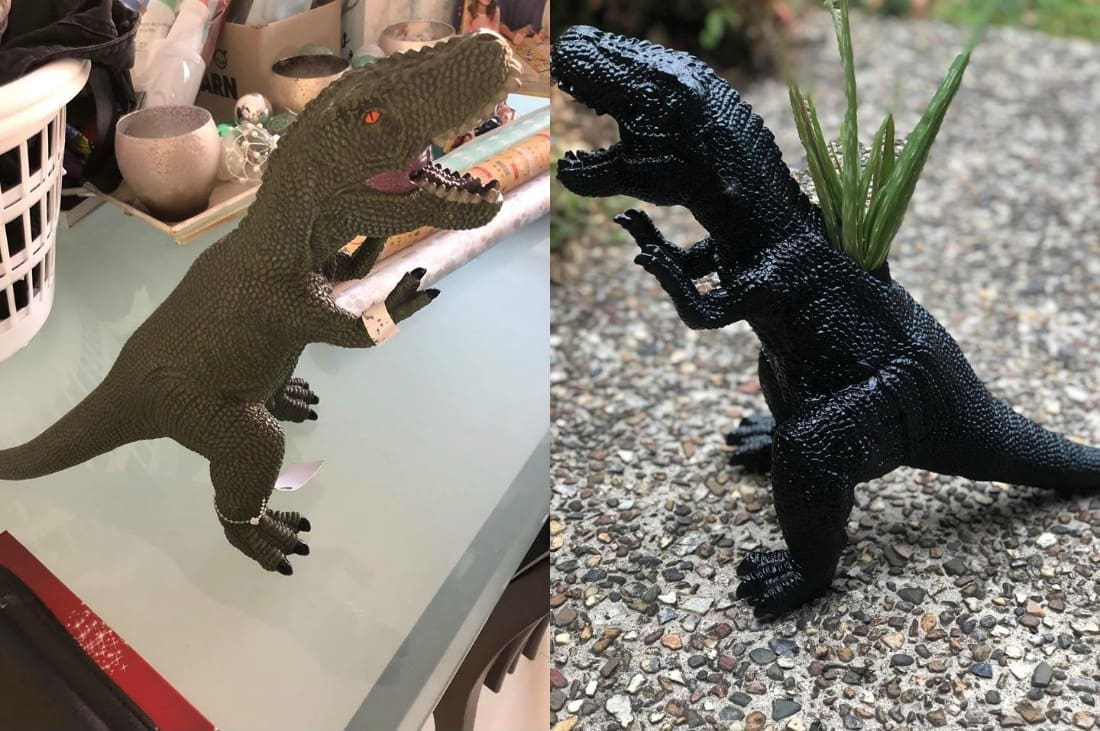 Custom cubby house
We couldn't possibly leave out the most popular Kmart kid's hack of all — customised cubby houses! Kmart outdid themselves when they released this cubby house and although there have been a few design iterations (the latest is a bit more 'barn' like with a half door), they're all totally magical and an opportunity for parents to get a bit creative.
Gina created a Kmart hack cubby for her sons Patrick and Alexander and recently re-worked it again into a custom green, grey and white colour scheme and included a kitchen inside.
The family at Number 43 painted their Kmart cubby the same colour as their home, helping it blend in perfectly. It's such a clever way to make gaudy kids 'stuff' fit in stylishly with the rest of the home!
For those of us who have kids obsessed with firefighters, we love how Prue turned the cubby into a fire station — so cool! Alicia gave her Kmart cubby a massive makeover giving us all the Hamptons vibes! With the wooden jungle run play house, Lauren added climbing rocks and other fun additions (most parts are from Kmart or Bunnings). Talk about a fun play space!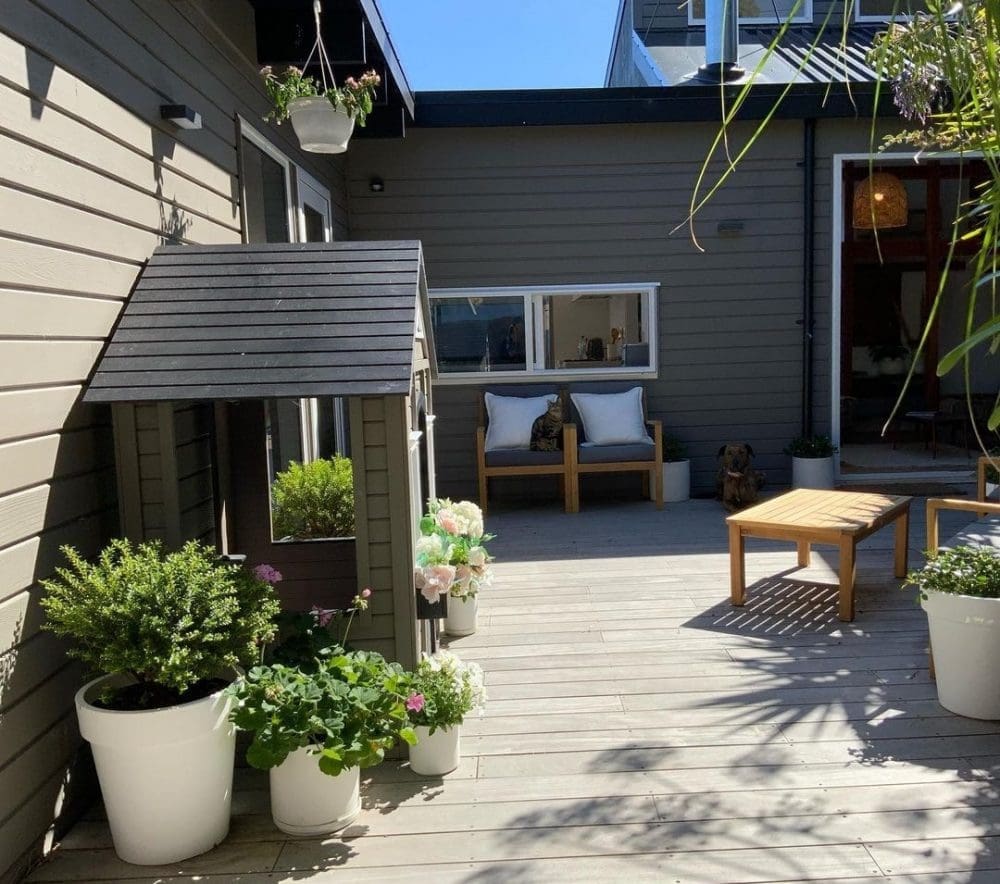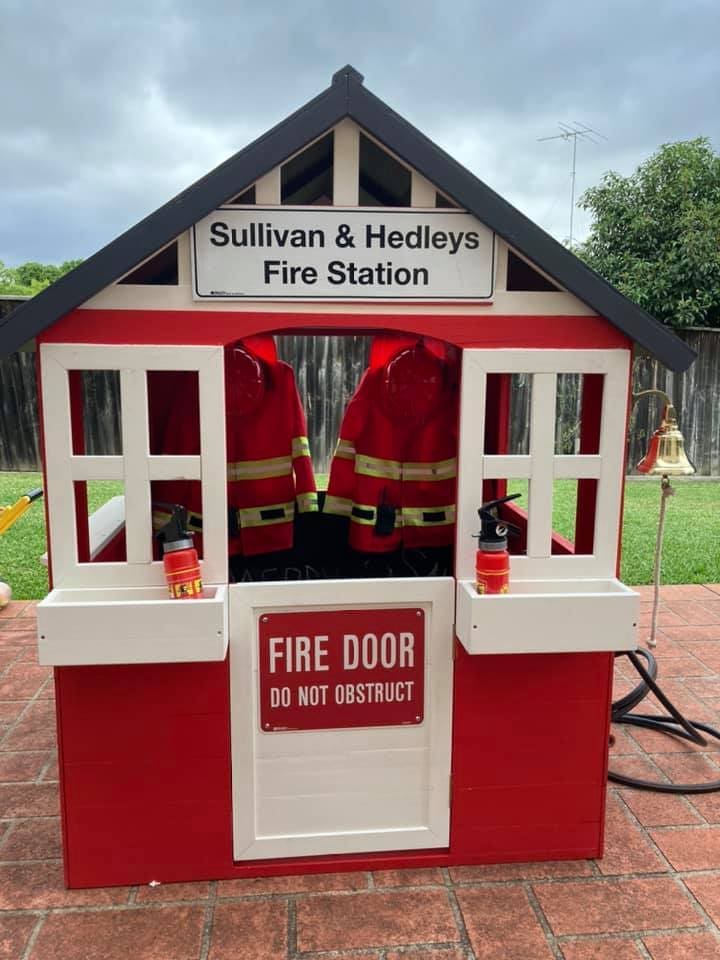 Bart cart makeover
No. You're right… this isn't a hack! But it IS still a great makeover idea, which is why we're including it! Brooke from Oak Patch gave the Kmart timber drinks trolley a lick of paint and completely transformed its look and style.
Now it matches her outdoor decor perfectly, and is the ideal bar cart / cushion storage. Simple yet stylish!
Dog beds turn outdoor couch cushions
We were kinda skeptical when we first read about using dog beds as outdoor couch cushions. But after we saw this pic from Kayla, we changed our minds!
She not only made her own pallet outdoor sofa, but used the linen-look dog beds as comfy, practical and budget friendly cushions. You could use this idea for any outdoor sofa or chairs if your cushions or chair pads are past their best.
Storage baskets become boho planters
Planters or stylish ways to display plants can be kinda pricey. So we fell hard and fast for this simple idea from Alicia at My Burleigh Reno. Using the seagrass baskets from Kmart, she added a touch of boho with the rope tassels. Pop in a lush outdoor plant and it's a cheap and cheerful solution we love.
Sometimes it really does pay to think outside the box (or… the planter!)
Sand and water play table
Using the Kmart timber storage bench and IKEA storage boxes, this clever Mumma had the great idea to make a sand and water play table for her little person.
The perfect height for kids, this one is a terrific hack for loads of outdoor fun!
DIY outdoor cinema
For an at-home activity idea that's fun, family friendly (or even a romantic date night idea!) check out this cool outdoor movie setup Tayah created using Kmart goodies.
If you want something a bit bigger, you can also check out Gina's DIY cinema screen which she created for under $100.
Indoor privacy screen… outdoors!
Using the Kmart rattan screen, Tricia gave it a coat of paint and popped it out on her balcony for a bit of privacy and style. Again, we know this isn't a hack! But when something is transformed with paint and becomes even more stylish, we'll allow it!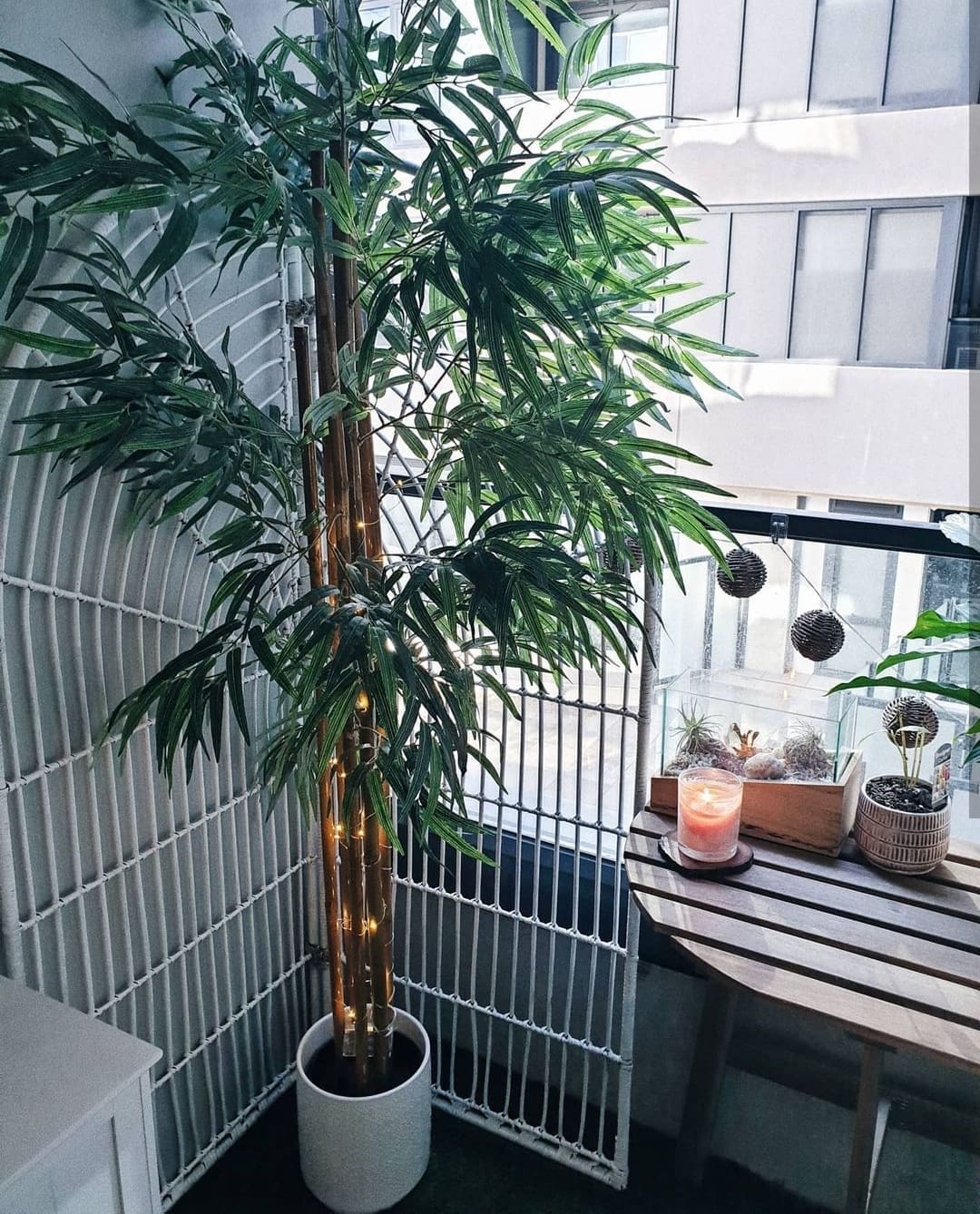 Mud kitchen
Nicole absolutely nailed this hack, showing yet another use for the timber storage bench. Using a roasting tray (from Kmart) kids kitchen sink (also Kmart) and lots of other fun accessories (you guessed it, all Kmart!) she created this fabulous outdoor mud kitchen.
She's also included helpful step-by-step build instructions here.
DIY planter stand or mini outdoor table
We spied this cute planter stand made from the hairpin planter and timber serving tray… for under $15! You could also add a different top like the terrazzo tray, to create a mini outdoor table for a fraction of the usual price!
Veggie garden hack
It isn't until you go to buy a DIY veggie garden kit from the hardware store that you realise just how expensive they are! Libby came up with this solution using free foam boxes from the green grocer that she wrapped in Kmart timber look contact.
Not only are they affordable, they're lightweight and easy to move about.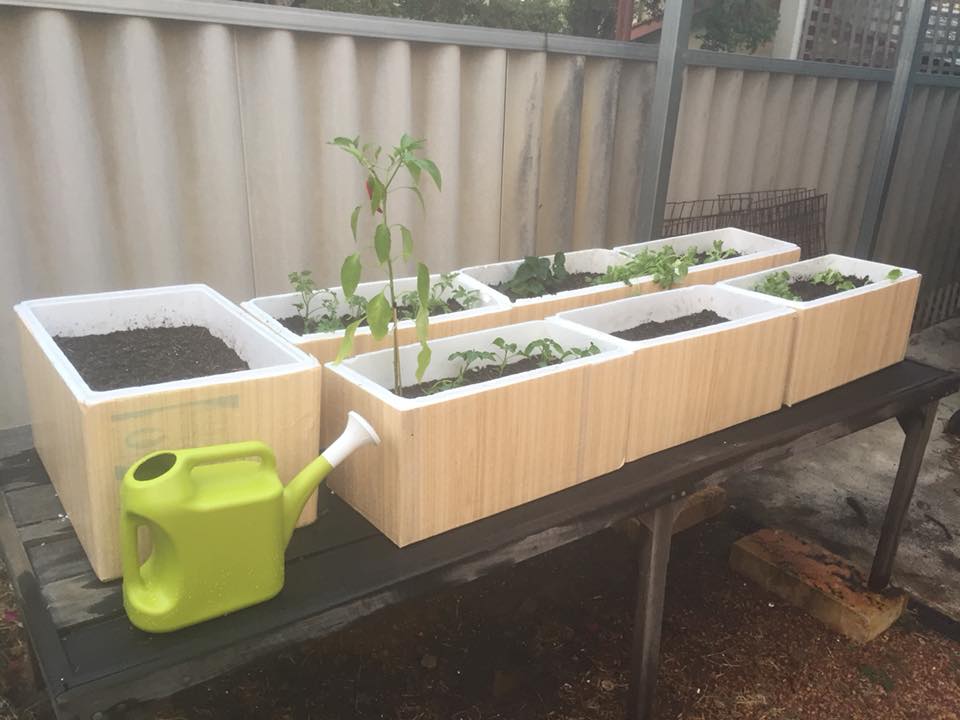 Veggie caddy as vertical herb garden
What a fab vertical garden idea for small spaces! Amanda Graham used this vegetable storage unit as a stylish and space-saving way to grow her herbs.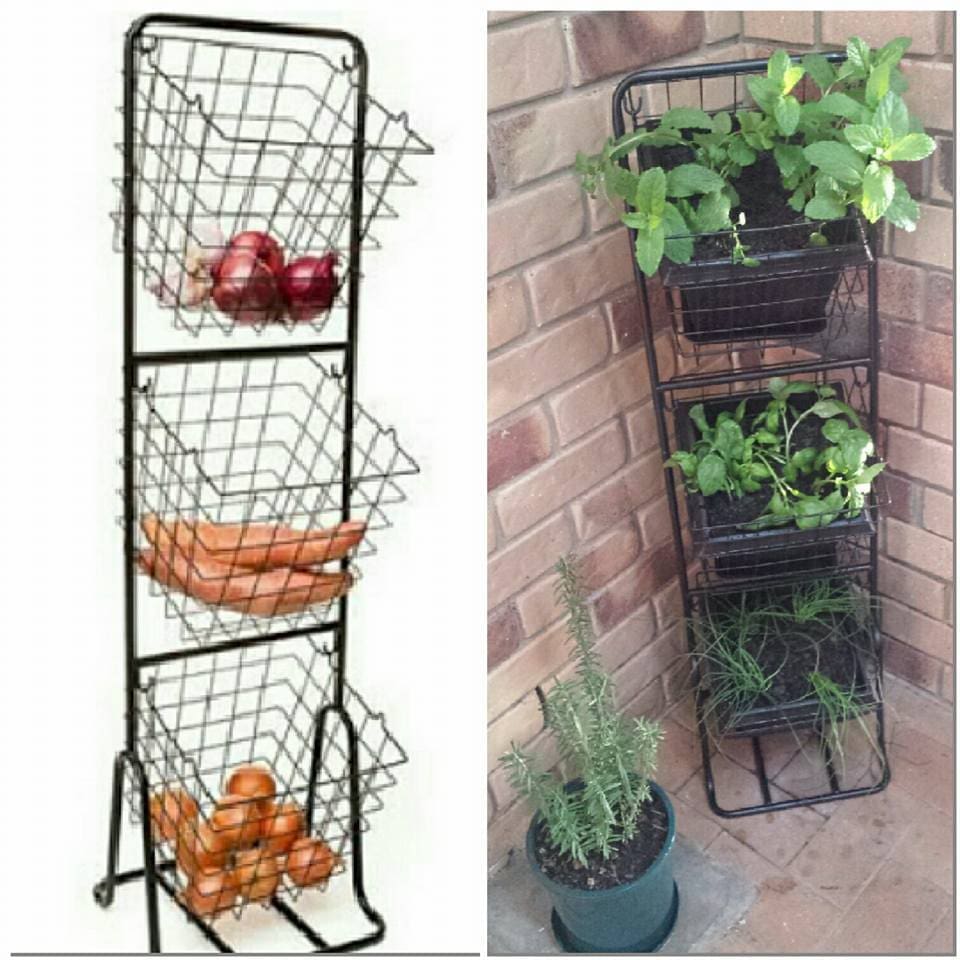 Wire storage baskets as vertical herb garden
Another outdoor Kmart hack, Melanie created this fab herb garden. She simply lined black wire baskets with planter liners and hooked these onto a slatted wall to create a vertical herb garden. Stylish, useful and cost effective.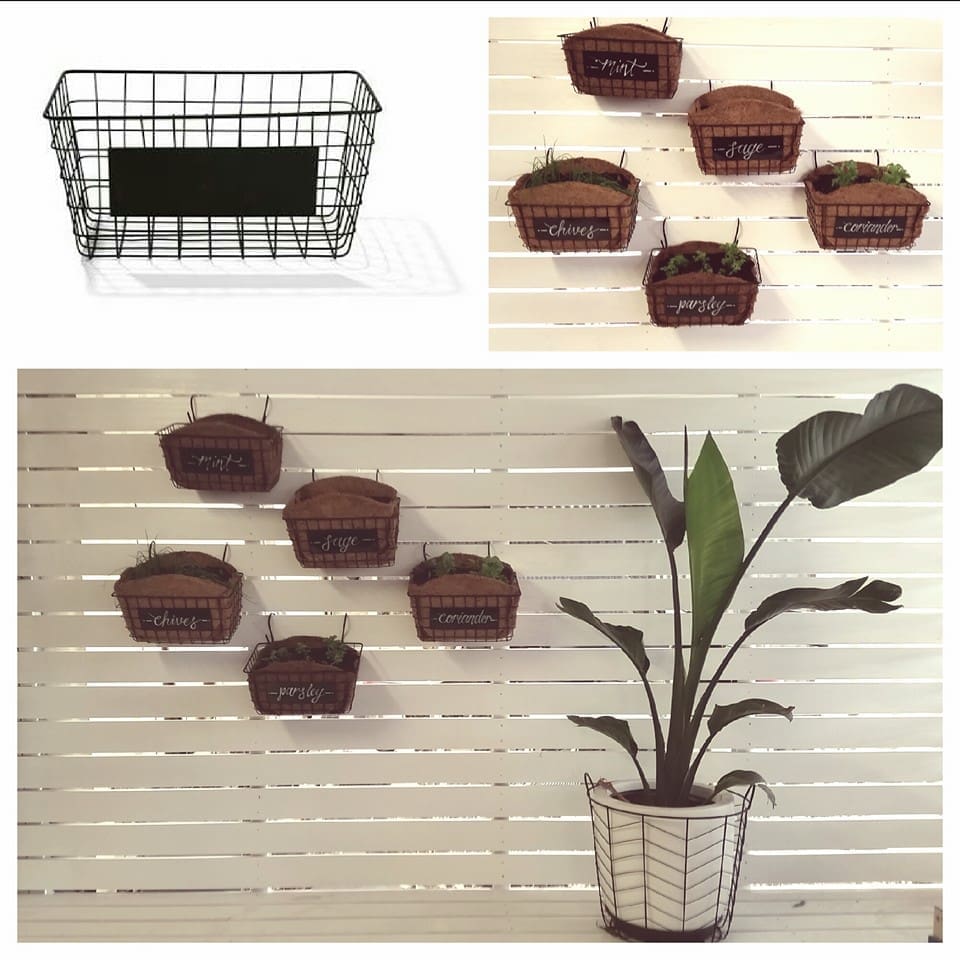 Have any of these outdoor Kmart hacks inspired you to have a go at creating one of your own? Or perhaps you've seen other amazing outdoor Kmart hacks that should make our list! Chat to us in the comment section below.
This article was first published in February 2022 and continues to be updated with the latest and best outdoor Kmart hacks.