Magnussen Home Furniture Farmhouse Bellamy Collection
Urban farmhouse chic is all the rage these days where the sophistication of city living meets the warmth of country charm. The urban farmhouse furniture style is a timeless mix of vintage comfort and modern convenience. It combines all the best of traditional farmhouse design and shabby chic with contemporary elements like clean lines, natural materials and a neutral color pallet.
A home furnished with urban farmhouse styling evokes visions of a simpler time when covered back porches, metal roofs and vertical siding were common sights. Dark and medium-toned wood furniture can be accented by creamy whites and neutral accents in shades of gray. The farmhouse look can be enhanced by touches of wrought iron and textured fabrics. Subdued geometric rugs are a perfect accent.
The Magnussen Home Furniture Farmhouse Collections
Magnussen Home Furniture Tinley Park Buffet Farmhouse Collection
The Tinley Park dining room collection from Magnussen Home Furniture features a trendy urban farmhouse design. This grouping features timeless styling with sturdy solid wood construction to stand up to years of use. Antiqued brass hardware with a pewter overlay adds to the urban farmhouse style. Choose the light wood pictured here or select from several other attractive finishes including the dark wood Bellamy collection, a weathered white in the Bronwyn collection and lighter wood shades in the Willoughby and St. Claire collections. Find rectangular and round tables, china cabinets, servers, benches and counter stools.
Liberty Furniture Farmhouse Reimagined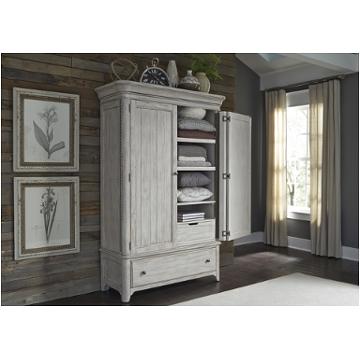 Liberty Furniture Farmhouse Reimagined Armoire
This stylish Farmhouse Reimagined armoire from Liberty Furniture makes a strong statement of style. If you need more storage space, add this stunning piece to the set that includes a queen poster bed, an 8-drawer dresser and matching mirror and a 3-drawer nightstand. Also available are a king panel bed, a 5-drawer chest for even more storage and a convenient bed bench.
Winners Only Farmhouse Collection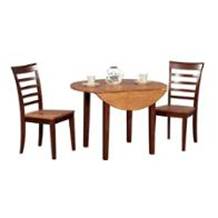 Winners Only Furniture Contemporary Farmhouse Fruitwood Collection
Bring the freshness of the country right to your home with the Winners Only contemporary urban farmhouse dinette set. The round table and slat back chairs come in a mix of dark espresso and contrasting lighter chestnut finishes that create an inviting look. The set features solid renewable hardwood butcher block hardwoods and veneers.
Discount Urban Farmhouse Furniture
Home Living Furniture in Howell, New Jersey features a large selection of discounted name brand furniture collections with a distinctive urban farmhouse look. Shop online and look for weekly sales, promotions and coupons. Experienced sales representatives are standing by to guide you in choosing the right pieces.
Browse the Home Living Furniture online shop for a large selection.