Magnussen Home Furniture Sutton Place Desk
Now that many of us are working remotely, it's time to get serious about creating a comfortable home office. If you are fortunate enough to have a separate room, you can make your home office a productive workspace that is also an inviting man cave. Your home office will probably need, at the very minimum, a desk, a chair and a bookcase and a file cabinet. After you take care of the basics, you can turn your attention to pieces that make this room your own.
Choose the Right Desk
Riverside Furniture Allegro Corner Desk
All desks are not equal, and the choice is huge. You can get a simple computer desk, a minimalistic writing desk or a grand executive desk for the center of the room. If you need storage at your fingertips, choose a credenza desk that features hidden storage space and open bookshelves. For more limited space, open up the room with a corner desk. Set the tone with warm wood tones for a traditional look or metal and glass for stark contemporary. Natural wood, black and gray are popular finishes for your man cave office. A leather swivel chair is a perfect addition, and you can add matching file cabinets that are part of home office collections.
Add Comfortable Extra Seating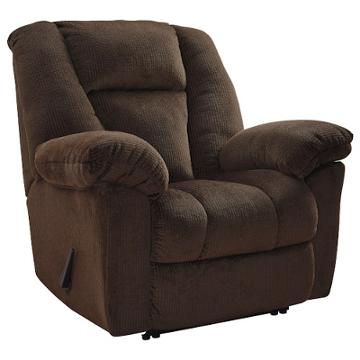 Ashley Furniture Nimmons Zero Wall Recliner

When you work from home you have the luxury of moving about and taking calls from a cushy sofa or recliner, as opposed to working in the same spot all day long at the office. Add style with a sumptuous leather fabric or neutral upholstered seating. Everyone needs a break to stay productive, and comfortable extra seating beside your desk chair can help you through your workday. A zero wall recliner does not require as much space as other models.
Give the Room Some Drama
Hooker Furniture Big Sur Entertainment Console and Fireplace Insert

Now that you have the basics, it's time to add some extras to your office/man cave. If you like to take a break and catch up on the latest throughout the day, an entertainment console can give you the space you need. Add a cozy fireplace insert for drama, or choose a freestanding fireplace. A bar or wine cabinet is another welcome addition.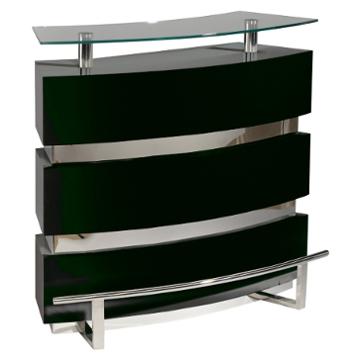 Chintaly Imports Furniture Xenia Bar
Discount Name Brand Furniture
Find a wide selection of home office and the rest of the house, including the outdoor patio, at Home Living Furniture. Shop online for the best selection. Home Living Furniture sales representatives are ready to help you select the right pieces to make your home office an inviting man cave. Look for discount pricing all year, along with weekly promotions and specials.

For further information about Home Living Furniture and to shop online, visit homelivingfurniture.com