Aico Furniture Melrose Plaza V Back Sofa
When it comes to buying a living room and bedroom furniture, you want to be sure that you are getting the most for your money. Furniture can be a major investment, so it is important to do your homework and understand what goes into high-quality furniture construction so you purchase pieces that last. Whichever style you choose, from timelessly traditional to the soft contemporary or trendy farmhouse, it makes sense to buy known brands with high-quality materials and construction. Remember that just because you can find similar items at vastly different prices, it may be the construction that makes the difference.
What to Look for in Living Room Seating
Natuzzi Editions Motion Sectional

To choose high-quality living room seating, look beyond the surface and find out about the frame, the filling and the seating support. These are the elements that define the comfort of the seating as well as its stability and capacity to keep its shape and remain sturdy with continued use. Hardwood frames that are dried to remove the moisture from the wood are preferred. Joints should be strengthened for additional support.
A hand-tied spring system or sinuous spring construction are typically stronger than web suspension where bands are placed across the seat and back. For cushion filling, down is considered an excellent – and expensive – option, although they are high maintenance and require fluffing daily. Polyurethane is the most common filling, while the low-quality foam is not generally recommended because of its tendency to break down.
What to Look for in Bedroom Furniture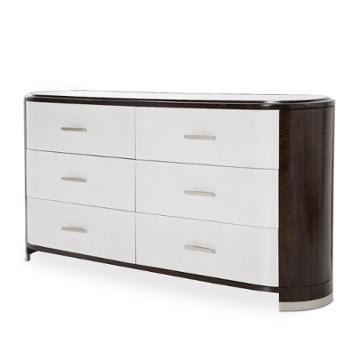 Aico Furniture Paris Chic Dresser
When looking for a bedroom set or individual coordinated individual pieces if that's your taste, look beyond style to make your purchase. Bedroom furniture generally gets a lot of wear and tear, so choose high-quality pieces. Many name brands offer solid wood construction, as opposed to lesser quality thin plywood, pressboard, particleboard or fiberboard. You do not want a piece made with wood that has knots or cracks in it. A soft surface can be easily scratched.
Drawers should move on metal glide rails with stops. The best dressers, chests and nightstands have thin sheets of wood between drawers. These act as dust panels to improve structural strength and offer protection for the contents of the drawer. Drawers that have bottoms that float in the groove, as opposed to those that are fixed to the sides, are preferred since they allow for expansion in humid weather. English and French dovetail drawer construction and reinforced corner blocks can prolong the life of your bedroom furniture.
Home Living Furniture is Open for Business
Home Living Furniture is located in central New Jersey's Monmouth County, just a short drive from New York City and Pennsylvania. Shop in person or online at the Howell, New Jersey Home Living Furniture virtual store for a large selection of discounted name furniture, mattresses and accessories. Experienced sales representatives are standing by to guide you in choosing the right pieces for your home.

Look for weekly sales, promotions and coupons in addition to discount pricing, and ping us for exclusive sale & promo codes only available on chat. Let us know how we can help make your home a haven.