Decorators are now rethinking stark gray and white rooms and opting for solutions to warm up the home and make it more inviting. The key is to add balance to avoid a stark and gloomy look and opt for a calming and sophisticated look instead.
Here are some helpful tips to warm up your gray and white home that embrace today's more comfortable sensibilities.
1. Use Warm Accent Colors
Balance out cool grays and whites with warmer tones like warm gold tones, deep orange and saddle brown accents. A comfy yellow or red leather recliner in a gray and white living room can act as an interesting accent piece and warm up the room.
2. Add Layers of Texture
In the living room, a soft throw blanket casually tossed over a
loveseat or sofa and cushions with patterns and interesting textures can go a long way in softening the look of a stark gray and white space. An upholstered headboard, especially in a deeply tufted style, can give a softer look and feel to the bedroom. Permanent fixtures such as backsplashes and countertops can add texture visually.
3. Use Area Rugs
Area rugs are a natural way to add texture, color and pattern to mitigate the effect of a stark gray and white room. A fashionable area rug in the great room, living room, and dining room can define a space and introduce style to your room.
4. Think Wood, Greenery and Woven Decor Items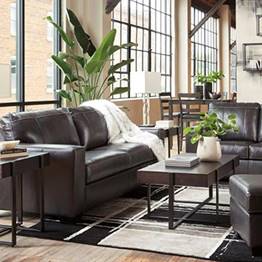 Soften the austere look of gray and white room decor wood furniture and decor items and throw in some woven baskets to change the vibe. Add a profusion of natural greenery, and colorful flowers both real and faux, along with graceful branches to make your home a welcoming haven.
5. Avoid Gray Walls in a Room with Low Light
Dark rooms with lots of shady areas are not good candidates for gray walls. If you paint the walls gray, instead of achieving the trendy look you want, you may only succeed in making the space look cool and uninviting. Instead, use a beige/gray combo greige color or another neutral with a warmer color.
6. Let in the Light
Open your home to natural light where you can, and enhance the effect with artificial light. Finding the right light fixtures is easier than ever, so brighten up your home and add style with chandeliers, lamps and pendant lights that make a strong statement of style.
Count on the experienced sales representatives at Home Living Furniture to give you good ideas for warming up your gray and white home. Shop furniture and accessories online or visit the Home Living Furniture stores in Howell and Middletown, NJ in person.
For further information, visit homelivingfuniture.com.