Is 2023 finally going to be the year you get your dream kitchen? Then the last thing you want to do is date your kitchen by using materials or design ideas that have had their time and are on the way out… Designing a kitchen that will last the distance involves selecting a materials palette and design trends that are at the start of their design cycle — rather than those that have been popular for several years and have already reached their peak. This means you'll benefit from their full design cycle. And it isn't just about looks. As technology continually evolves, it's important to consider how you can create a smarter kitchen that makes life easier or more eco-friendly with sustainable materials and energy-efficient appliances.
By understanding the current trends in kitchen design, you can create a space that is both stylish and functional for your needs. Here's an overview of kitchen design trends in 2023.
Related article: Stylish kitchen sink materials for all budgets
Related article: The kitchen design measurements you need to know — from an Interior Designer!
Automation and smart appliances 
It seems you can't have a kitchen design trends article without mentioning automation. But technology continues to advance — and rapidly! With automation, you can easily control lights, temperature, window treatments and other functions with just the sound of your voice or a simple tap of a button on your smartphone.
Smart appliances come equipped with sensors that allow them to learn how you use them over time so they can better adjust their settings for optimal performance. This technology is making cooking easier than ever before while also helping to save energy costs in the long run. Be sure to shop around. However LG, Samsung and Breville are still the market leaders in this field. 
Stylish colour palettes and materials 
Most often when people hear 'kitchen design trends' they think of what you can see — cabinetry finishes, splashback options, hardware and tapware. It's this combination of materials, called a materials palette, that creates the ambience of your kitchen. Select warm tones and earthy materials for a luxe contemporary aesthetic, or cool tones and hard finishes for a modern look.
Every interior design style, such as Hamptons or Industrial, also has signature colours and materials associated with that style. For example, Hamptons kitchens typically use crisp whites or cream tones punctuated with blue or green accents inspired by the ocean. You'll also often see natural stone, such as a marble splashback, and luxe tapware used.
Despite these timeless design rules, trends can influence what colour palettes or materials are 'in'. Gloss or matte, sleek or brushed, beveled or flat and so on.
In 2023, we're seeing a return of bolder and more personalised spaces. People are mixing up materials and textures, often integrating timber and stone for a modern look that brings a sense of the outside in. Travertine has been gaining popularity as the new 'it' stone and can look spectacular as a flooring or splashback option. Or if you're feeling really bold, coloured joinery can create an eye-catching kitchen!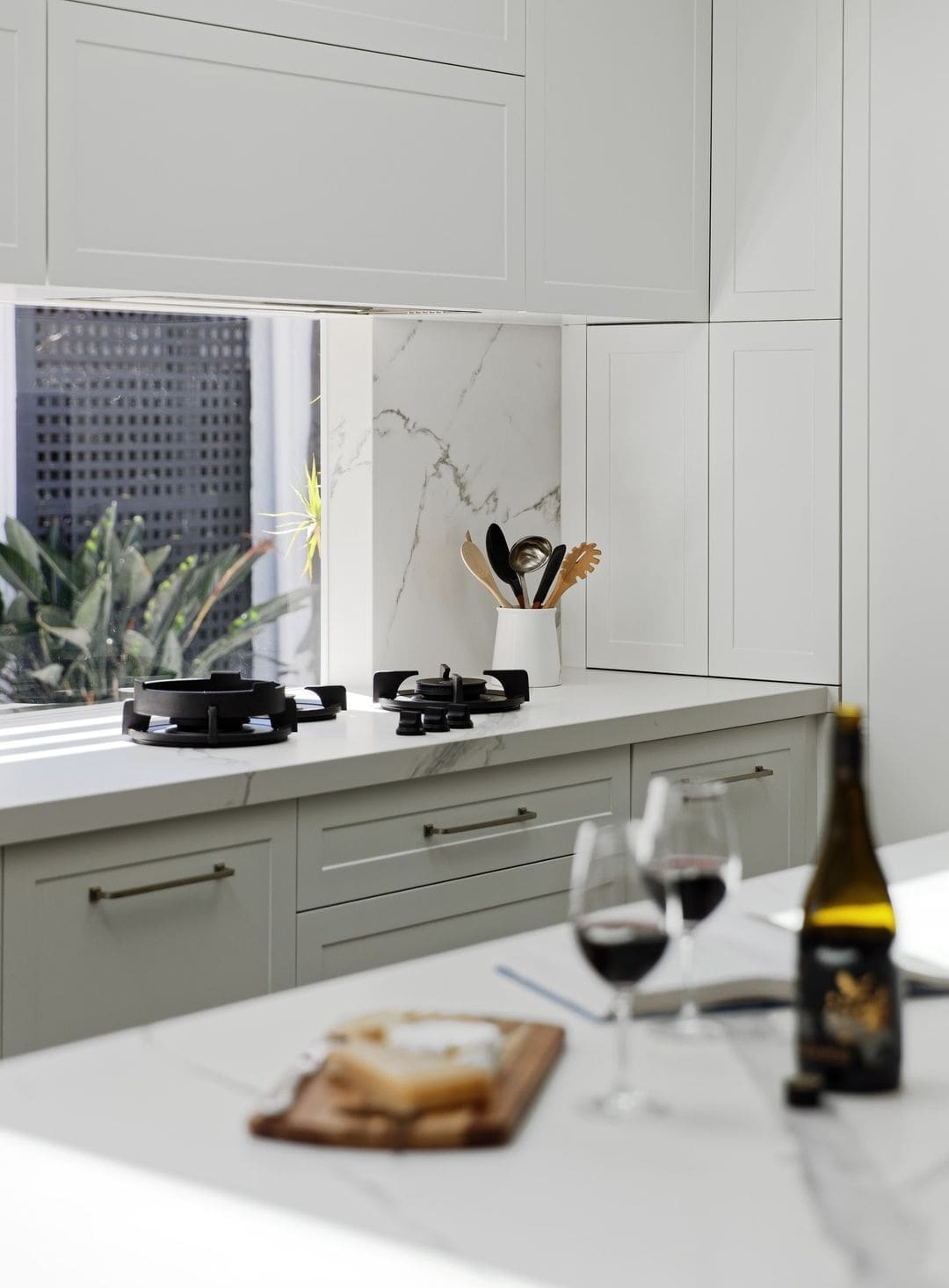 Focus on family friendly designs
There's no point having a showroom kitchen if it isn't functional. And when catering for a family, considering every design detail is a must.
Some of the most popular design elements in a family friendly kitchen are:
ample storage
breakfast nook or integrated seating area
plenty of bench space or an integrated e-desk for homework and household admin
soft close doors and drawers (say good bye to banging cupboard doors!)
pull out bins and a minimum of 2
zip tap for instant cold and boiling water
large pantry or preferably a butler's pantry
double bowl kitchen sink
extra power points.
When it comes to kitchen design in 2023, integrating as many of these family friendly features will make cooking easier and more enjoyable for everyone. Not to mention, will also appeal to future buyers if you're thinking of selling down the track.
Ultimate butler's pantries
Butler's pantries have been gaining popularity over the years but in 2023, they're getting taken to the next level! Many resemble a mini kitchen in their own right, complete with drinks fridge, sink and second dishwasher.
Before getting carried away with all the inclusions you could add, start by thinking about your needs. If you rarely entertain large groups, a second dishwasher would be of little value. So prioritise this space for something you'll truly enjoy like dedicated space for a Thermomix, deep pull out drawers or wine fridge 😉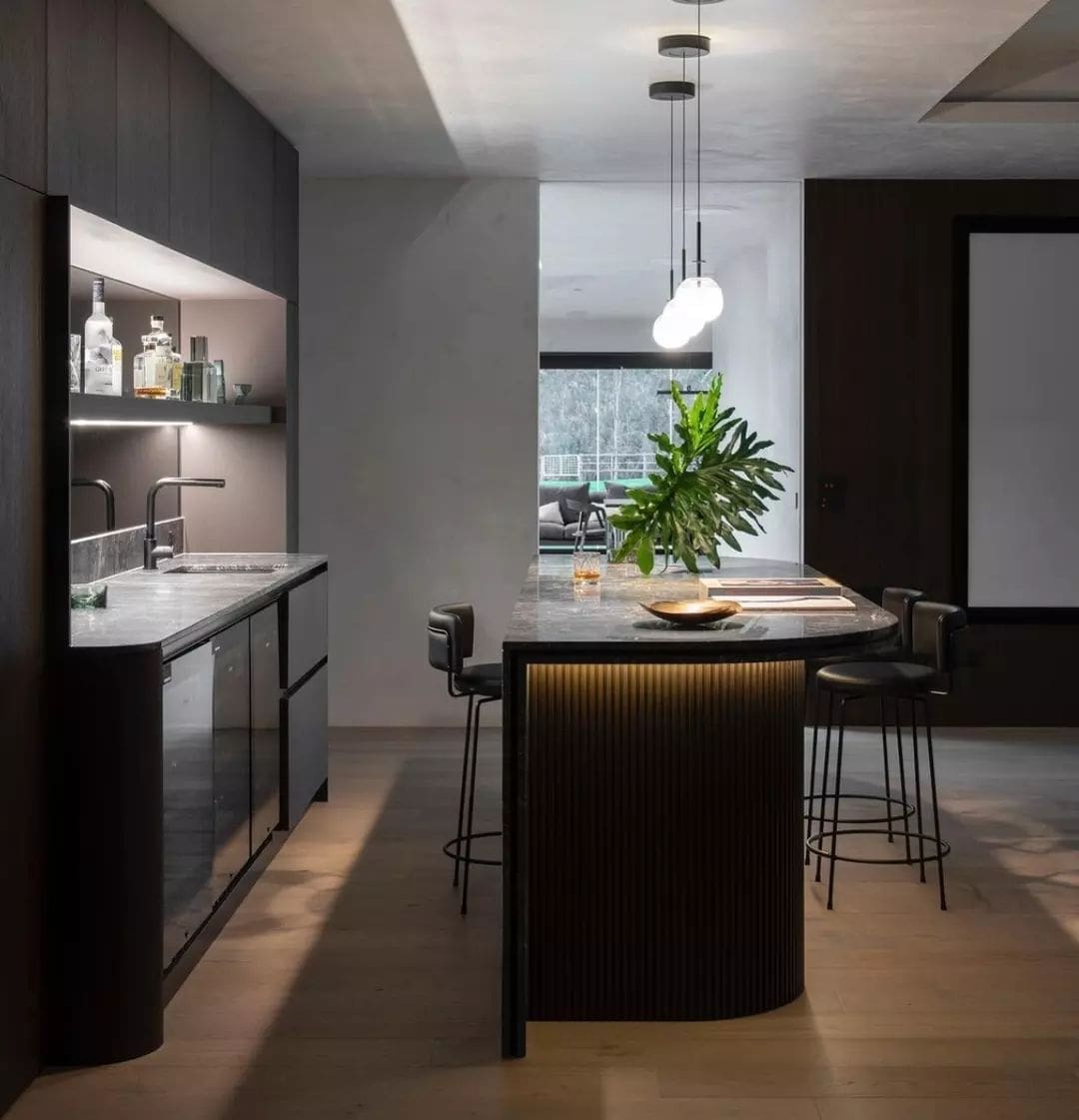 Eco-friendly kitchen design
Eco-friendly kitchen design covers a broad array of ideas. From sustainably manufactured materials to compact design (ie not creating the largest kitchen just because), there are many ways you can still create your dream kitchen while considering your environmental impact. Plus, you'll often save money on utilities in the long run!
When choosing materials, consider using reclaimed materials which add character to your space while decreasing demand for new materials. Some materials are also more sustainable as they have a lower environmental impact or can offer a much longer lifespan. Alternatively, many companies are becoming increasingly environmentally conscious, such as building manufacturing facilities with solar power or a waste water recycling system.
The appliances you choose can also make a big difference. Look for items that have been certified for their energy efficiency, such as a fridge with a high Energy Star rating. This will help to reduce your energy bills while also reducing your environmental impact. 
The kitchen trends in 2023 are less about particular colours or flashy features, and more about taking a considered design approach. There's a growing understanding of good design principles and our impact on the environment. We hope you've been inspired to create a beautiful kitchen that will serve you well for the long term. Of course, going with a top kitchen renovation company to get the best guidance from design to installation is also a must.