The living room is a special place in the house where we relax with the family, entertain guests and enjoy our leisure time alone. Many of us are spending more time at home and looking at the living room with a fresh perspective. Now that the living room has taken on a more critical role in our lives, it's time to update that venerated space to make it the inviting place it deserves to be.
Fortunately, there are some moderate updates that can make a big difference. Here are some living room tips that give panache to your favorite room in the house.
A messy, cluttered living room is not attractive, no matter how spectacular the decor. An easy way to keep your living room neat and organized is to ensure you have enough storage space.

A multifunctional cocktail table with storage and a stylish console or buffet can go a long way toward keeping the living room tidy. If your living room is your entertainment space, make sure you have an entertainment unit to store electronics and games.
Indoor greenery is more in style now than ever before. Find the right spot for lush indoor plants and enjoy bringing nature right into your home. Another way to bring the outside in is to choose rugs and wallpaper with natural colors and patterns for a natural look. Be sure to open your shades and door coverings to the outdoors, especially if you have a good view.
Add a Touch of Excitement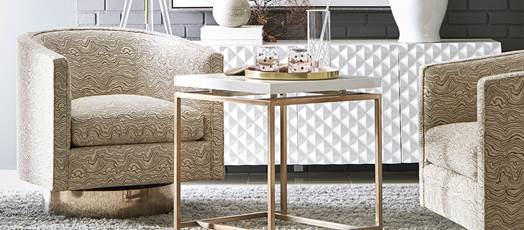 Bring excitement to your neutral decor with textures and color. Maximalism is trending now, maybe as a reaction to the calming neutral colors and minimalistic design we have all enjoyed in recent years. Now it's time for something fresh and new.
If over-the-top maximalism is not really your thing, tone down the sleek lines of contemporary furniture and a predictable neutral color palette with textures, patterns and colors. Rugs are a good way to introduce style to your living room. Put some playful details into the mix with artisan pieces made with traditional craftsmanship.
Update your living room by swapping out your sofa for a fashionable Chesterfield or add a couple of stately wing chairs if you have the room. Another way to add more style to your living room is to incorporate beautiful accent pieces that show off your personality and good taste.
High-style accent chairs and cocktail tables show well against a backdrop of neutral sofas. A stunning tagre or stylish recliner in a sumptuous leather upholstered fabric can also ramp up the style.
Perk Up the Room with an Accent Piece
If you really want to up your game in the living room, impress your guests by bringing in a spectacular accent piece to liven up the room. Choose a dramatic linear electric fireplace with dancing flames to create a focal point that will become a wow factor that you and your family will enjoy. A stunning free-standing bar with a brass rail and artwork can also make a strong statement of style.
Find everything you need at Home Living Furniture to update your living room along with other rooms in the house. For further information, visit homelivingfurniture.com