When your child is ready to give up the crib for a bed, there are many choices for children's furniture. Depending on your needs, you can go with an individual-themed bed to spark your child's imagination, day beds and bunk beds in a variety of configurations or a full bedroom set that can last into the teenage years.
Here are some tips for choosing the right kid's bedroom furniture that will last.
Tip #1: Look for Quality Materials and Construction
When it comes to selecting furniture for children, durable materials and sturdy construction are primary considerations. That's because well-constructed children's furniture is safer and more likely to last with repeated use. Name brand kid's bedroom furniture are likely to follow furniture safety guidelines issued by the Consumer Product Safety Commission. Look for hardwood solids for durability and features like guardrails for safety.
Tip #2: Choose the Right Bed Size and Type

Children's furniture comes in bed sizes from crib sizes to twin- and full-size beds. For a younger child, a twin size may be appropriate, while an older child would probably appreciate the room provided by a full-size bed.
Loft and bunk beds in many bed sizes and configurations can provide the versatility you need. Some loft beds offer a second bed below on casters. Themed beds can delight your child and encourage them to spend many happy hours in creative play.
Tip #3: Look for Storage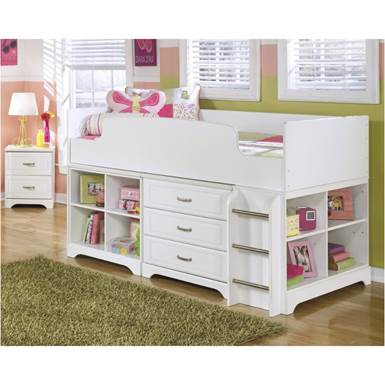 Ample storage is the key to keeping your child's room neat and organized. With today's practical furniture designs, you can find plenty of children's bedroom furniture that provides the storage you need. Whether you need storage for toys for the little ones or electronics and school supplies for older children, you will have plenty of options. Find beds with under-bed storage drawers and loft beds with shelving and drawer storage.
Tip #4: Pick a Style
From bedroom furniture with a romantic feel for girls and rustic furniture with a rugged look for boys, you can find the ideal furniture for your child. Look for Victorian-inspired pieces in all white for a classic girl's room and casual wood furniture with an attractive finish for boys. You can also find the sleek lines of today's contemporary designs in children's bedroom furniture.
Tip #5: Add Needed Pieces
If you choose a children's bedroom set and find that your child's needs change as they get older, you can take advantage of occasional pieces that match the basic set. A child's bedroom set may come with a bed, a dresser, a nightstand and a mirror. Many name brand collections offer additional matching pieces like desks, chests of drawers and bookcases for extra storage and function.
Name Brand Children's Furniture
Find the right kid's bedroom furniture at children's furniture stores in Howell and Middletown, New Jersey. When you look for kid's furniture in the Howell store you will see an elaborate showroom with beautifully displayed furniture from name brands.
For further information visit homelivingfurniture.com.