For any property-related transactions in Madhya Pradesh, all parties concerned have to avail of the services provided by the Madhya Pradesh Inspector-General of Registration or MPIGR. This guide is meant to familiarise buyers, sellers and investors with the MPIGR and its services.
MPIGR
Every state in India has an Inspector-General of Registration and Stamps (IGRS), who is responsible for levying taxes on all property-related transactions. The IGRS is also responsible for keeping records of all the property transactions in the state.
The MPIGR is Madhya Pradesh's state authority, which levies stamp duty and registration charges on all property-related transactions. The MPIGR also acts as the single biggest repository of land and property record-keeping in Madhya Pradesh.
See also: All you need to know about Dharitree
Registration and stamps department Madhya Pradesh
The MPIGR comes under the Madhya Pradesh Registration and Stamps department. The MPIGR oversees property registrations throughout Madhya Pradesh through its 233 sub-registrar offices.
Check out: Gwalior 
MPIGR responsibilities
In the sub-registrar offices under the MPIGR, you can get your property-related documents registered, search for any registered documents, and apply for copies of such documents.
See also: All you need to know about Punjab land records
MPIGR services
Document search
Electricity bill
E-registration and slot reservation
Property valuation
Duty calculation
Attested copy
Will deposit
Application for service provider licence
Water bill
RERA registration details
Stamp duty calculation
Mutation fee details
Guideline value
Agricultural land conversion check
Khasra numbers check
Bhu naksha MP fee details
Complaint registration
See also: Everything about IGRMaharashtra 
Sub-registrar office under MPIGR
There are 51 district registrar offices and 233 sub-registrar offices in Madhya Pradesh. All these offices work under the control of Bhopal-headquartered MPIGR.
See also: All about CG Bhuiyan
MPIGR SAMPADA
SAMPADA is the web-enabled digital project by MPIGR for registration of documents in Madhya Pradesh.
MPIGR service provider
The MPIGR gives licenses to service providers, mainly authorised collection centres (ACCs), banks and financial institutions, to sell e-stamps for online registration of property. The MPIGR service provider application can be submitted on the SAMPADA platform.
Know about: Jabalpur, Madhya Pradesh 
Can I register my property online in Madhya Pradesh?
You can register your newly purchased property online in Madhya Pradesh on the MPIGR official website – https://www.mpigr.gov.in/. Note that the MPIGR provides document registration-related services through its SAMPADA platform. SAMPADA is short for Stamps and Management of Property Document Application.
Mandatory uploads for MPIGR e-Panjiyan system
Mobile number
Email ID
Identity proof: Passport, driving licence, bank /post office passbook, PAN card, voter ID, Aadhaar card
Bhoo adhikar evam rin pustika number (agricultural land)
Khasra number (agricultural land)
Number of diversion order (diverted land)
Map and three photographs of the property, showing the front, the left and the right view
Number and date of the order if the land was disputed
PAN number in case of property value is Rs 5 lakhs or above
Note: If you claim any exemption in stamp duty or/and in the registration fee, mention the notification number with the date and text of the notification in the document and upload the same. If you want to avail of any kind of exemptions that do not figure in the list given in the e-panjiyan system, mention the notification number and upload the supporting document.
See also: How to do Khasra number check MP
Process for online registration of property on MPIGR
Step 1: MPIGR Login
Only registered users can register property online on the MPIGR portal. To register yourself, visit https://www.mpigr.gov.in:8080/IGRS/userreg.do?TRFS=NGI&. Fill in all the required details to register yourself.
Step 2: MPIGR registration initiation
Once you are registered, open the MPIGR portal, and enter your user name and password. Choose your preferred language (Hindi or English), and click on the login button.
On the new page, click on Registration process > Registration Initiation > Initiate registration application.
On the next screen, select the relevant deed category from the available drop-down menu.
Next, select the relevant instrument/document.
Fill in the consideration amount for the calculation of the duty. Also, check the boxes that may be applicable in your case.
If you have not done property valuation in the current financial year, click on 'No' to generate a valuation ID. If you already have a valuation ID, click on 'Yes,' enter the ID number, and click on the 'Validate' button to verify the ID.
If your valuation ID is validated, relevant property details will appear on the screen. Click on 'Next' to proceed.
On the next page, select the relevant district, tehsil, area type (rural or urban), sub-area type, ward/patwari halka from the sub-area type of tehsil, village/colony under the ward, and property (plot, building or agriculture land).
Below we are using a sample flow for building transactions. Fill in all the details, and check the applicable boxes.
Once all the steps are complete, provide the buyer details.
Upload all the mandatory documents like ID proof, photograph, PAN card, etc. A similar process must be followed to fill in seller details and property details.
Following this, initiate the stamp duty payment process.
Also read all about IGRS Madhya Pradesh
How to verify E-stamp on MPIGR website (MPIGRS)?
Step 1: Go to the official website, https://www.mpigr.gov.in/#/home.
Step 2: On the home page, the option of ई स्टाम्प सत्यापन will appear. Click on it.

Step 3: On the next page, fill E-stamp ID, captcha, choose language and hit Search to verify e-stamp on the MPIGR website.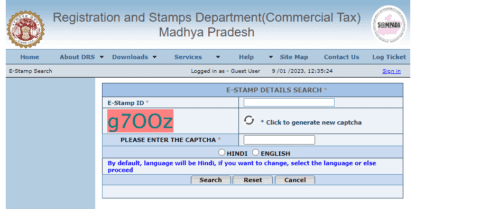 MPIGR contact details
Helpdesk for e-registration
Toll-free number: 18002333842
Other numbers: 0755-2573849, 0755-2573846, 0755-2573852
See also: Bhopal Pin code 
Stamp duty in Madhya Pradesh
| | | |
| --- | --- | --- |
| Property owner | Stamp duty rate (percentage of the property cost) | Registration charge (percentage of the property cost) |
| Male | 9.5% | 3% |
| Female | 9.5% | 3% |
| Male and Female | 9.5% | 3% |
| Male and male | 9.5% | 3% |
| Female and female | 9.5% | 3% |
Source: MPIGR
See also: All about land record terms
FAQs
What is the full form of MPIGR?
MPIGR is the short form for the Madhya Pradesh Inspector-General of Registration.
What is the stamp duty rate in Madhya Pradesh?
Buyers in Madhya Pradesh have to pay 9.5% stamp duty on property registrations.
What is e-Stamp?
E-stamp or electronic stamp means an electronically generated impression on paper, issued from the electronic stamping system, to denote the payment of stamp duty or any such amount that would have otherwise been paid as an impressed or adhesive or franked stamp.
How many reginal offices are there under the Deputy Inspector-Generals of Registration in Madhya Pradesh?
The department has four regional offices located in Bhopal, Gwalior, Jabalpur and Indore working under the Deputy Inspector-Generals of Registration.
How many district registrar offices and sub-registrar offices are there in Madhya Pradesh?
There are 51 District Registrar offices and 233 Sub-Registrar offices in the state.
Do I have to visit sub-registrar's office in Madhya Pradesh after paying online stamp duty for property registration?
Yes, while any registered user can start online presentation of documents for registration, they have to visit the sub-registrar's office at an appointed time where photographs of the parties concerned are captured by web-camera and thumb impressions are taken by bio-metric device.
What facilities are available on the SAMPADA portal?
On the SAMPADA portal, facilities such as valuation of property, calculation of stamp duty and registration fee chargeable on different types of documents and slot booking in the office of the sub-Registrars are available.