Ashley Furniture Holloway Dining Set
Now that you have purchased attractive new wood furniture for your home, you will want to keep your purchase looking good for years to come. High-quality name brand furniture is built to last, but you have to do your part to maintain the beauty of the wood. Make sure to follow the manufacturer's directions for your specific wood piece.
Here are some general suggestions for protecting your wood furniture purchases:
Position your Furniture Correctly
Coaster Furniture Andrea Buffet/Hutch

When you think about where to place your new wood furniture, make sure to keep it away from heating and cooling vents. Most people know that wood does not do well near a fireplace or indirect (or sometimes indirect) sunlight. You don't want the wood to dry out or the finish to fade. Keep in mind that sources of moisture like humidifiers can also affect wood.
Protect your Cocktail Table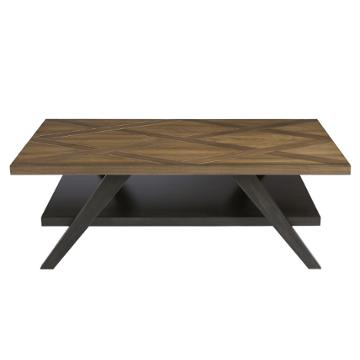 Universal Furniture Chandler Cocktail Table
Cocktail tables, sometimes called coffee tables, are a staple for the living room where they get a lot of use. Hot or cold objects can react with the surface of the wood table and result in discoloration such as a white ring. Remember to place coasters under drinks and use a thick pad underneath items like pizza boxes.
Keep your Wood Furniture Clean
ART Furniture Old World Armoire
If you want your wood furniture to last, clean it on a regular basis. A dry, soft cloth or a feather duster is ideal to remove dust. You might want to dampen your cloth just a touch to avoid scattering dust into the air. For more thorough cleaning, wipe down the wood furniture with a slightly damp cloth. Cotton cloth is the best choice since the fibers in a synthetic cloth may cause scratches on the surface. Many manufacturers recommend avoiding wax-based cleaning products and products with silicon for wood furniture with a low sheen. These products may contaminate the finish.
Remove the Hardware before Cleaning
Hooker Furniture Adagio Two Tone Credenza

Stay on the safe side and remove hardware from wood furniture before you clean it. Use a metal or brass cleaner and then buff the hardware. Only reattach the hardware when it is completely dry. There are many furniture cleaning products out there, so be sure to follow the manufacturer's suggestions before you apply a cleaning product to your wood furniture.
Home Living Furniture in central New Jersey is open for business. For information about Home Living Furniture weekly sales and promotions and to shop online, visit homelivingfurniture.com.