Life as a renter can certainly come with its share of pros and cons. One undeniable pro is that you can live anywhere without having to lock yourself into a thirty-year mortgage, only paying steady rental rates and renters insurance to protect yourself and your assets. Yet one con that many renters can relate to is the struggle to make a rental house feel like a comfortable and cosy home.
Although it can be tricky to feel truly at home in a rental property, there are plenty of styling tips and tricks to make the space your own. Keep on reading as we share our top ideas to transform your rental property into a personalised, warm and cosy home. Effortless hominess for any rental property coming up!
Related article: 21 decorating hacks for rental properties
Related article: How to add colour to a rental: Interior Designer Bree Leech shares her latest project and tips
Curate your furniture
Being transient or moving from lease to lease can often deter renters from investing in quality furniture. And it's easy to understand why! Investing in expensive furniture when you're saving for a home deposit can be hard to justify. Or if you're committed to the rental lifestyle, what looks amazing and fits perfectly in one home may not be suitable for the next…. But it is possible to curate a few key furniture items that will work in any space.
Furniture to invest in as a renter:
bed and mattress, these pieces will stand the test of time. Look for a timeless design bed that you can style in endless ways with new bedding
desk and office chair, if you've embraced a working from home lifestyle for the longer term
armchair, perfect for a cosy nook in an empty corner of your bedroom or living room.
Then depending if you generally rent alone or in a share house, other key furniture items include coffee table, sofa (modular is best), dining table and console table.
It's worth mentioning you don't have to buy all new furniture. Digital marketplace platforms like Gumtree or Facebook Marketplace are a goldmine for quality furniture or older pieces that can look amazing with an upcycle. It's the perfect way to style your home beautiful within a modest budget.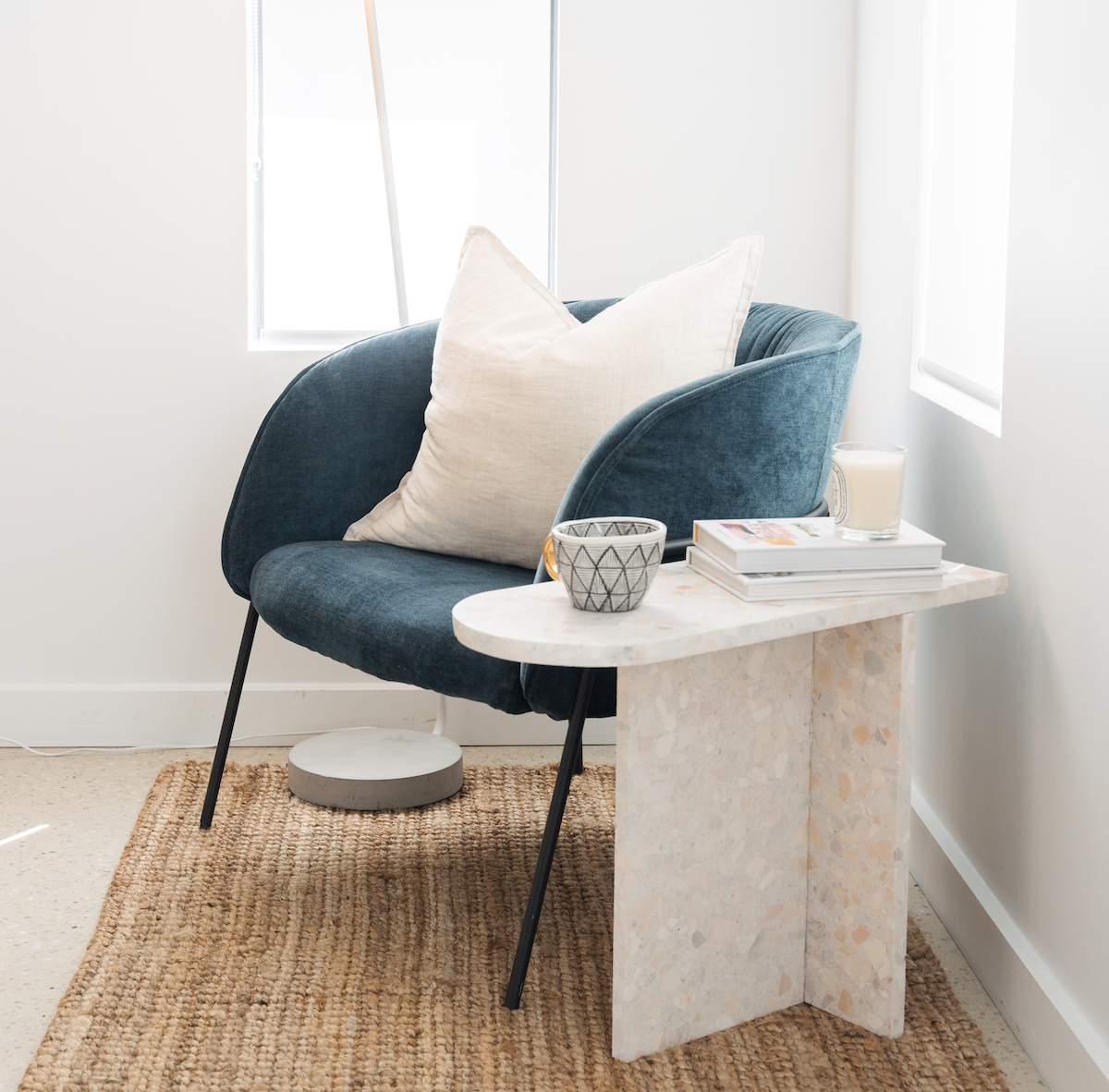 Embrace rugs
Oftentimes, the flooring in rental properties can be a little worse for wear! Old carpets in rentals, broken tiles and scuffed floorboards sound familiar? Our tip: Sweep it under the rug… literally!
Using area rugs fixes a multitude of sins. Covering unsightly flooring, tick! Uplifting the look of rooms when you can't do significant changes like paint, tick! And making your home feel more cosy by defining zones and adding softness underfoot, tick!
Rugs can be a fab asset for all long-time renters as they allow you to take control over the flooring of any property you may be leasing. Using rugs also minimises the chance of creating any additional damage during your lease agreement, protecting the floors of your rental and your ability to get your bond returned in full!
Hang up some wall art
Naked walls are one of the biggest rental decorating sins! And we get it, the last thing you want to do is risk damaging walls. Yet just a few pieces of wall art can transform any rental home from clinical to cosy.
Removable hooks have come a long way and actually work… just be sure to follow the instructions on the packet (the adhesive needs to bond for an hour before you hang the art). It's also worth mentioning that some regions have also lifted this rule, allowing renters to hang picture hooks without needing to seek a landlord's permission.
There are also plenty of alternative options to display art that don't require hooks at all, such as propping art against a wall or on top of a bookshelf. And let's not forget, art doesn't have to sit in a frame. Wall hangings, sculptures and even hanging plants can all act like art for your space.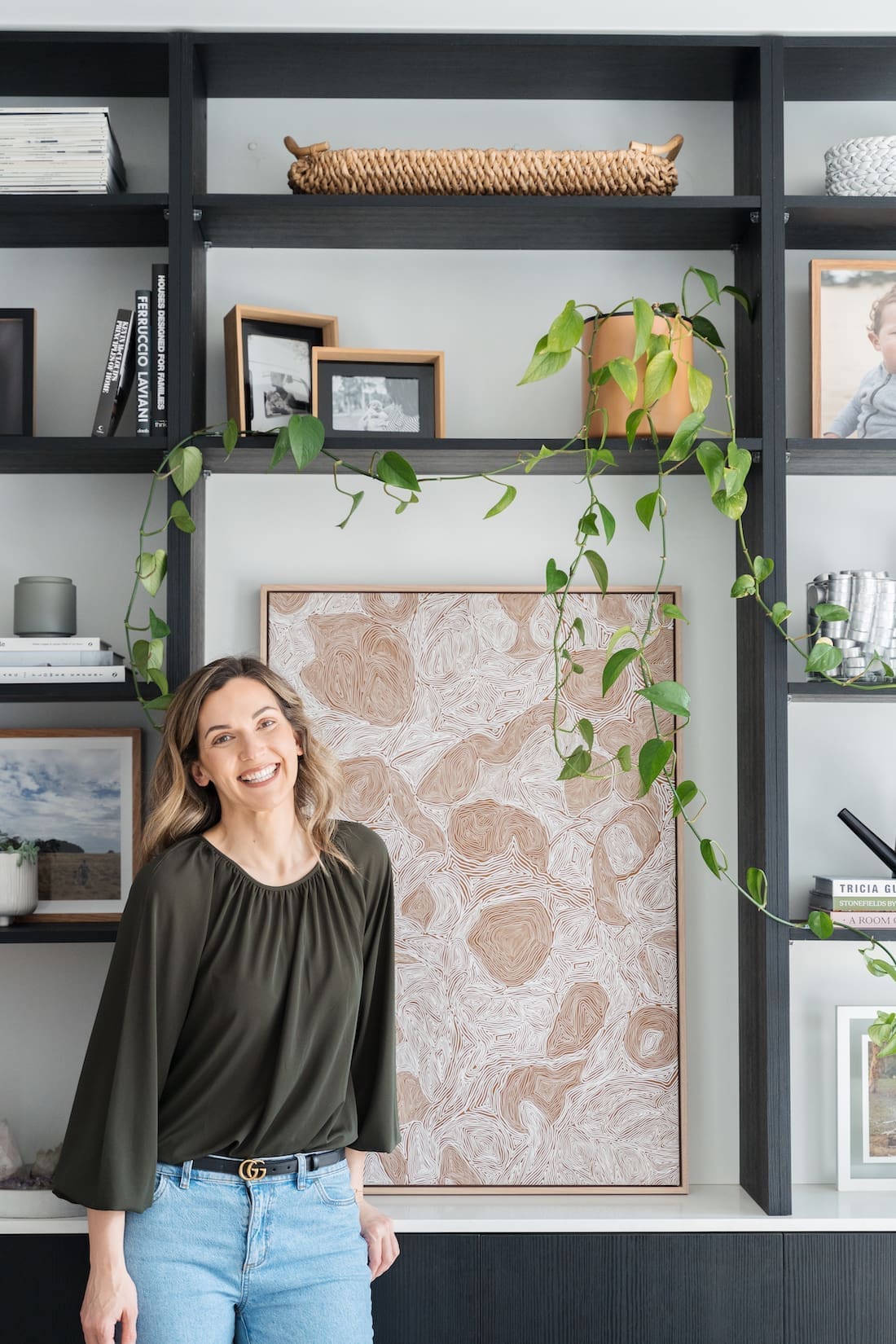 Swap out your light bulbs
It's all too common for the light bulbs in rental properties to be fairly generic. So a simple but high impact way to transform the mood of your rental place is to swap out your light bulbs. Say bye bye to ultra-white clinical light and embrace globes that are as close to natural light as possible. You may also like to find more energy efficient bulbs.
While on the topic of lighting, you can never go wrong with a few table lamps and floor lamps strategically placed around your home. Lamps offer softer lighting than ceiling lights and are a decor piece too!
Oh, and our personal fave are hanging a few fairy lights. These are ideal on a balcony or anywhere you want to create an extra sense of warmth and magic.
Hang your own curtains
After paint, our top way to transform a space is by updating your window coverings. So if you're renting and painting is not an option, we suggest refreshing your curtains. There are plenty of how-to videos on YouTube showing renter-friendly hacks to swap out curtains. Or you can find easy-to-install curtain rods that require no drilling at your local hardware store.
Or if you have a long-term lease, investing in luxe sheer curtains with the permission of your landlord will pay off tenfold. Sheers diffuse light beautifully and instantly make any space feel more cosy! The right window coverings can also create the illusion of larger, brighter and more luxurious spaces.
We hope these rental decorating tips and tricks help you! Check out even more ideas to make your rental property feel like a home with our top rental decorating hacks. Or share your favourite ways to add hominess to a rental below!