Find a great selection of
mattresses
at discount prices.
The huge array of mattress choices is almost too much of a good thing. Experts recommend changing your mattress every 10-15 years to so you can get a good night's sleep and protect against allergies and more serious disorders like high blood pressure and diabetes. But with such a wide range of mattresses, how do you pick the mattress that is right for you?
A mattress that is too firm or exceedingly soft can put your body out of alignment and cause you to experience aches and pains during the day. You should also do your homework so you know the difference between different mattress types like pillowtop and memory foam.
Here are some tips for navigating the mattress store and selecting the mattress that fits your needs – and your budget. Experienced sales representatives at a reputable mattress store can help.
1. Pick the Right Mattress Size

Ashley Furniture King Mattress

Before you start your search, it is important to know what mattress size you want. Mattresses come in a range of sizes from a narrow twin to a spacious king size. A full-size mattress is a little narrower than a queen-size, at 53 inches and 60 inches respectively. The roomy king size mattress is 79.5 inches long and 76 inches wide. For an even bigger bed, choose a California king size which is 83.5 inches long. Another specialty size is the twin XL, which has the same width as a regular twin size mattress but adds 5 inches to the length.

2. Know Mattress Type Options
The breathable M1X mattress for soft support.

While innerspring mattresses are still widely used, there are options like Pillowtop, Eurotop, memory foam, latex the list goes on and on. Before you purchase your mattress, you should understand your choices. Both Eurotop and pillowtop add an extra layer of cushioning on top of the mattress, with pillow tops providing an additional comfort layer sewn onto the mattress. Memory foam and latex are slow to bounce back to their original position, thus tending to conform to your body and keep you in alignment. Memory foam mattresses are typically hypoallergenic.

3. Think about a Specialty Mattress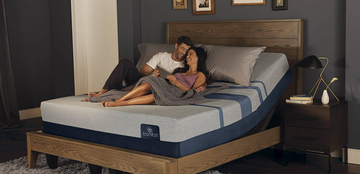 Choose an adjustable mattress for custom comfort.

Double-sided mattresses used with a box spring were standard for many years. However, more recently shoppers are opting for newer styles that are not designed to be flipped. Double-sided mattresses are available in innerspring construction. Adjustable beds are good for people who love to watch TV in bed and those who have trouble getting in and out of bed. Suitable mattresses include memory foam and latex, but not innerspring.

Help with Choosing the Right Mattress

Sales representatives at Home Living Furniture in central New Jersey can guide you in selecting just the right mattress to fit your needs. For information about Home Living Furniture weekly sales and promotions and to shop online, visit homelivingfurniture.com.