Ashley Furniture Milari Linen Living Room features classic beige with green accents.
For those of us who follow home decor trends, it sometimes seems that fashionable colors swing from beige to grays and then back again to beige. Right now, after several years where gray and white were trending, beige is about to make a comeback. An inviting beige tone is a perfect backdrop for fall colors like mossy shades of green. Stick with neutrals for larger pieces in the room for a timeless look, and spice things up with textures, rich wood, and some splashes of coordinating colors and patterns.
Transition from Gray and White


CraftMaster Leather Sofa
It's easy to move toward a warmer, newer look by adding beige to a gray and white room. Some people span the bridge from gray to beige by using a "greige" color that is a combination of the two.
Choose the Right Shade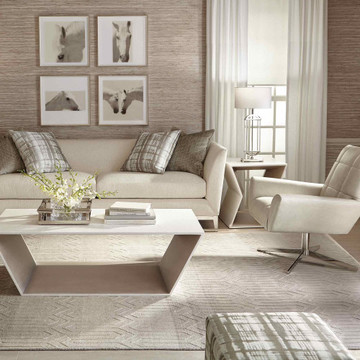 Bernhardt Living Room Furniture
You can avoid making your home seem like a hot spot by avoiding a beige color that has red or orange undertones. Jump into a light and airy neutral "bone" beige for a more contemporary, neutral look.
Pair Beige and Wood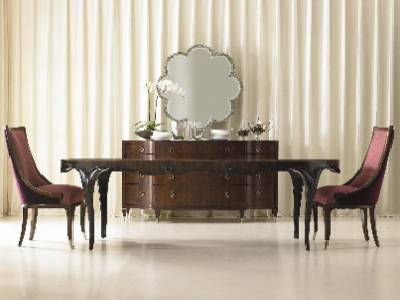 Schnadig Furniture classic contemporary dining set
The gorgeous tones of fine wood furniture lend a sophisticated and upscale look too beige decor. The dining room is the perfect place to add a stunning table, wood frame chairs, and a stylish wood buffet.
Tone it Down with Navy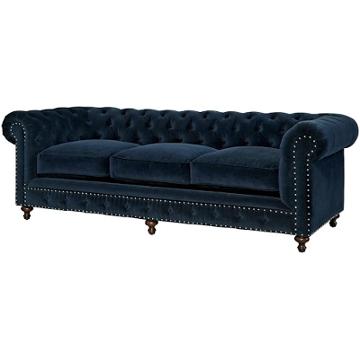 Universal Furniture Berkeley Sofa
Add excitement and tone down the beige with a striking contrasting color like navy. Beige and navy is a classic combination that we haven't seen in a while, so while it is a safe choice it also fresh and exciting.
Add Pizzazz with Greenery, Textures and Pattern
CraftMaster Modern casual seating with on-trend styling.

When you decorate with beige, take steps to avoid a boring look. Spice up your home dcor with natural greenery along with texture and patterns on coordinating chairs, rugs, and throw pillows.
On-Trend Discount Name Brand Furniture
Look for the latest trends in furniture online and at Home Living Furniture showrooms in Howell and Middletown, central New Jersey. When you are ready to update your look with the latest colors and furniture styles, check out nationally-known name brand furniture collections at discount prices for every room in the house, including the outdoor patio. You will also find a wide selection of accent furniture and accessories including fireplaces, mattresses, rugs, and lighting.

Home Living Furniture sales representatives are ready to help you select the right pieces for your home. Look for discount pricing all year, and weekly promotions and specials. For further information about Home Living Furniture and to shop online, visit homelivingfurniture.com