Riverside Furniture Perspectives Leg Desk with Hutch
Many of us thought working from home would be temporary when we first started. But now it seems that remote work is becoming more of the norm without an end in sight. Unfortunately for some, along with the convenience of working from home came body aches and pains.
Apparently sitting for long stretches of time, working hunched over the kitchen table and balancing a laptop while sitting cross-legged on the couch can take its toll in the form of physical stress. If you do not have an ergonomic setup, you may be accelerating musculoskeletal problems like shoulder, neck and back pain as well as wrist and leg problems because of poor posture.
Here are some common issues, and how to avoid them.
Coaster Furniture Ontario Desk
The Solution: Shoulder and neck pain are common when you do not pay attention to your posture while working. Use a desk at the correct height, and put the monitor at eye level with the keyboard centered right in front so you can keep your shoulders and neck in a neutral position. Make sure the desk you choose has enough surface space so you can place the items you use every day within easy reach, like your phone, files and notepads.
Your Back Hurts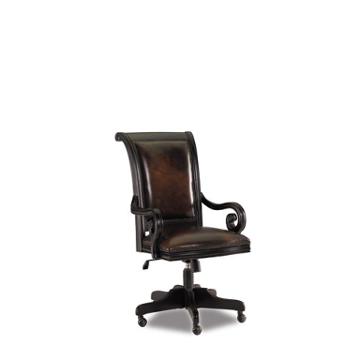 Hooker Furniture Telluride Tilt Swivel Chair
The Solution: Back pain sends many people to the doctor and leaning over a laptop screen can make things worse. Leaning forward to type on a keyboard can put a strain on your back and compress your vertebrae, leading to injury. Sit on a chair that has proper lumbar support and allows you to sit in a slightly reclined position.
You Start Getting Leg Cramps



Ashley Furniture Realyn Lift Top Desk
The Solution: If your legs are cramping up, it may be a sign of poor circulation. In other words, your leg muscles are telling you that they do not have a good blood supply. According to experts, leg cramps may result when you are kneeling or leaning on your leg for hours. Use a standing desk like the Ashley Furniture
Realyn Lift Top Desk
pictured above so you can change positions by standing periodically. It can also help if you take breaks and walk around the house so your muscles pump blood as well as your heart.
Ergonomic Solutions at Home Living Furniture
Home Living Furniture in Howell and Middletown, New Jersey is a one-stop shop for all your home office needs. Visit in person or log onto the virtual online store. For information about Home Living Furniture's weekly sales and promotions and to shop online, visit homelivingfurniture.com.