Supported by Canberra Outlet
Forget a white Christmas, I love that Christmas in Australia means we can celebrate outside. Fire up the barbie and pass the prawns, a summer Christmas is what it's all about! To inspire you to take your Christmas lunch or dinner outside, I've created this outdoor Christmas table setting thanks to Canberra Outlet.
Embracing an on-trend bronze and olive green colour palette, you can easily tweak this alfresco table to suit your colour scheme or Christmas theme. Whatever colour or theme you choose for your Christmas table, let me share some of my favourite Christmas table styling tricks to elevate the look.
Related article: DIY Christmas hacks to decorate your home
Related article: Christmas gift guide for the whole family
1. Consider using table runners as placemats
A common issue when dressing a table for Christmas is finding a tablecloth that's large enough. Am I right?! And when you take your table setting outside, managing to keep a large tablecloth down when it's windy is an all-too-familiar challenge.
So why not try using table runners width-wise across your table instead? One table runner acts as a placemat for 2 guests sitting across from each other. It can be more affordable than a large tablecloth and creates a striking look that's sure to win you some compliments!
I used simple white table runners on this table but there are also gorgeous printed ones available. For example, when shopping at Canberra Outlet I saw some sage green and eucalyptus leaf runners on sale for about $15 each from Bed Bath 'N Table.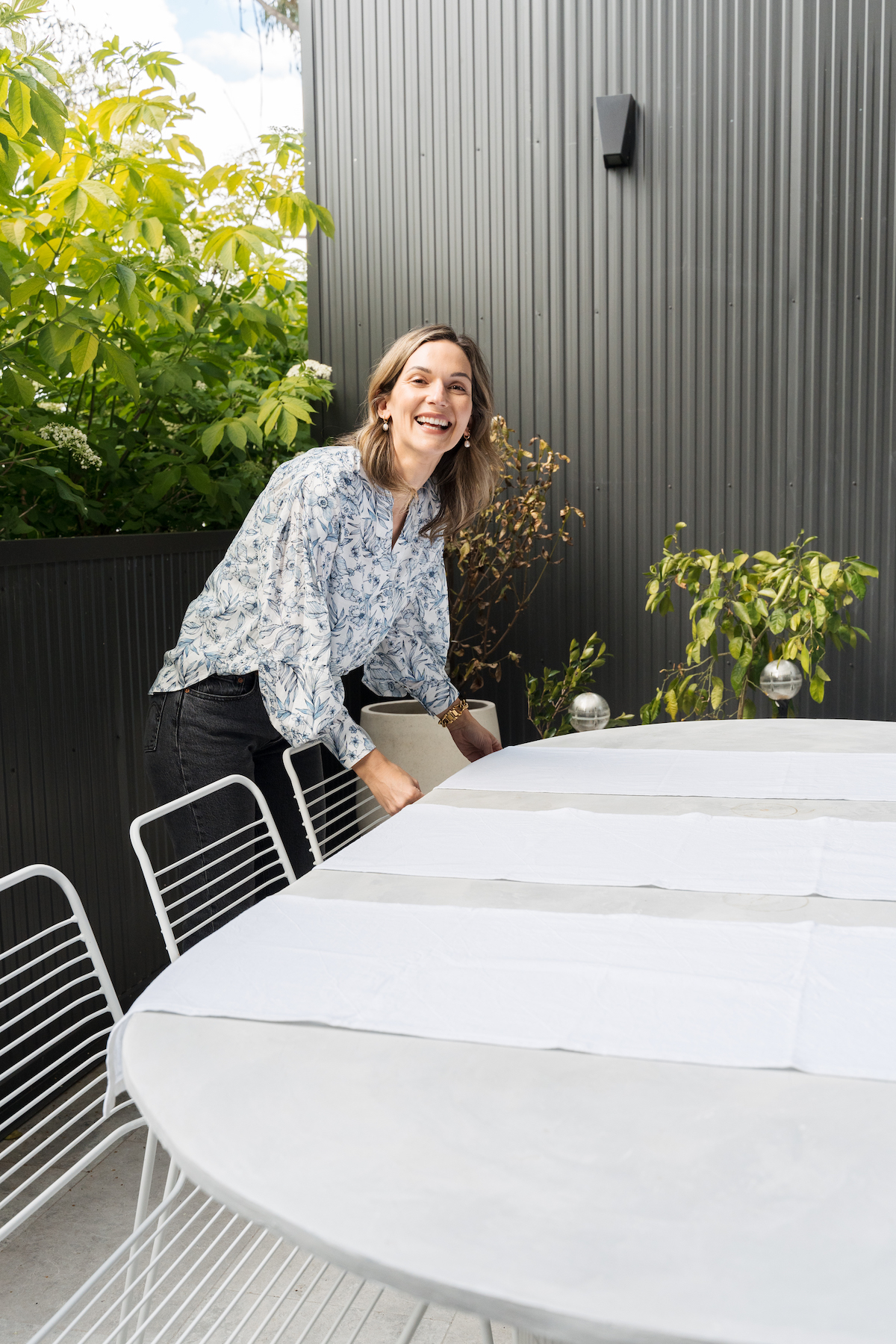 2. Layer your plates
I always suggest creating each place setting before starting on your table centrepiece so you know how much space you have to work with. The last thing you want is to cram glassware around decor and create an uncomfortable dining experience for guests.
Start with your plates. I love the space saving trick of placing a side plate on top of a dinner plate but you may do away with side plates all together. It really depends on your menu and how casual or formal you want to set the table.
Stick to a matching set or mix and match your plates for added interest. These cute white dinner plates are from Provincial and clay-like side plates are from Freedom.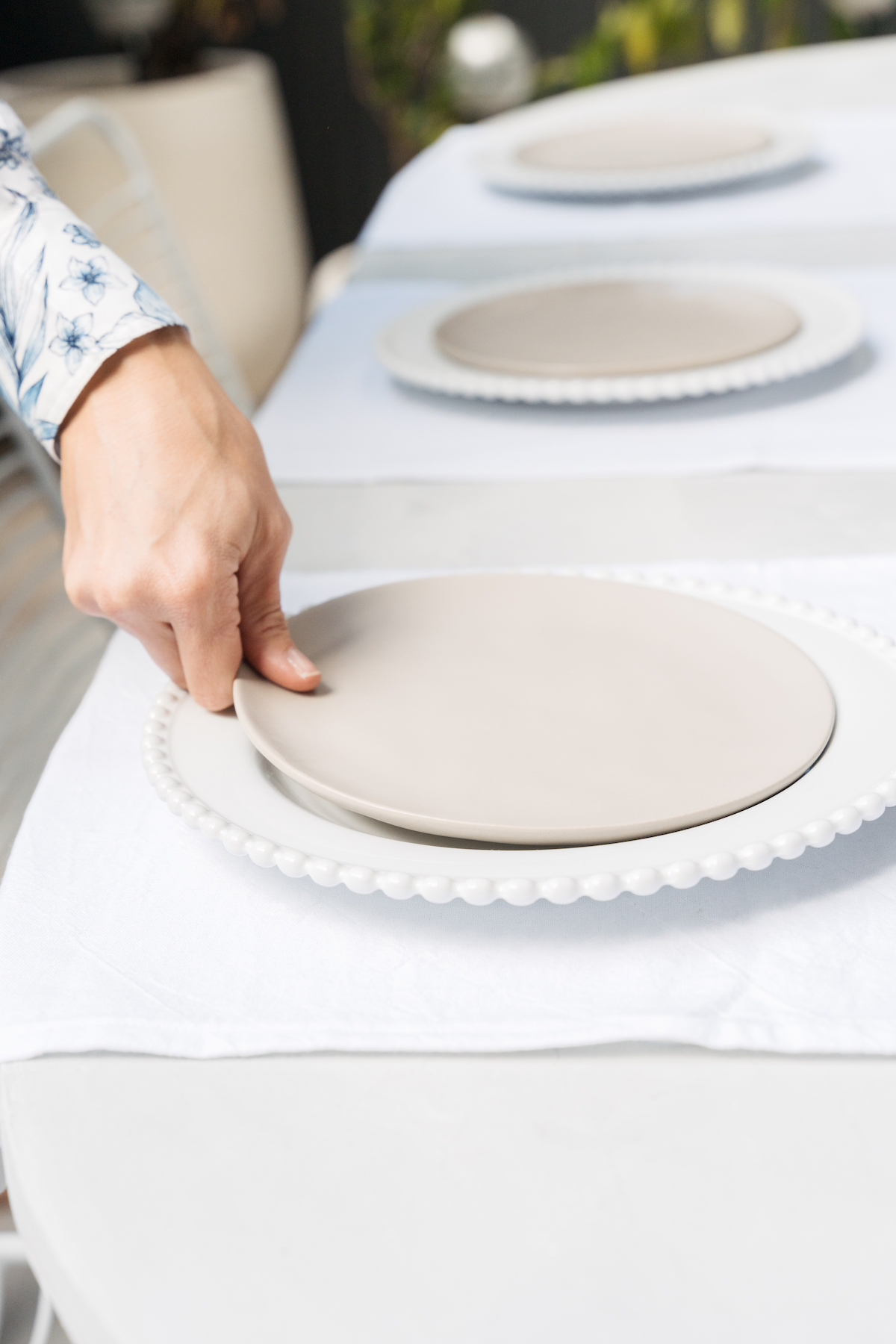 3. Use a special napkin fold to create a luxe look
There are so many creative ways you can fold a napkin and it's one of the best luxe for less table styling tricks out there! I've got all the steps to fold your napkin like a Christmas tree or to create this luxe Christmas bow napkin. You can also find tutorials on YouTube to fold a napkin like a leaf, flower, heart, or formal sleeve to place your cutlery into.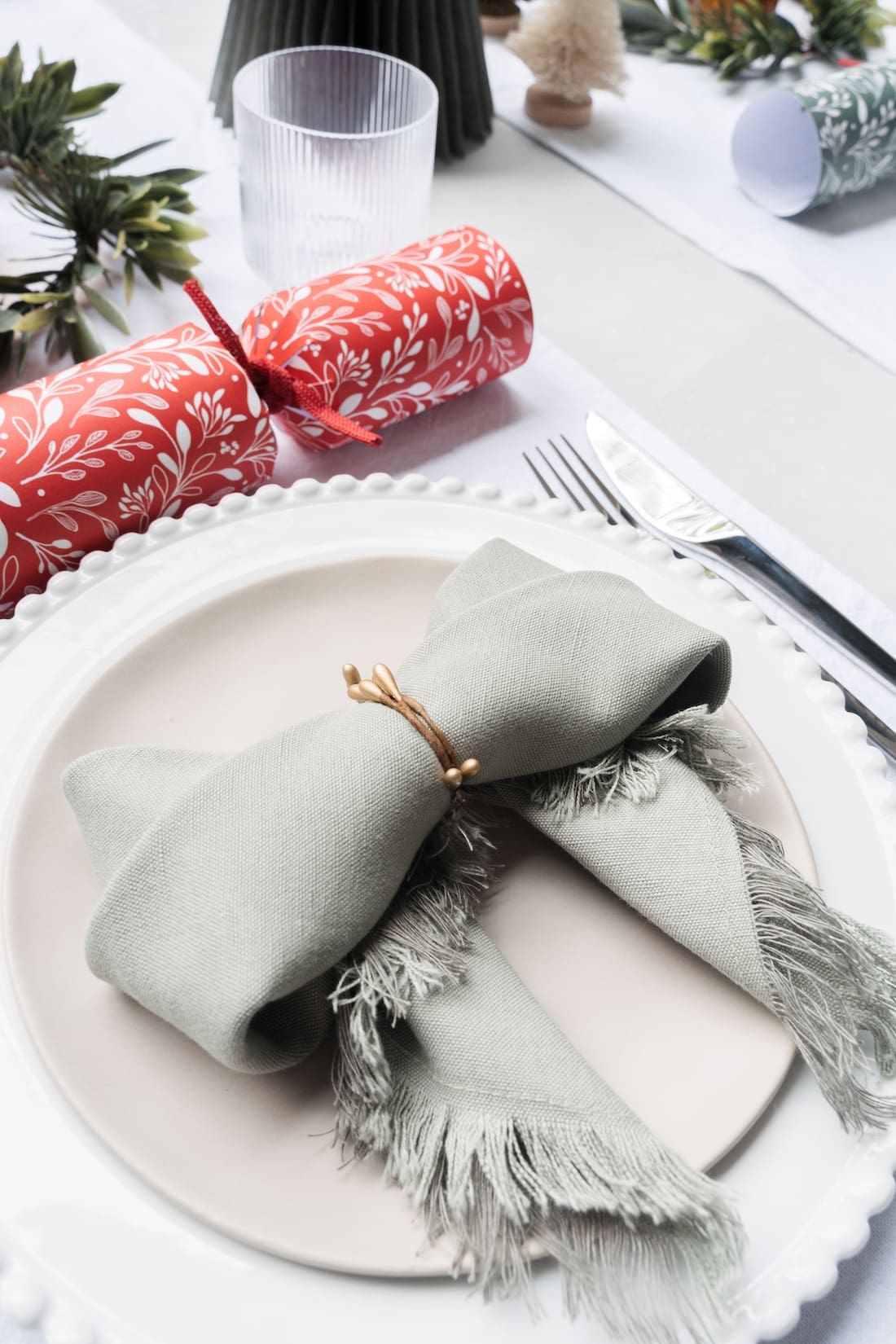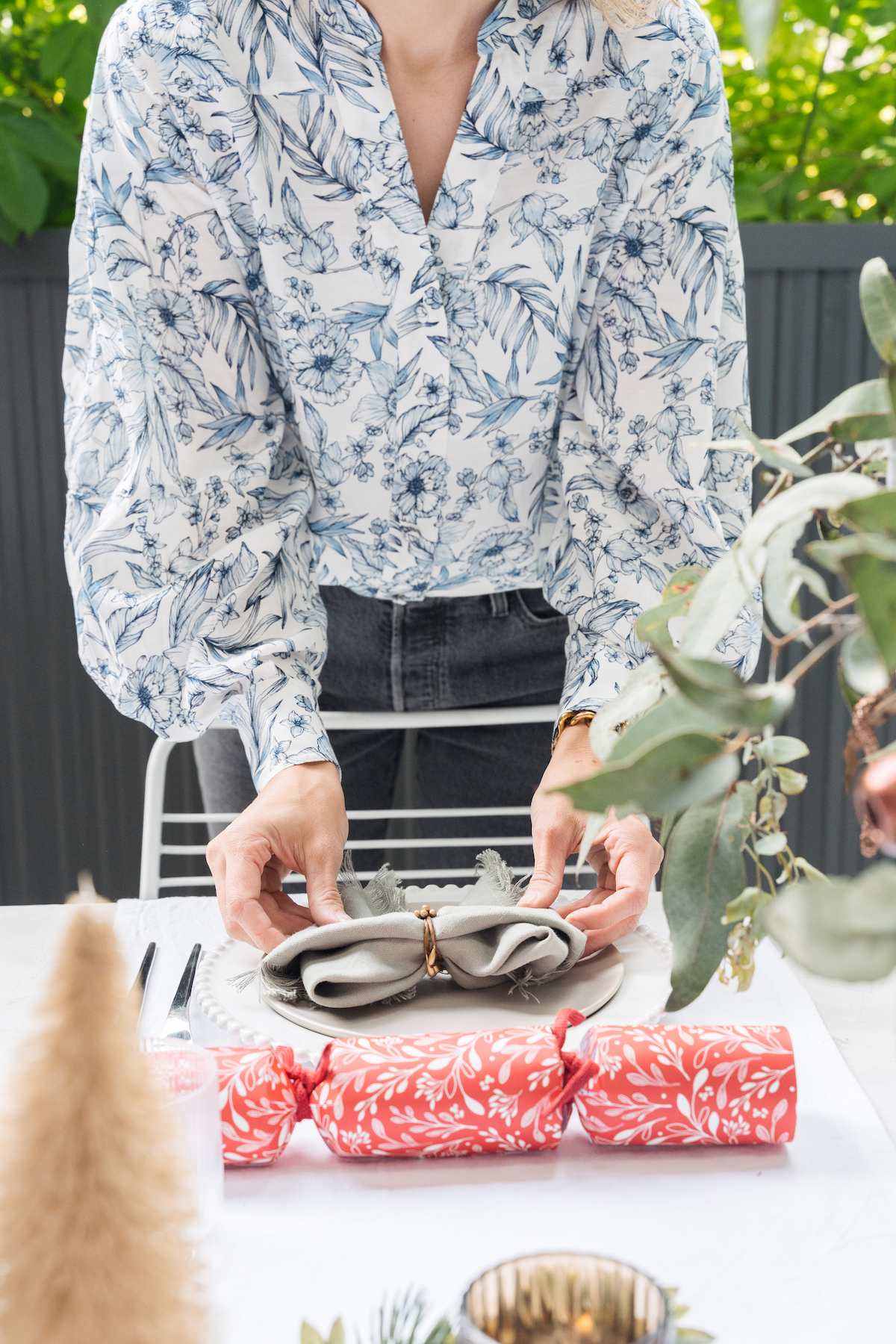 4. Elevate your glassware
Finish each place setting with beautiful glassware and cutlery. Glasses are often overlooked when styling a table yet there are so many gorgeous options out there that can add a special touch to your Christmas table. These reeded glasses from Freedom pick up on the texture of the candle light holders.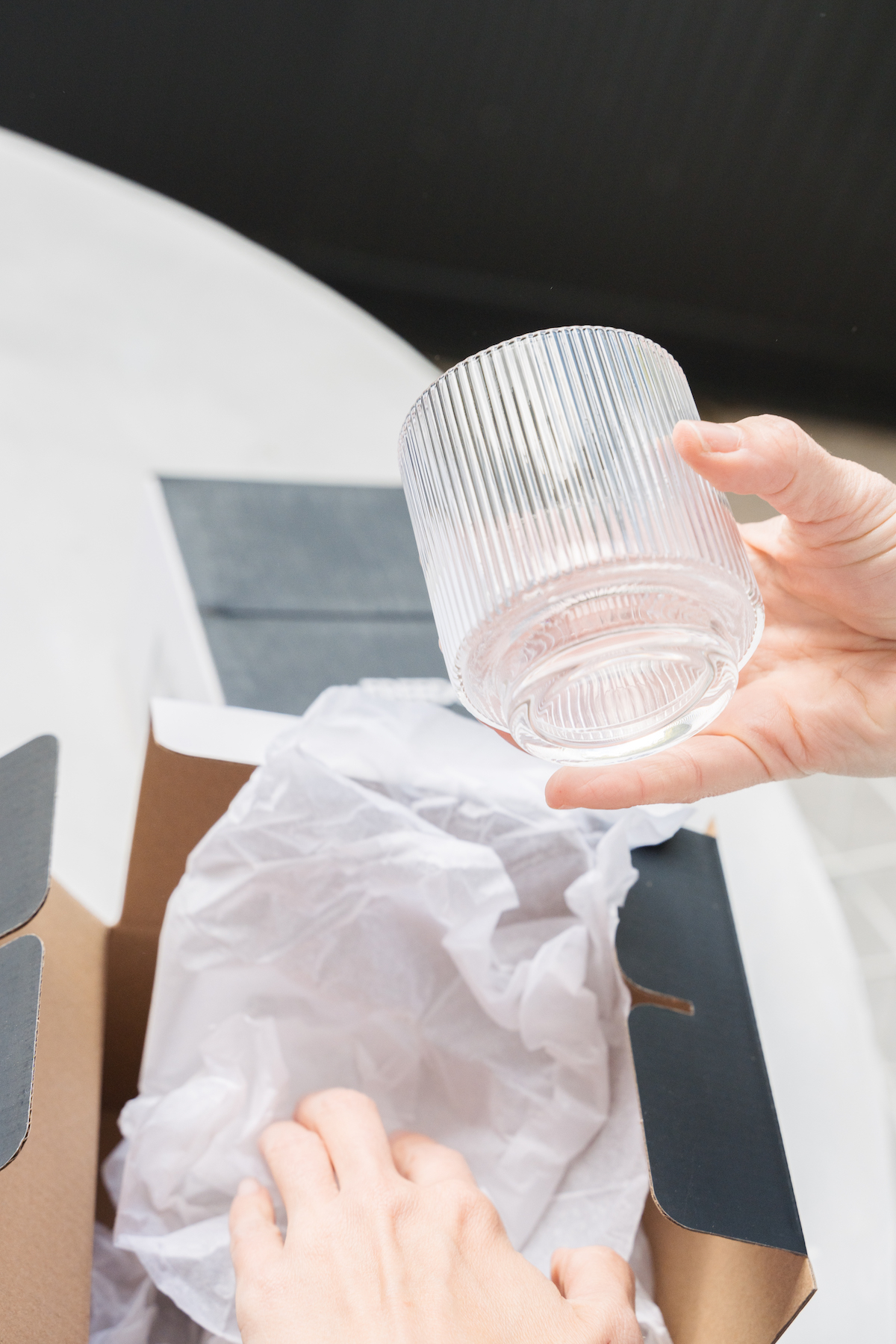 5. Build your centrepiece
Now onto the fun part of decorating your Christmas table! What colour palette or theme will you choose?
Some of my favourite Christmas table colour palette ideas are:
clay, peach and gold
olive green, black and bronze
burnt orange, forest green, black and white.
These are just a few ideas but the options are limitless! Perhaps you prefer using more traditional accents of red? Or want to opt for a playful pastel colour palette instead? Your centrepiece is an opportunity to express your style so have fun with it.
Top Christmas table decorating tips:
use a mix of high and low elements for interest. It's a good idea to use higher elements at the end of the table (like the vase of eucalyptus stems) or in-between places so they don't block anyone's view across the table
allow breathing room. Leaving free space on your table for condiments, extra glasses, or other things that may be placed on the table during meal time is good forward planning 😉
create rhythm and repetition. Two design principles to keep in mind for a sophisticated Christmas table are rhythm and repetition. By repeating colour, tone, texture or accents in your Christmas centrepiece, you can create a high-end look without spending loads.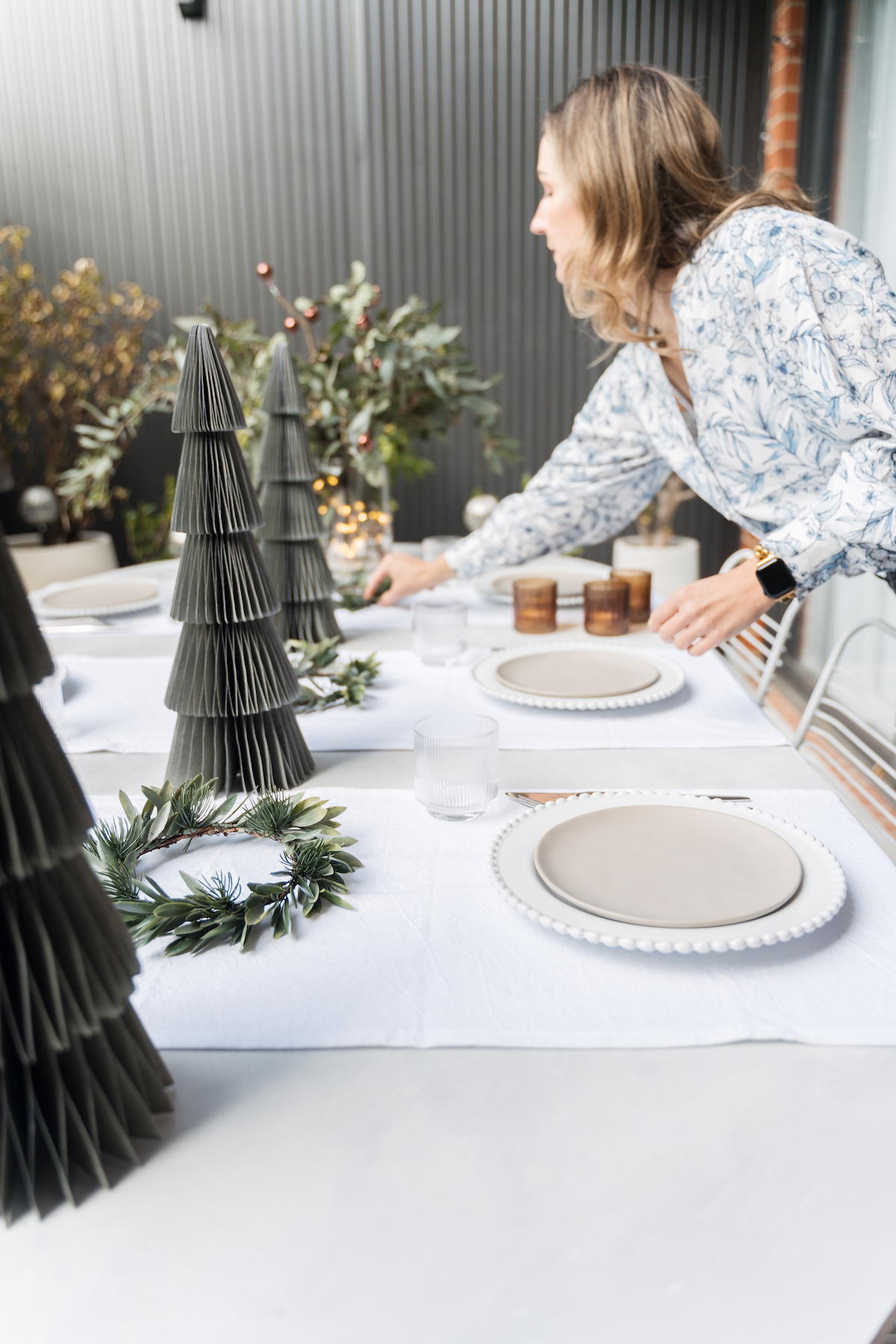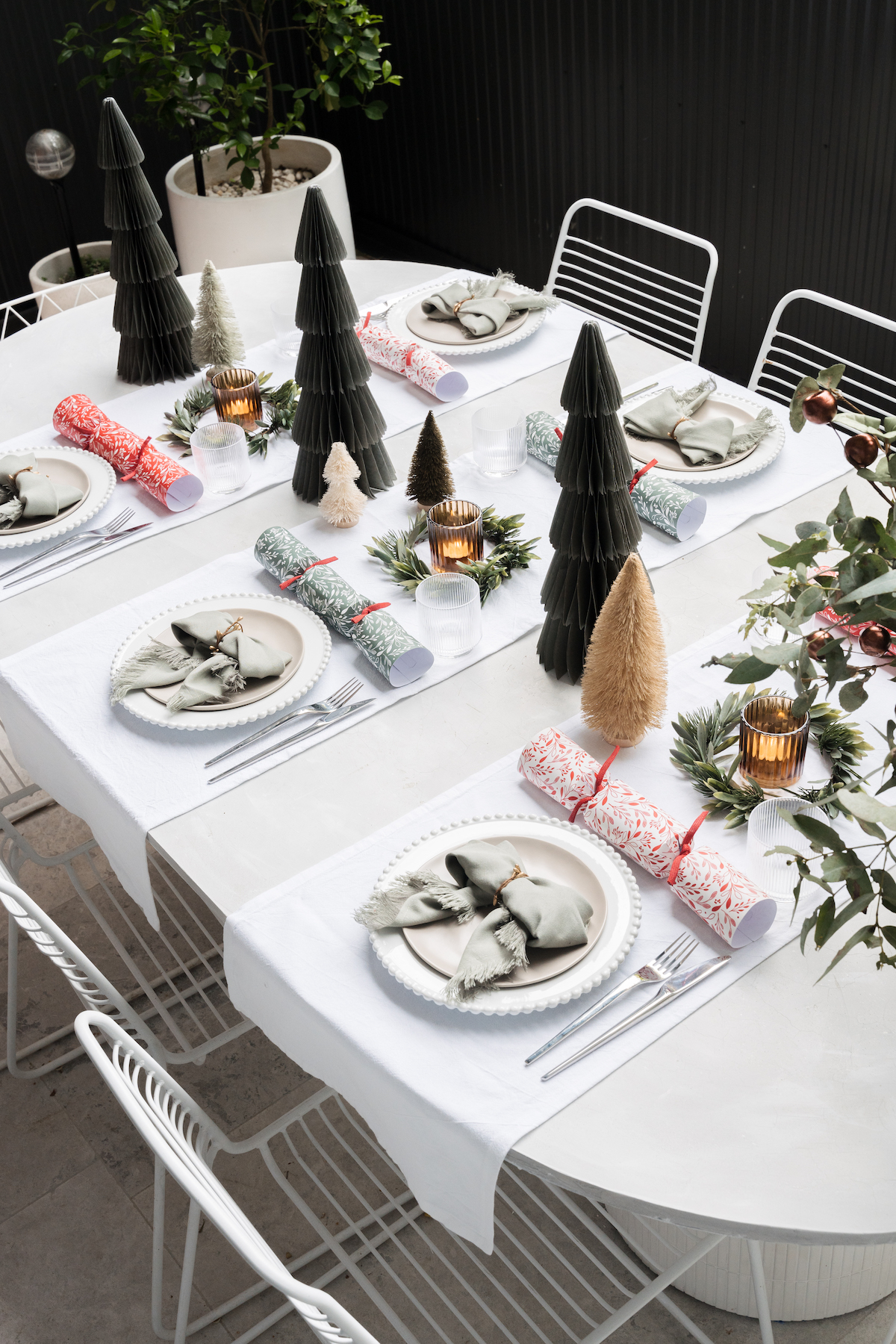 6. Don't forget your Christmas crackers!
How could I have a Christmas table setting how-to without giving a special shout out to Christmas crackers? I don't care what anyone says, they are a MUST!
Ok, I do agree, some of them are pretty tacky but there are also beautiful ones out there that can enhance your tablescape. I bought these abstract leaf print crackers from TK Maxx and love the subtle pops of red it adds to the Christmas table.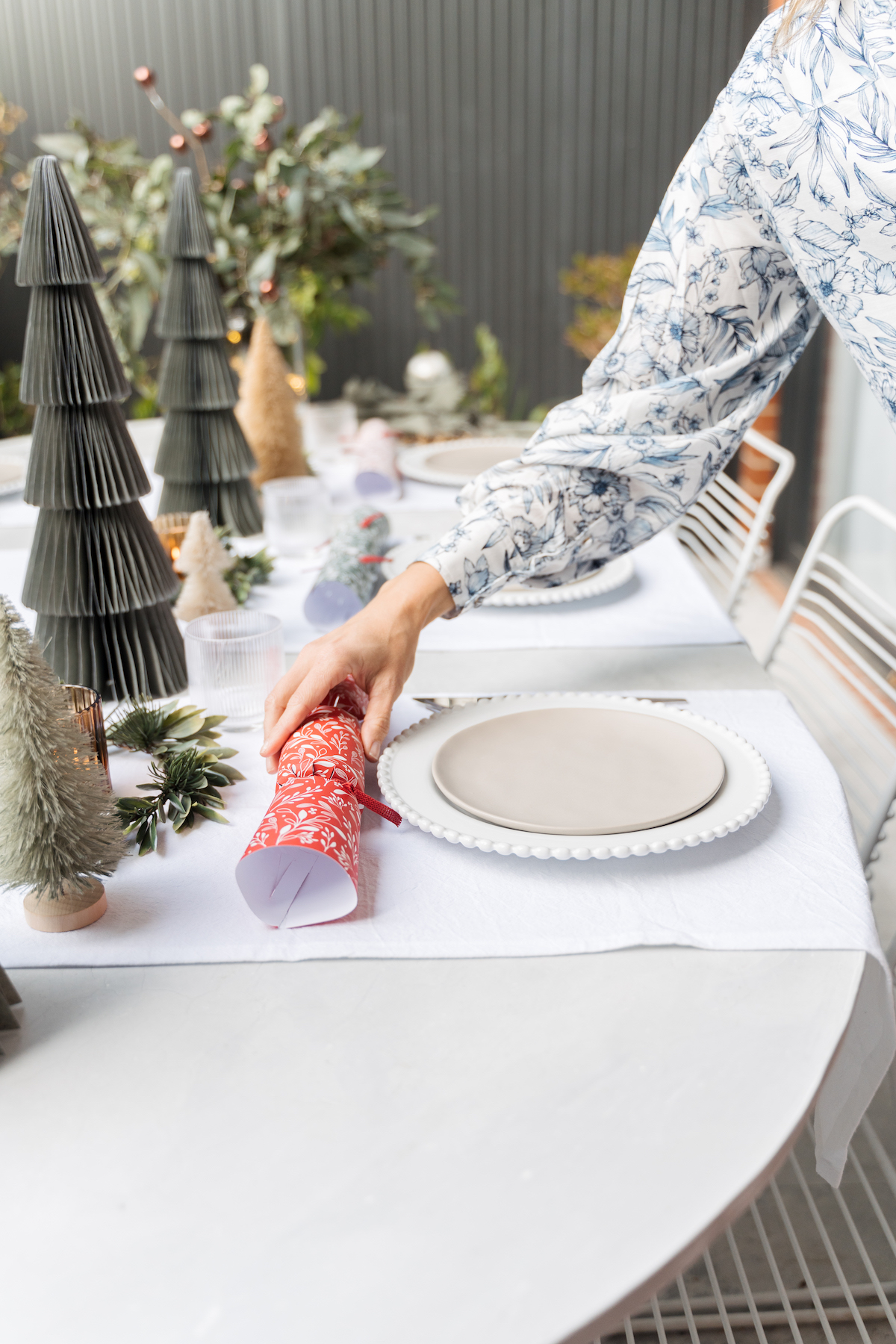 7. Add some pops of life
Speaking of pops of colour, don't forget to add some greenery or other elements of 'life'. This simple trick will give your table set up a grounding and more inviting feel. Plus, it's a cheap decorating hack!
To make that centrepiece at the end of the table, I simply used a large glass vase from Adairs, filled it with some fairy lights, foraged a bunch of wild eucalyptus branches and added a few faux gum stems from Freedom. Oh, and also hung up some bronze star ornaments from Bed Bath 'N Table. It took minutes to do and the cost was minimal yet it creates a focal point on the table.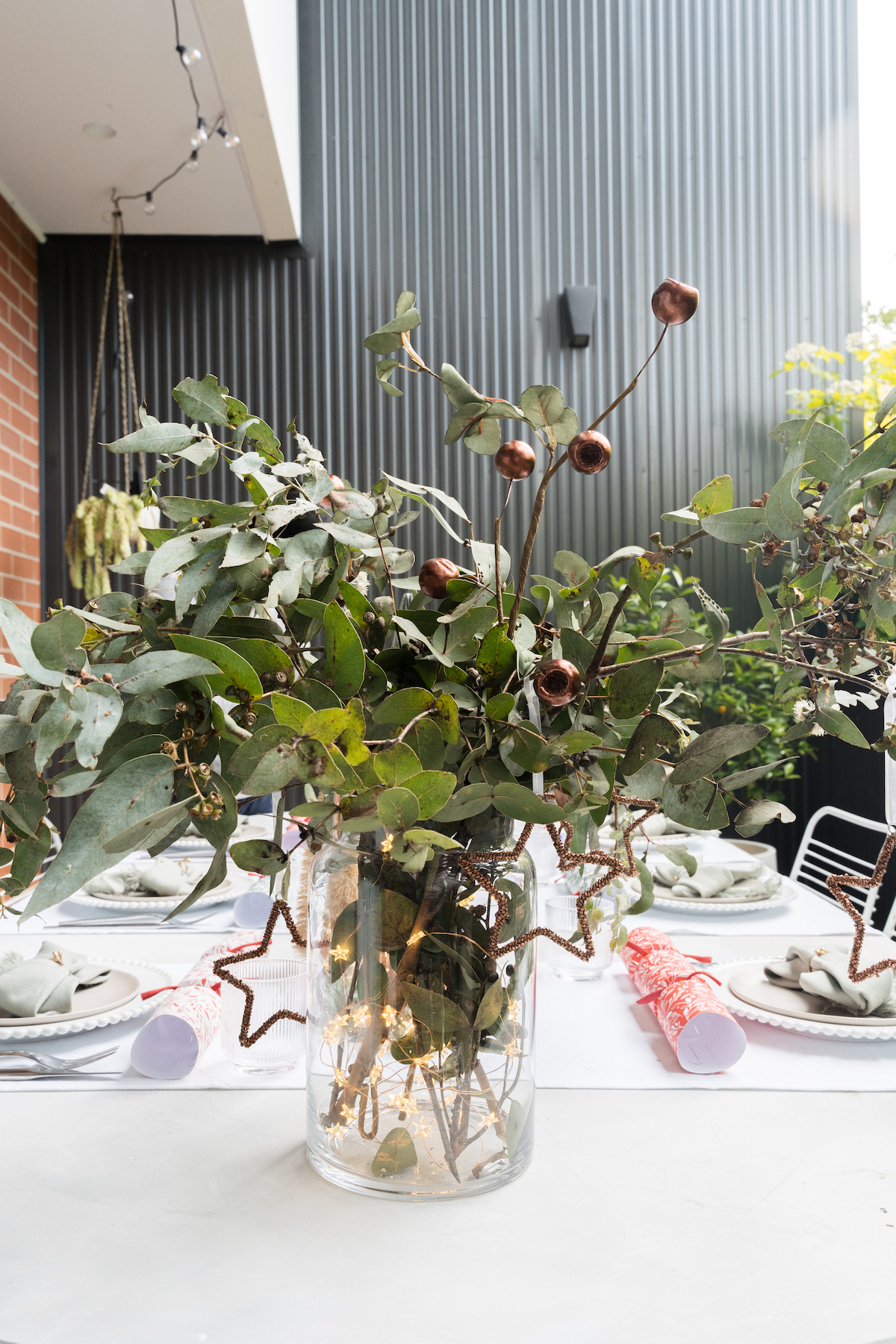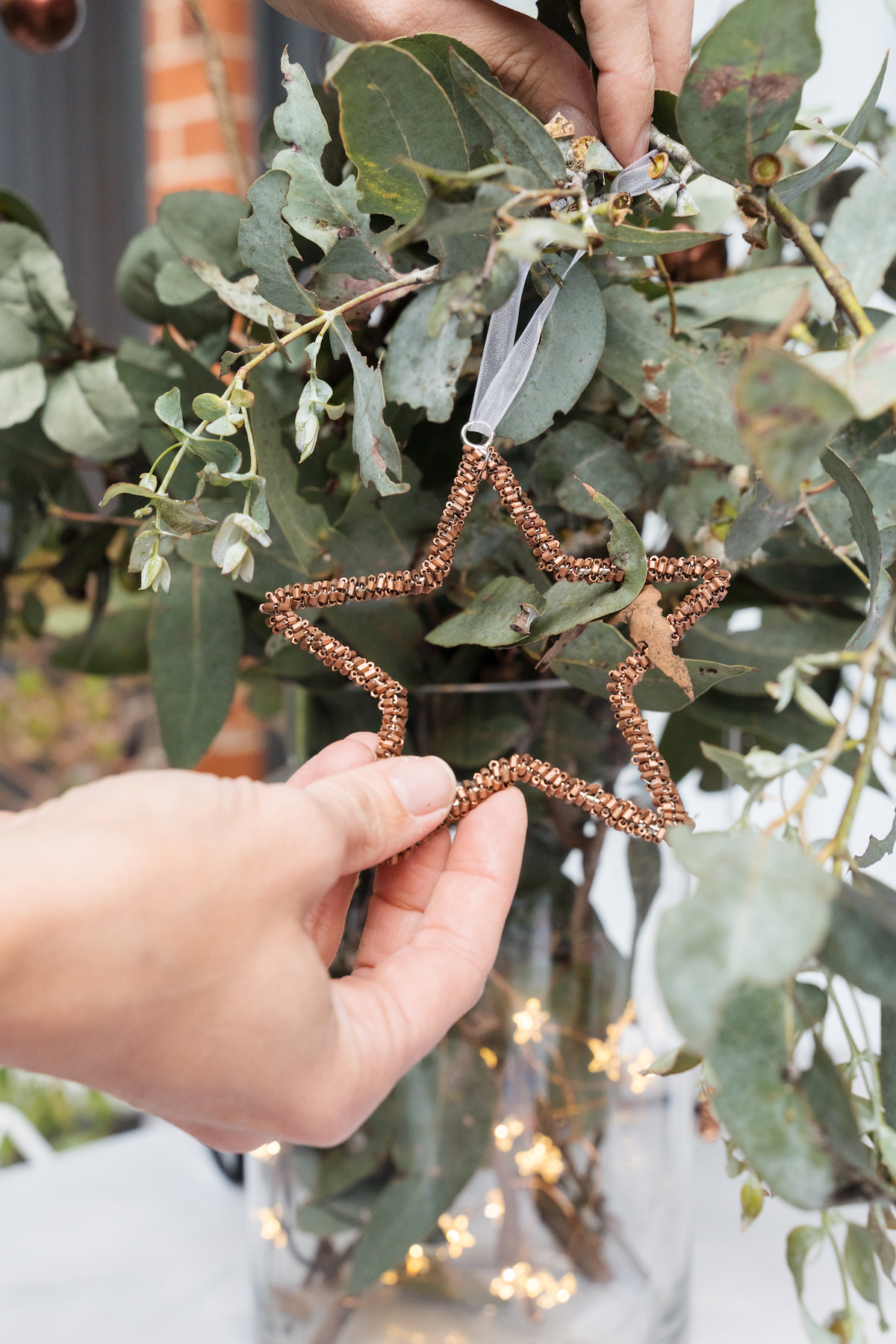 8. Make it magical with lighting
Finally, a Christmas celebration outside needs ambient lighting. Think fairly lights, tea light candles, pillar candles in lanterns, Christmas décor with integrated lighting… Anything that sparkles or adds a twinkle to your outdoor Christmas table setting is welcome!
I hope these outdoor Christmas table setting ideas have inspired your Christmas celebration! Which ideas will you be using to decorate your table for Christmas? Or do you have other Christmas table decoration ideas to share? Chat with me in the comments below!