The Do's and Don'ts of Caring for Marble
This magnificent Aico Furniture Villaggio Bar features a marble top. It is destined to become an heirloom piece that can be passed down through the generations.
Well-designed furniture with marble furniture surfaces adds elegance and drama to your home. You can find stunning free-standing bars with a brass rail and a marble top, an impressive square cocktail table with beautiful marble features and accent tables with a marble top that will make a definite statement. Marble is a very versatile material since it coordinates well with a range of styles from classic traditional to modern contemporary.
However, it is important to realize that while you can expect your marble furniture to last, it requires the proper care. When you purchase a beautiful piece of marble furniture remember that it can easily be stained by liquids and oils. Marble can be damaged if you use the wrong cleaners. Be sure to follow the manufacturer's directions before using products on your marble furniture.
Take care of your marble pieces by following these Do's and Don'ts. It is worth the effort to prolong the life of your furniture and preserve its beauty.
Bernhardt Furniture Donnelly Cocktail Table
Marble Care Do's and Dont's
Do
Do use a coaster under glasses and a trivet under hot dishes or cookware
Do blot or wipe spills immediately to prevent permanent damage
Do dust the surface frequently
Do clean the surface regularly with a neutral marble cleaner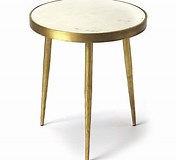 This Butler Triton White Marble Table is the perfect addition to your living room or great room.
Don't
Don't use an abrasive cleaner, like a dry or soft cleaner
Don't use harsh or acidic cleaners like bleach, ammonia, vinegar or bathroom cleaners
Don't mix ammonia and bleach, which can result in toxic fumes
Don't forget to follow the directions on your marble cleaner
Marble Furniture at Home Living Furniture
Home Living Furniture in Howell and Middletown, New Jersey carries fine name brand furniture for the living room, dining room, bedroom and home office. You will enjoy a one-stop shop experience and find entertainment furniture, patio furniture and a range of mattresses and adjustable beds. Count on the experienced sales representatives to direct you to the manufacturer's recommendations and discuss furniture care with you so you will enjoy your furniture for years to come.
Visit conveniently located Home Living Furniture stores in person or log onto the virtual online store for more information and to shop online. For information about Home Living Furniture's weekly sales and promotions, visit homelivingfurniture.com.