We know how difficult it can be to lock in selections for a kitchen… it's that constant battle between wanting to create a space you love and that has a bit of wow factor, balanced with trying to create a space that won't date too quickly!
Many people are drawn to white finishes for a kitchen — not only can a white kitchen appear larger and create the illusion of space, there's a sense of safety in locking in all white finishes.
But white doesn't have to mean boring. You can create interest by playing with texture and shape. And to prove it, we've rounded up 11 types of white kitchen splashback tiles that are anything but bland.
Related article: Planning a white kitchen that's anything but boring
Related article: 5 step guide to picking the right kitchen splashback tile
1. Kitkat tile
The Kitkat mosaic (or finger tile as it's sometimes referred to) has emerged as one of the most popular mosaic tiles right now. Suiting a range of styles from mid-Century modern, classic to contemporary Australian, the rhythm and repetition of this tile creates an architectural feel.
2. Broken hexagon
This diamond tile is so luxe and forms subtle hexagon patterns, which is why we nickname it 'broken hexagon'. The white concrete-effect surface is enriched by sparks of bright, brushed metallic plates — the perfect tile for a high-end kitchen (oh, and it's available in a fab range of colours).
We also love this take on the broken hexagon tile using a 'blade' shape — it's graphic and bold, and by using a dark grout the 3D effect of this tile is seriously enhanced!
3. Fish scale
Laid in either direction — as a fan or fish scale — this beautiful tile plays on the Art Nouveau artistic movement, drawing inspiration from organic and geometric forms. Another hot choice right now.
4. Chevron
A classic and timeless pattern, chevron is linear and structured. Available in mini, medium and large tile sizes, there's plenty of scope to create the look you want.
5. Grid
A personal favourite of ours, grid tiles are very mid-Century but have made a modern comeback. These tiles are also available in textured finishes, such as a diagonal embossed line across the face or perforated steel texture.
6. Irregular mosaic
Another tile that suits mid-Century architecture particularly well is this irregular mosaic tile. It adds an appropriate contemporary sensibility to this style of home while looking equally as good in a modern build.
7. Penny round
Also a classic shape, penny round tiles are always a good idea! Penny rounds add softness to your splashback and you can play with scale or texture as these are sold on sheets in mini, regular or large sizes, in either matte, gloss or mixed finishes.
8. Subway
Hands down the most popular kitchen splashback tile, subway tiles are also incredibly versatile. You can create so many different looks with subway tiles depending on the style and size of tile, and the way they are laid.
There are at least a dozen ways you can lay a subway tile. Brick bond, vertical stack, herringbone and basket weave are just some of the more common patterns to create. You can also create a completely different look depending on the style of subway — straight edge finish (flat tile), beveled edge (an angled border around the tile) or handmade finish (a softer and more organic appearance). Subway tiles are also available in a range of sizes and specialty finishes, such as a crackle glaze. Did we mention they're versatile?!
9. Geometric
It's hard to appreciate this geometric mosaic tile or 'the cube' as it's also known, until it's laid and grouted — photos just don't do it justice! A great option for a modern kitchen, this minimal tile creates a more subtle 3D effect than the broken hexagon pictured above.
10. Herringbone
One of the most popular white kitchen splashback tiles, herringbone tiles are an all-time classic but with a bit more softness than chevron (they don't have the same sharp angles). Always a firm favourite, herringbone tiles are the perfect choice for a classic or Hampton's style kitchen — especially when teamed with marble finishes.
11. Hexagon
Another classic shape that's been around since the Industrial Era, this tile is a main-stayer. Although hexagons had their heyday a few years ago, they will always remain in style. Hexagons are a more angular play on the penny round shape and come in a range of sizes.
Did you find a tile for your splashback in this list? Thanks to Tile Republic for helping us to curate this round up of white kitchen splashback tiles! Pin the image below to your Pinterest account so you can find this article later.
You might also like to check out this article on 14 stunning splashbacks to bring your kitchen to life or this one on planning a white kitchen that's anything but boring!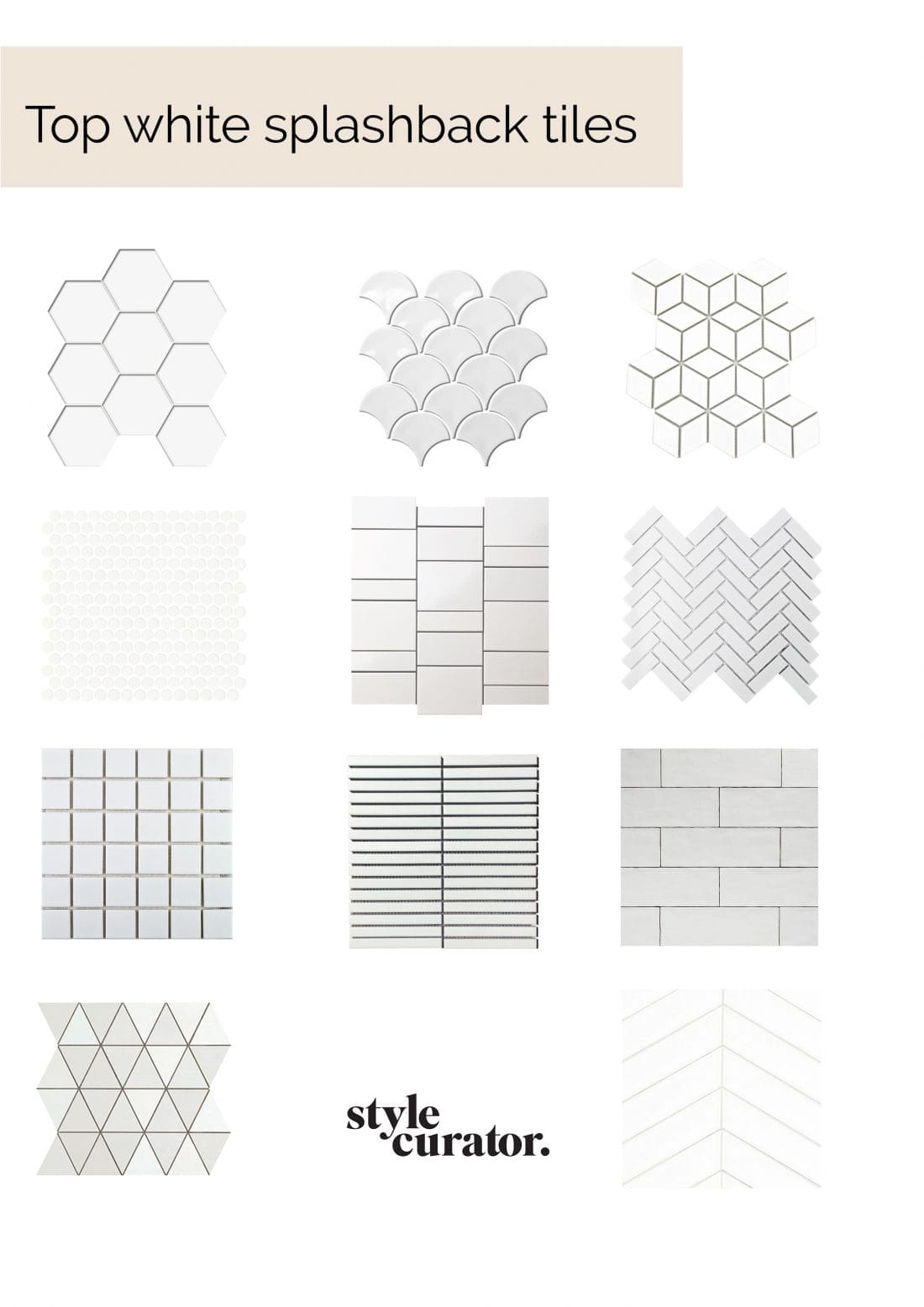 This article was originally published in November 2018 but updated with new information and images.