Breakfast nooks are smart on space and big on style! Whether you have a Hamptons style home, mid-century or minimalist, we've round up the most beautiful breakfast nooks to inspire you.
Perhaps you already have a breakfast nook that could do with a refresh? Or maybe you're looking at incorporating a new breakfast nook into an unused space in your home?
We hope you find some ideas to steal from this gallery of beautiful spaces!
Related article: Stylish kitchen sink materials for all budgets
Related article: 14 types of blue kitchen splashback tiles: Add a pop of colour to your kitchen
Modern meets family
This little breakfast nook is bright and welcoming, and perfect for a family! Done on a budget, the built-in bench is even DIY'd. Simple but elegant, this breakfast nook packs a stunning punch!
Pattern on pattern
Go bold or go home, right?!
This elegant and timeless breakfast nook plays on pattern with the floor tile and two types of fabric upholstering the bench seat. The restrained and consistent colour palette makes it work. And the beautiful use of timber adds warmth to the space while that light ups the luxe factor.
Mid-century meets modern boho
The resurgence of mid-century design continues to gain moment and looking at the pic below, it's easy to see why!
Classic furniture pieces, graphic design textiles, and clean and simple styling are all characteristic of this style.
The Block-inspired
If you've been following the Block this year, you may recognise this breakfast nook from Mitch and Mark. While we may not have loved everything about this kitchen, this nook has a real beachy contemporary feel with it's neutral colour palette and rattan furniture.
Find plenty more photos of The Block kitchen reveals here.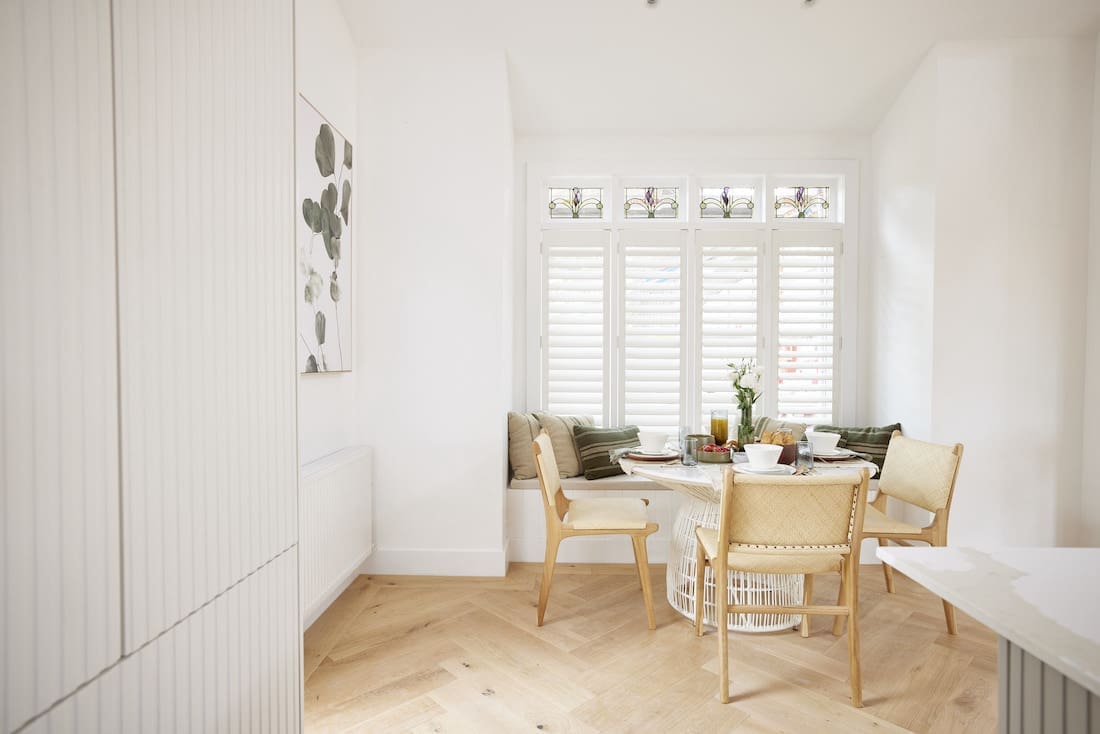 Coastal
Embrace coastal vibes in your breakfast nook with a tranquil blue colour palette, warm timbers (particularly in blonde or distressed finishes), and ocean inspired artwork.
Masculine minimalism
Showcasing how less is often more, we love this restrained breakfast nook with floating timber bench seat and pops of black.
Those lights add an architectural feel and offer better task lighting than traditional downlights should you need to use the space to do desk work.
Indoor outdoor
Let's just stop for a moment to appreciate this jaw-dropping space!
That glass ceiling is a stroke of genius and creates the sense of bringing the outdoors in.
Coastal boho
A design style we're noticing more and more is a coastal boho fusion.
Combining the natural palette of coastal (think rattan and jute) with eclectic pieces such as juju hats, woven baskets as wall art and vintage finds.
If you love this nook, you might like to check out this recent chic coastal boho home tour.
Timeless elegance
Do it once and do it right! This breakfast nook ignores the trends and sticks to classic and elegant elements that will stand the test of time.
Vintage glam
Antique Persian rugs with retro inspired lighting has never looked so right!
The natural stone fireplace hearth and pop of metallic in the wall light add the right amount of glam.
Modern
Proving you can incorporate a breakfast nook into open design.
This nook also takes advantage of the wall cavities to create in-built niches rather than opting for floating shelves that are more commonly seen.
Hamptons
Coastal with added luxe, this Hamptons style breakfast nook is sure to wow many of you — be sure to 'Pin' it to your Pinterest account if it does!
That marble top table has certainly made our wish list 😉
Contemporary Australian
Our favourite style by far, it's hard not to love the restrained, design-forward and warm vibes of contemporary Australian design.
Gallery wall
Make your breakfast nook feel extra cosy by creating a gallery wall. You could opt for something artistic and elegant, such as the gallery wall below, or amp up the homely vibes by framing family photos, images from your travels or children's artwork.
Farmhouse elegant
With a combination of raw materials, wide open windows and modern styling, this casual sunny breakfast nook adds to the modern farmhouse-style residence.
You can find the full Botfield Residence home tour here.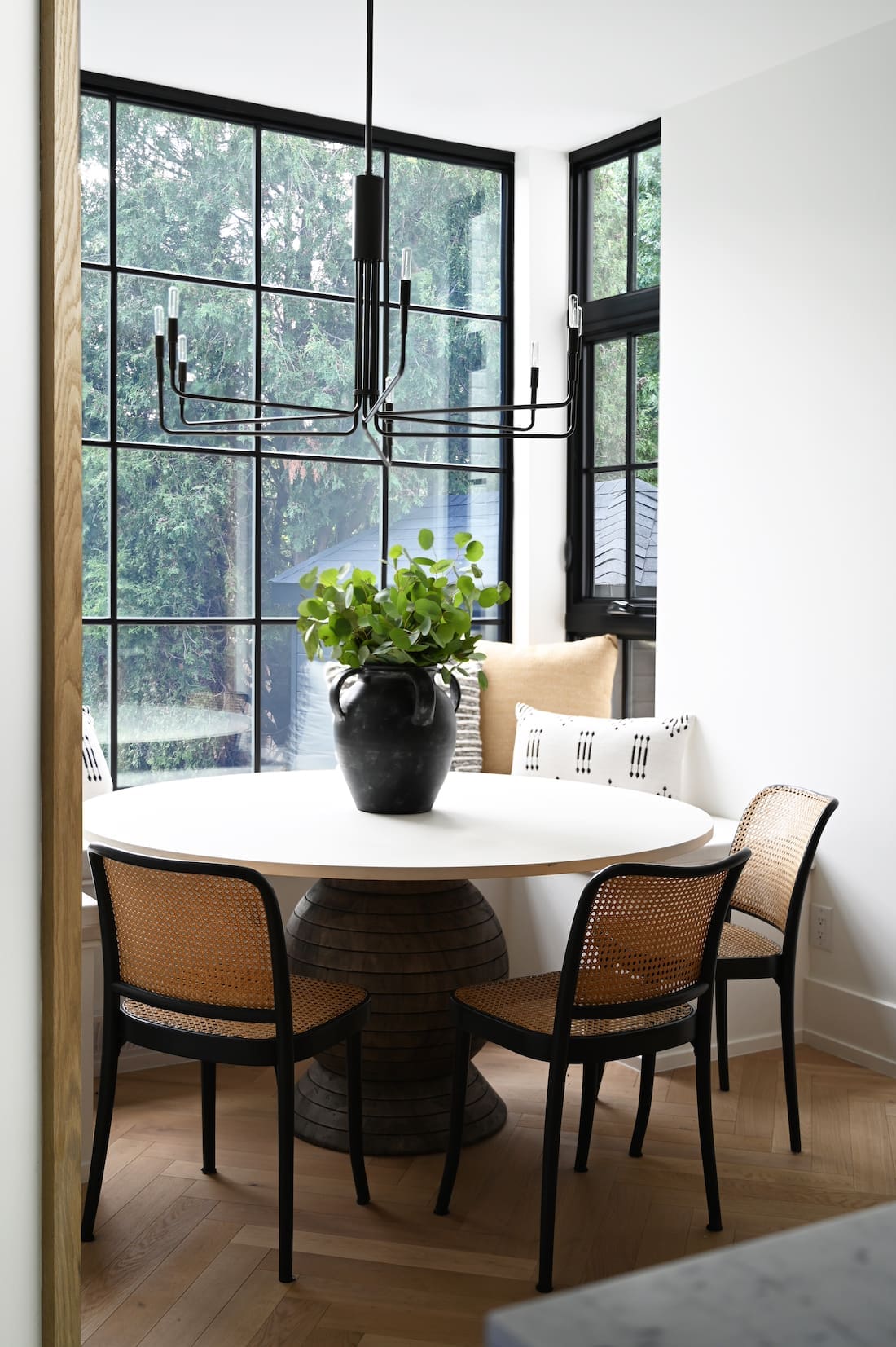 Has this list of beautiful breakfast nooks inspired you to do you own? What style is yours? Do you have a breakfast nook you'd like to share? Let us know in the comment section below!
This article was first published in October 2018 and continues to be updated with latest breakfast nook inspiration.