Ashley Furniture Salem Beach Patio Furniture
More and more, people are using their outdoor patio area an extension of their indoor living space. Now that the warm weather is here, it is important to maximize outdoor living space by adding the right elements that make it inviting and comfortable. Start by cleaning things up after a long harsh winter and take stock of what you already own for your patio. Then inspect your outdoor space and add what you need to give it that "wow" factor.
Clean it Up
The first step in making your outdoor living area an inviting retreat is to clean things up after the winter weather. Get rid of any stray children's toys or other debris that may have been left out for months. You may have to power wash your patio and the exterior walls of your house. Hose down your windows or have them cleaned professionally.
Look at the Landscaping
Spring is the time to take a good hard look at your landscaping and make necessary changes. Replace dead bushes, trim the trees and add mulch or stones where necessary. Tend to the lawn and add colorful flowers in pots near seating areas and around the yard.
Ashley Furniture 5-Piece Moresdale Outdoor Furniture Set
Replace your Patio Set
Patio furniture gets a lot of use in warmer weather, and it can undergo a fair amount of wear and tear during winter months storage. When it's time to replace your patio set, look into modern options made of materials that can withstand the elements and add style to your outdoor space.
Add Extras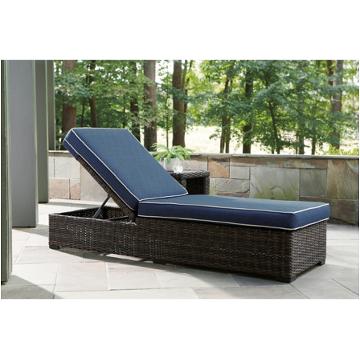 Ashley Furniture Grasson Lane Chaise Lounge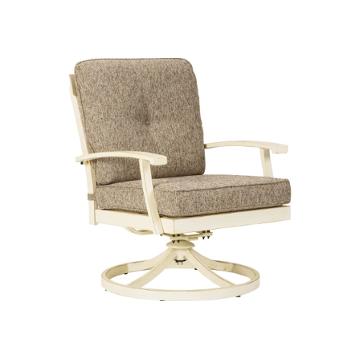 Ashley Furniture Preston Bay Swivel Lounge
Now that you have a basic outdoor furniture set it is time to add extras for your convenience. A swivel chair or a lawn chair with comfy cushions, umbrellas and chaise lounges are popular pieces for the outdoors. Depending on your exposure to the sun, you may need additional umbrellas. A fire pit table can add drama to your outdoor patio while providing a place for drinks and snacks.
Ashley Patio Furniture at Discount Prices
You will discover a wide selection of discount name brands including Ashley outdoor patio sets at Home Living Furniture in Monmouth County, New Jersey. Visit the Howell and Middletown locations or shop online at the virtual store. Family-owned Home Living Furniture offers discount prices every day as well as weekly promotions and sales. Enjoy complimentary White Glove Delivery service to neighboring towns.
For further information about Home Living Furniture and to shop online, visit homelivingfurniture.com.