Not everyone has the luxury of a large bedroom, especially those living in tight apartment spaces. Yet pretty much everyone loves being able to stretch out for a good night sleep. Or if you're sharing a room, a large bed is a must! Don't despair, there are ways for a small bedroom to still accommodate queen size mattresses and allow everything to look spacious.
So how can you arrange a small bedroom with a large bed without it feeling crammed? Keep scrolling as we share stylist approved tips and tricks to resolve this common home decorating dilemma.
Related article: 16 back of door storage ideas to get the most out of your space
Related article: 7 thoughtful guest bedroom ideas: Decorating tips to make your guest bedroom special
Use a minimalist bed frame
The design of your bed frame is key to making a large bed work in a small space. Look for a slimline bed frame — preferably in a light or natural wood finish. Bonus points if you can find a design that lifts the bed off the floor as seeing more floor space will make the room feel larger.
A minimalist bed frame also creates the illusion of space as it has less visual weight than a bulky or dark coloured bed frame. Not to mention, you'll also gain more physical space if the bed doesn't have side panels or a large bed head. This can make all the difference when trying to fit additional furniture items in the room, such as bedside tables or a dresser.
Pare down your furniture 
Once you've positioned your bed, you'll probably find there isn't much space left so think wisely about what you really need and want. Generally, we suggest a bedside table and if you can fit it also a dresser. Alternatively, you may want a small desk that can also serve as a nightstand if you're working from home.
Most likely, you won't be able to fit everything you want into your small bedroom. To help, we're sharing some creative space saving bedroom ideas.
Clever ways to maximise space in a small bedroom:
look for a bed with hidden storage
consider installing wall shelves in lieu of bedside tables
use slim storage boxes under your bed or high in your cupboard for items you use infrequently
install smart wardrobe solutions to make this space work hardest for you
look for multifunctional furniture items, such as a slim desk that can also act as a bedside table.
Keep on reading as we discuss some of these ideas in further detail.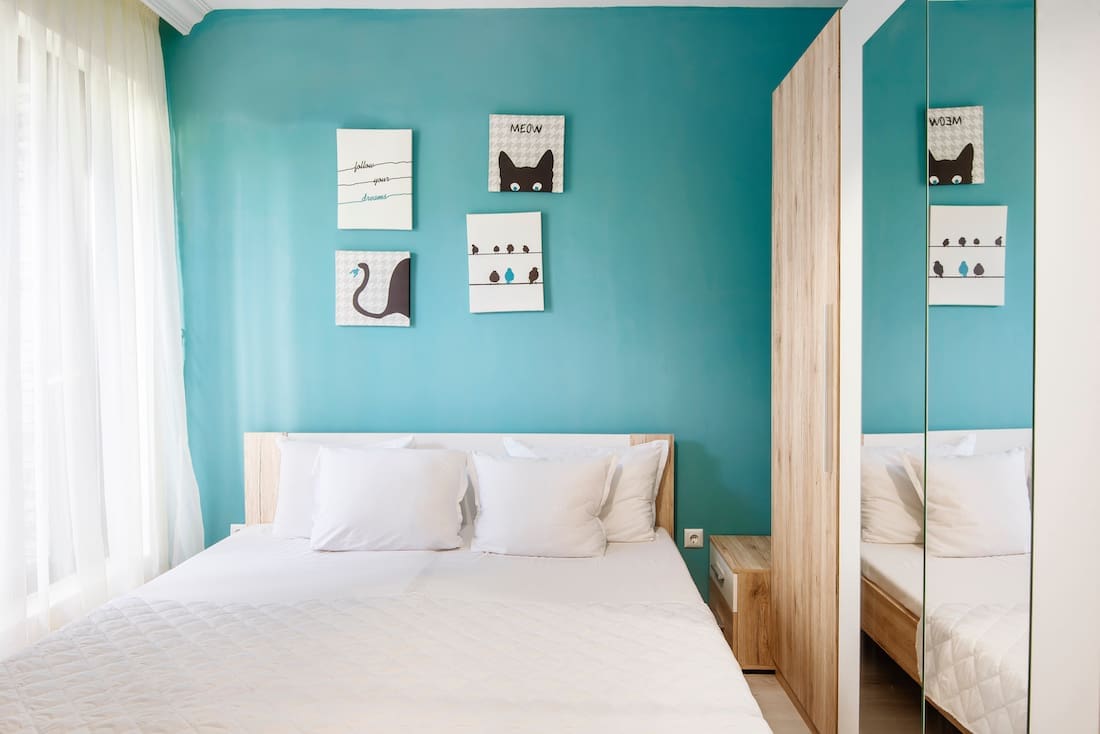 Switch to a bed frame with storage
One of the best space-saving bedroom storage ideas we mentioned in that list above is selecting a bed with hidden storage. We used a gas lift bed with loads of extra storage in Naomi's master bedroom makeover and she says it's so useful for stowing away your out-of-season wardrobe or bulky items like blankets.
When fitting a large bed into a small bedroom, using a bed with hidden storage may be the only way to incorporate storage space. For example, if you don't have a built-in wardrobe or there isn't enough space for a dresser. In this case, we suggest finding a design that has drawers on either side so you can easily access what you need without having to lift the mattress.
Install wall-mounted shelves
Another great way to maximise storage space in a small bedroom is by utilising the vertical space. By this we mean, turn your walls into storage by installing wall shelves or wall-mounted box organisers. This is also a fab way to add interest to your bedroom, giving you plenty of shelfie styling opportunities!
If you're renting and concerned about damaging walls, you can also find fabulous temporary solutions for the back of your bedroom door. While not visually beautiful, it's a practical alternative to help keep your space looking neat and tidy.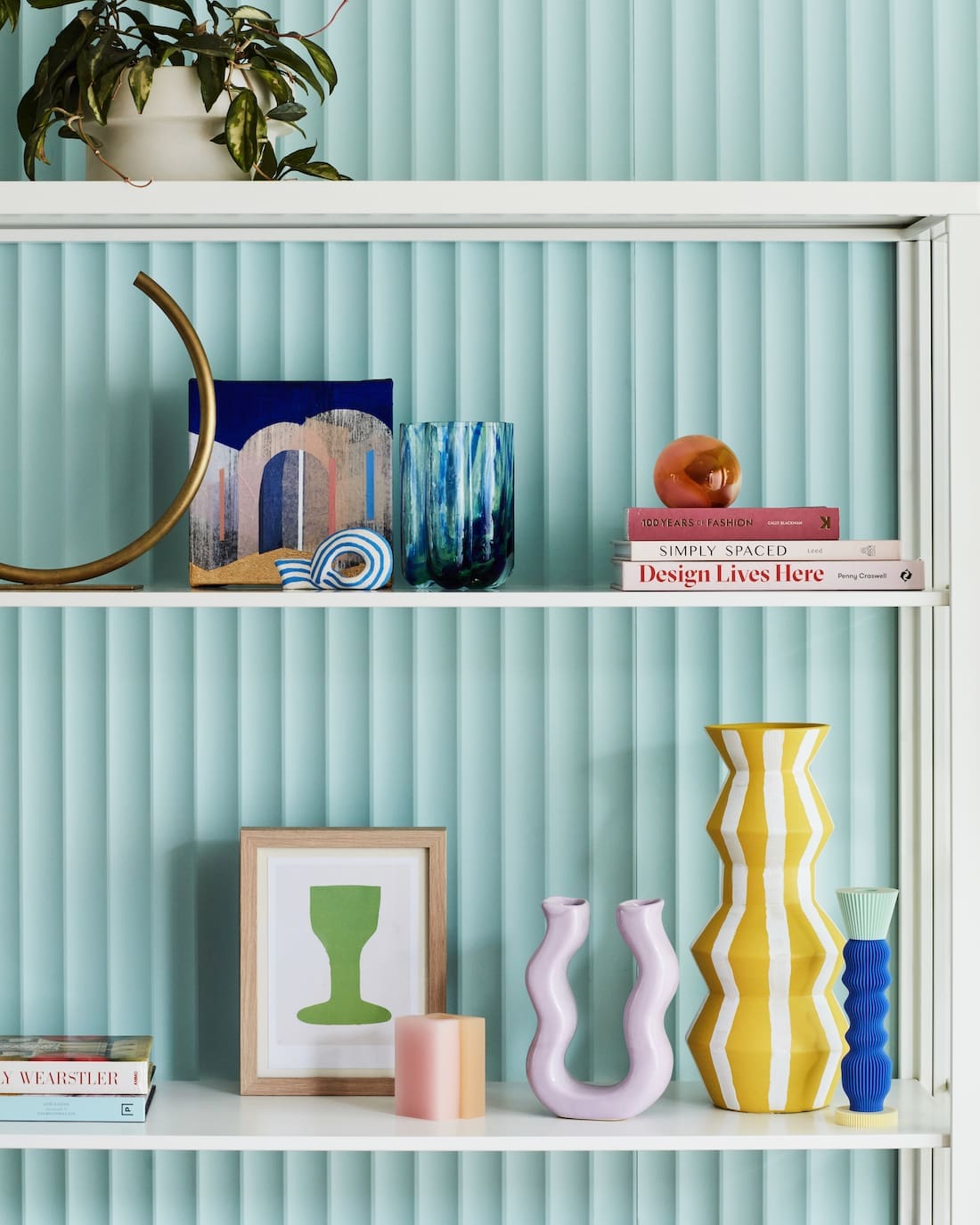 Push your bed against a wall
Ideally, a bed should be at the centre of the room to highlight the purpose of the room. However, if you can't comfortably move around your bed with it centred then consider pushing it against a wall. To give the room visual balance, it's a good idea to use a small rug on the floor and hang artwork on the wall opposite your bed.
Use a light colour scheme
Finally, another decorating tip to give a room the illusion of space is to paint it in a lighter hue. Dark colours can make a room feel narrow or oppressive. So if you can repaint, using crisp white paint or a refreshing light colour will create major impact.
If painting is out of the question, then look for ways you can decorate using a lighter colour scheme. For example, your bed makes up one of the largest areas of your bedroom so we suggest using light bedding, accent cushions and throw blanket.
We hope these tips on how to arrange a small bedroom with a large bed help you. Depending on your room and your needs, you may find other creative ways to achieve your decorating goals despite being short on space! Do you have any other design or styling tips that we missed? Share them in the comments below and we'll add them to the article!