Supported by Canberra Outlet
This year I'm so excited to start a new Christmas tradition for my children — creating Christmas Eve boxes! My boys are both at the age where they understand what Christmas is and the anticipation is already growing in our household. If you're wondering what a Christmas Eve box is or how you could create one for your child (or anyone you care about for that matter!), keep on scrolling.
Thanks to Canberra Outlet, I'm sharing loads of Christmas Eve box filler ideas — for your children or whole family — and free printables to make them extra special.
Related article: The most beautiful Christmas wreaths you can actually DIY!
Related article: Sustainable Christmas decor: Eco-friendly and low-waste Christmas decorating ideas
What is a Christmas Eve box?
A Christmas Eve box is a box or basket filled with an assortment of small gifts or festive goodies. Think things like hot chocolate kits and cute Xmas PJs. I've got a long list of Christmas Eve box filler ideas for adults and children further down.
You can make your Christmas Eve box as large or small as you like. Some people will create individual boxes for each member of the family, or just the children. While others will make a larger Christmas Eve box for the whole family.
As the name suggests, a Christmas Eve box is traditionally given the day before Christmas. However, I've decided to give my children their Christmas Eve boxes early… I mean, why not maximise use of those cute festive pyjamas and other Christmas goodies? You do you, I say!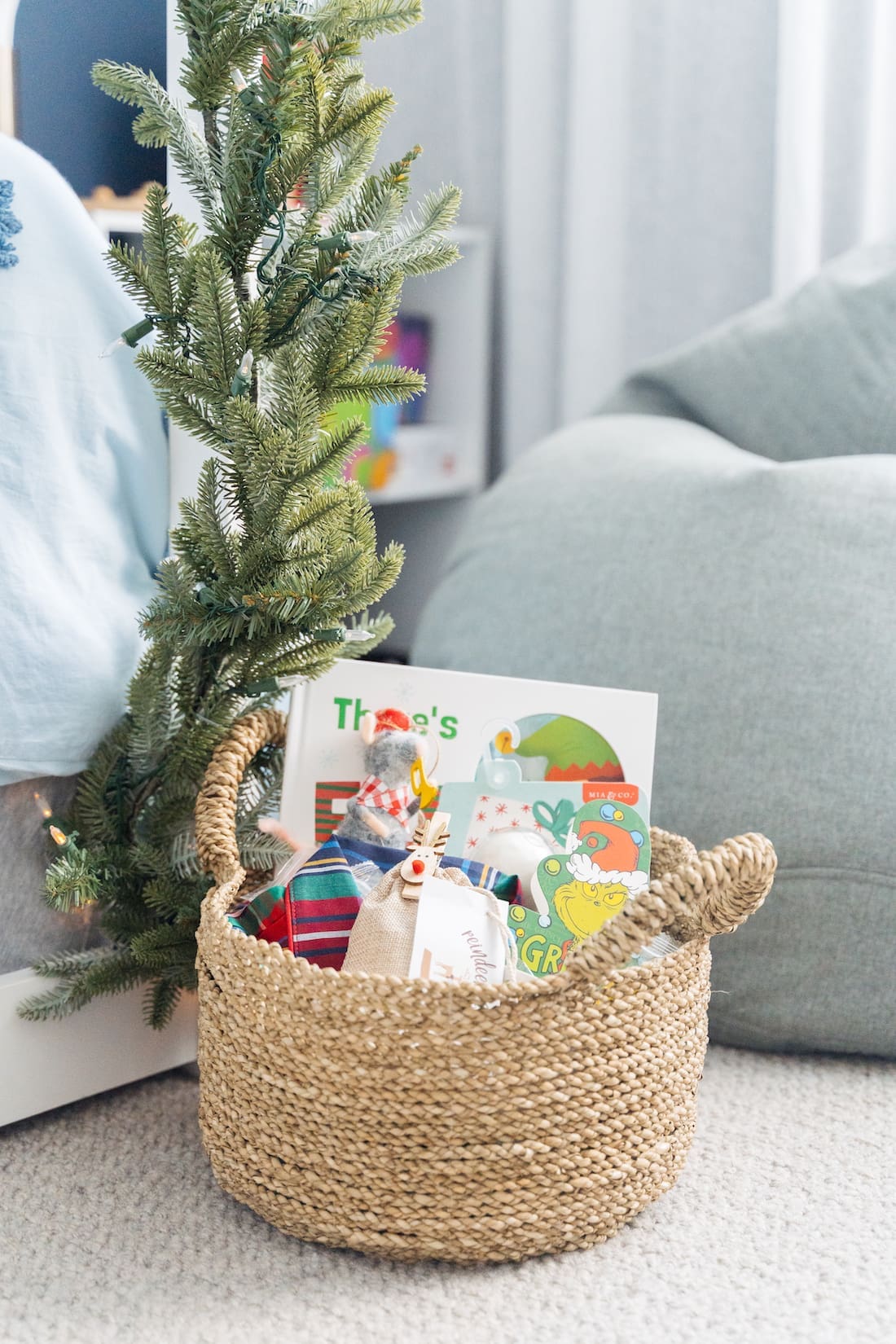 What can you fill a Christmas Eve box with?
There's no limit to what you could put in your Christmas Eve box. Essentially, anything that adds a sense of FUN to Christmas or creates a more magical or sentimental day are welcome.
Most popular Christmas Eve box filler ideas for the family
1. Christmas pyjamas
Christmas pyjamas, pajamas, PJs… whatever you want to call them, they're a staple in most Christmas Eve boxes.
Is there anything cuter than seeing a loved one in Christmas-themed pyjamas? Perhaps only a whole family in a matching set!
From candy cane stripe PJs to Grinch onesies, traditional tartan prints and festive holiday scenes, there's a huge array of Christmas pyjamas to choose from.
An institution in the PJ world is Peter Alexander, and I snapped up these tartan pyjamas on sale from Canberra Outlet.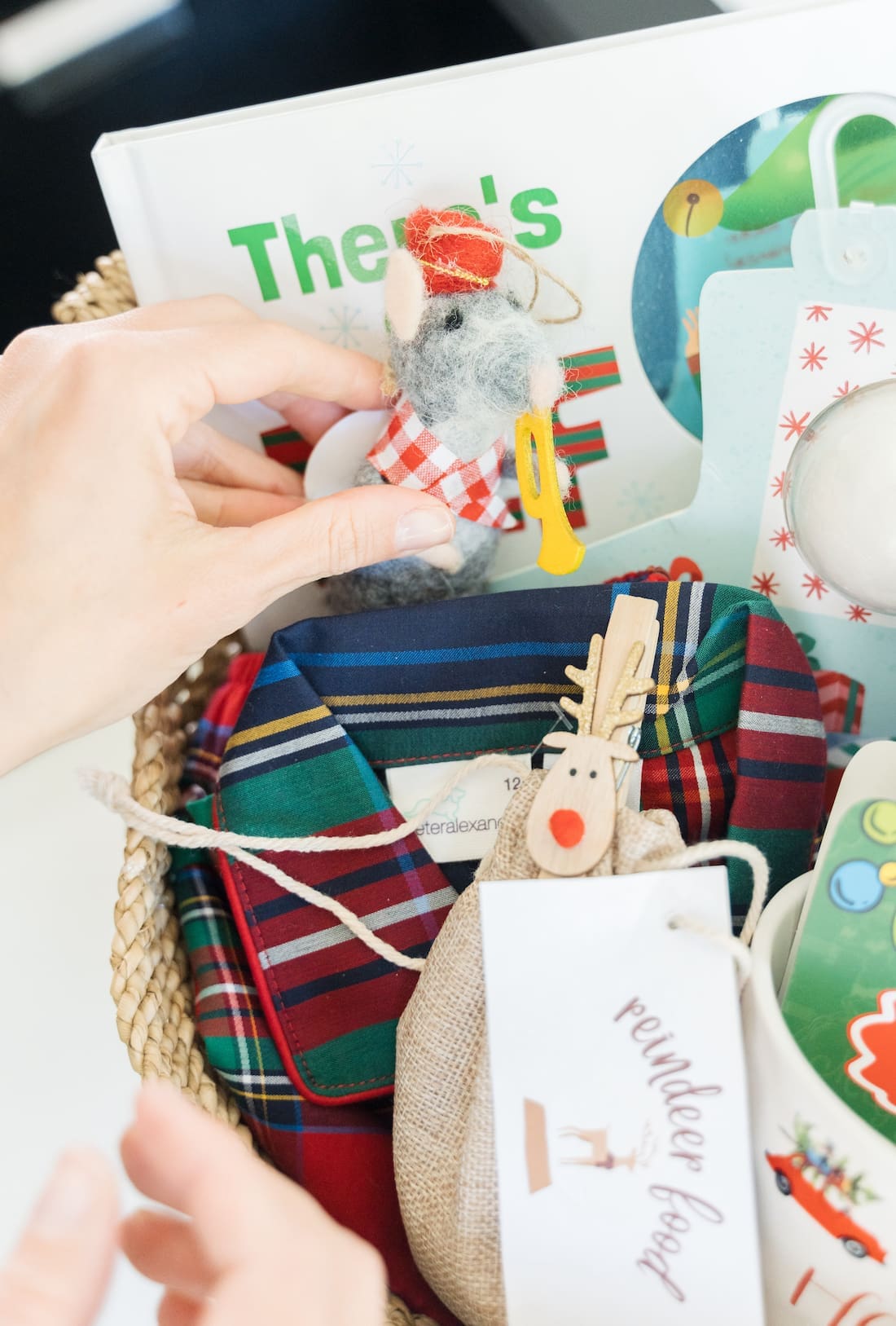 2. Christmas movie
A popular Christmas tradition for couples or families is to gather together in the living room and enjoy a holiday movie.
Adding a DVD to a Christmas Eve box started in the days before streaming services as a way of cutting out ads. And now, they remain a great idea to prevent the modern age problem of too many options (and potential arguments) on what movie to watch! Plus, some of the greatest holiday movies like 'Home Alone' aren't on Netflix… what the?!
3. Books, especially those with a festive angle
Another popular Christmas Eve box idea is a book. For children, a new book can be just the thing you need to encourage them to go to bed the night before Christmas. And for adults, why not include a novel that they can enjoy over the holidays?!
4. Games
Have some good old-fashioned fun with a game! Stores like TK Maxx are brimming with games for young and old. From silly games to thinking games, drawing or word games (and everything in between!), you'll be sure to find one for your special someone.
Games are a great way to enjoy some screen-free time over Christmas and connect with the people around you. You could put any game in your Christmas Eve box, such as Jenga or Guess Who, or pick up a festive edition such as Christmas Monopoly.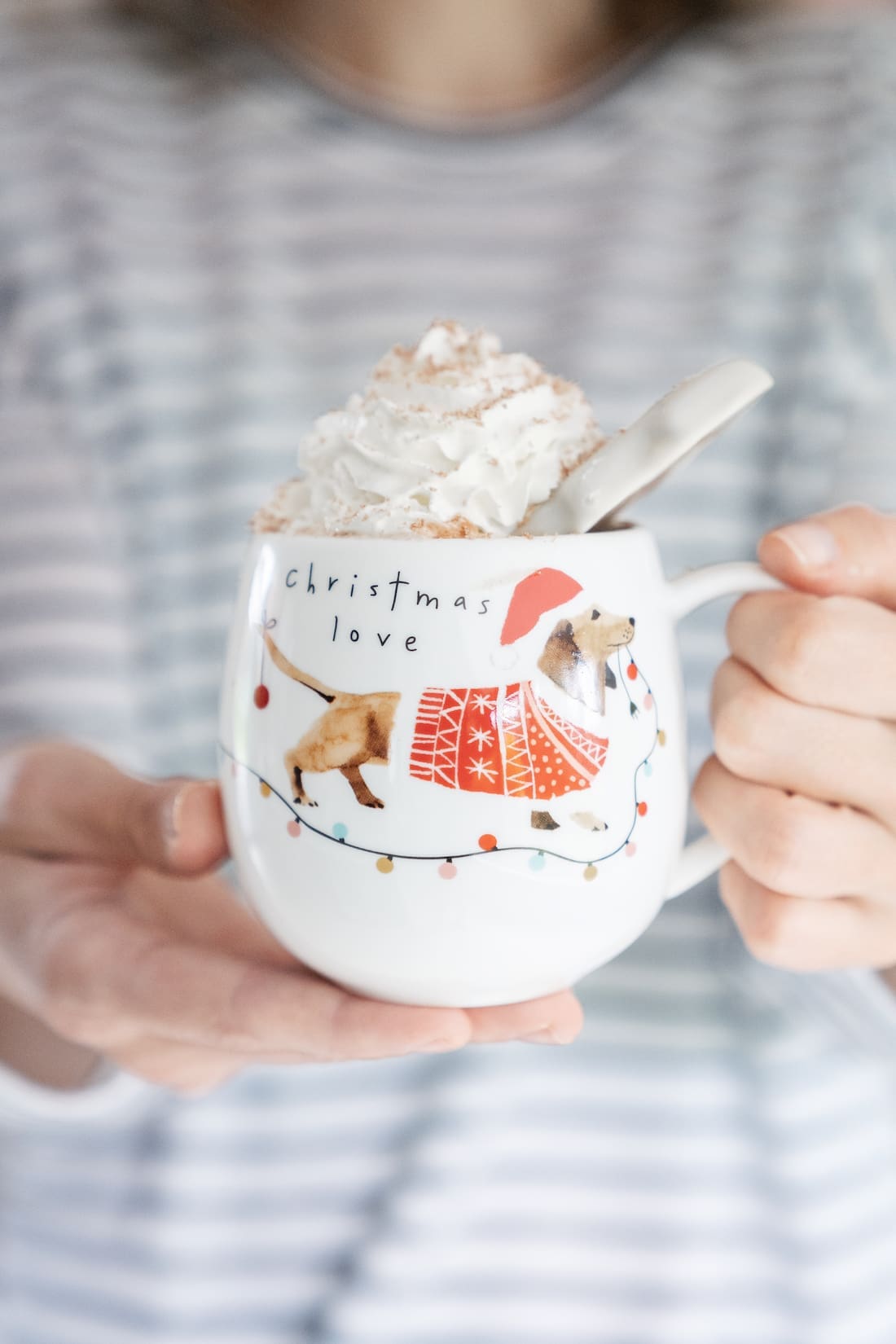 5. Christmas mug and hot chocolate
Sure, it might be sweltering hot at Christmas time in Australia but a hot chocolate on Christmas Eve is a must, wouldn't you agree?! You can find hot cholate kits in stores, like these cute Grinch ones I bought, or make your own delicious recipe. I personally love adding Lindt chocolate to mine for that real chocolate flavour. And make it extra special by serving it up in a holiday-themed mug.
6. Festive socks or slippers
Another super cute idea is to include some Christmassy socks or slippers in your Christmas Eve box. Just like pyjamas, you can find sophisticated or silly versions of these… because you shouldn't take yourself too seriously, and especially not at Christmas!
7. Christmas craft kit or activity kit
Sometimes having an activity to do on Christmas day is a great way to help you out of a food coma or give children something to do when the sugar high hits. There's a growing range of Christmas activity kits on the market now and when shopping at Canberra Outlet I spotted everything from cookie decorating kits to DIY Christmas ornaments.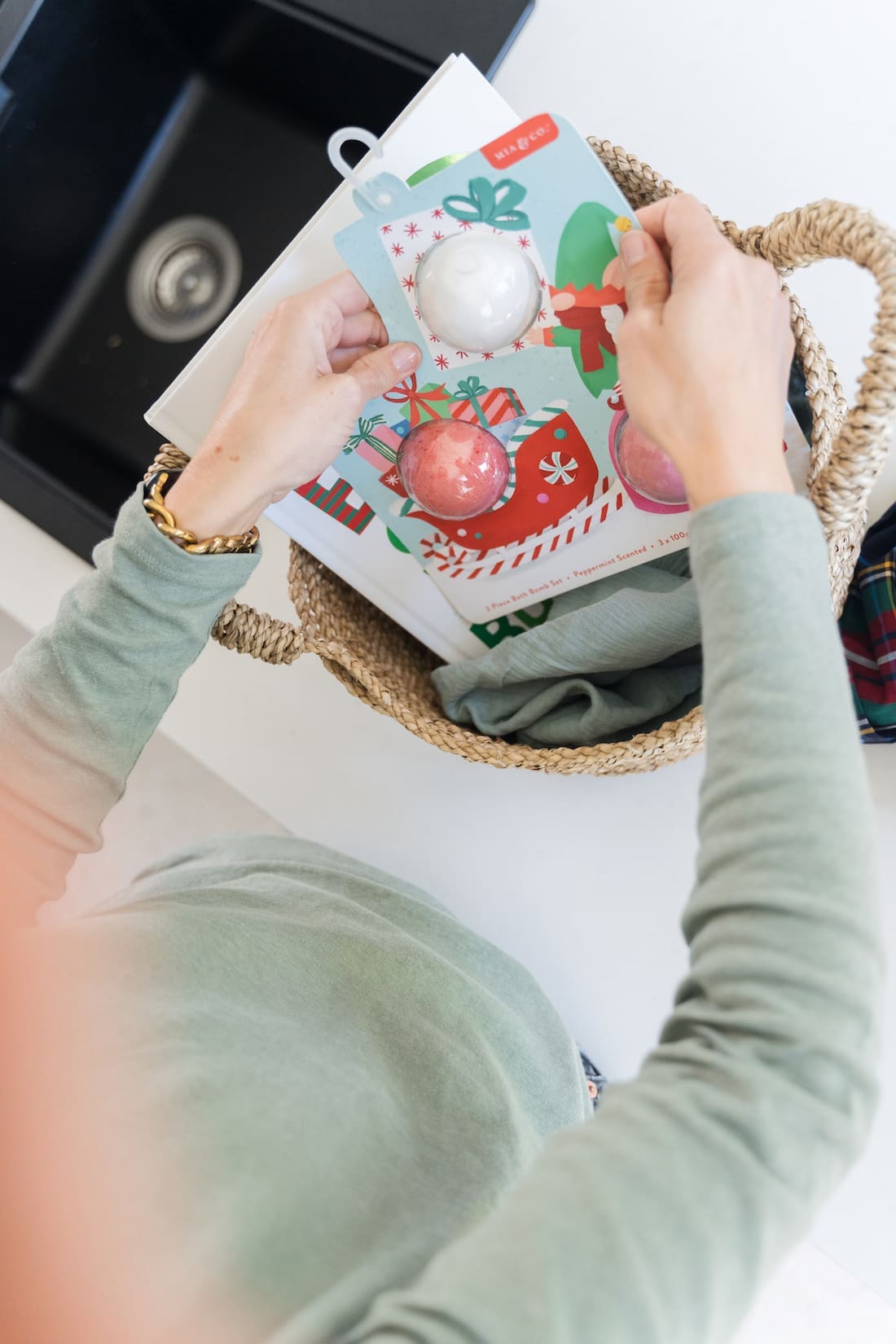 8. Christmas beauty products
Everyone loves a little TLC. And even more so when it's festive themed!
Candy cane nail kits, cinnamon scented bath bombs and Santa-shaped sheet face masks are just a few Christmas beauty product ideas you might like to include in your Christmas Eve box.
9. Christmas CD
Bust out the tunes on Christmas day by including a CD in your Christmas Eve box. From classics like Mariah Carey's 'Merry Christmas' album (just under $10 at JB Hi-Fi) to best-of mixed editions, there's a Christmas CD out there to suit everyone.
10. Christmas carols printed onto beautiful card stock
Dial up the sentimental vibes and consider including music sheets of Christmas carols in your Christmas Eve pack. This idea works especially well if someone in your family can play an instrument. Otherwise, simply play a carol in the background and join in karaoke style!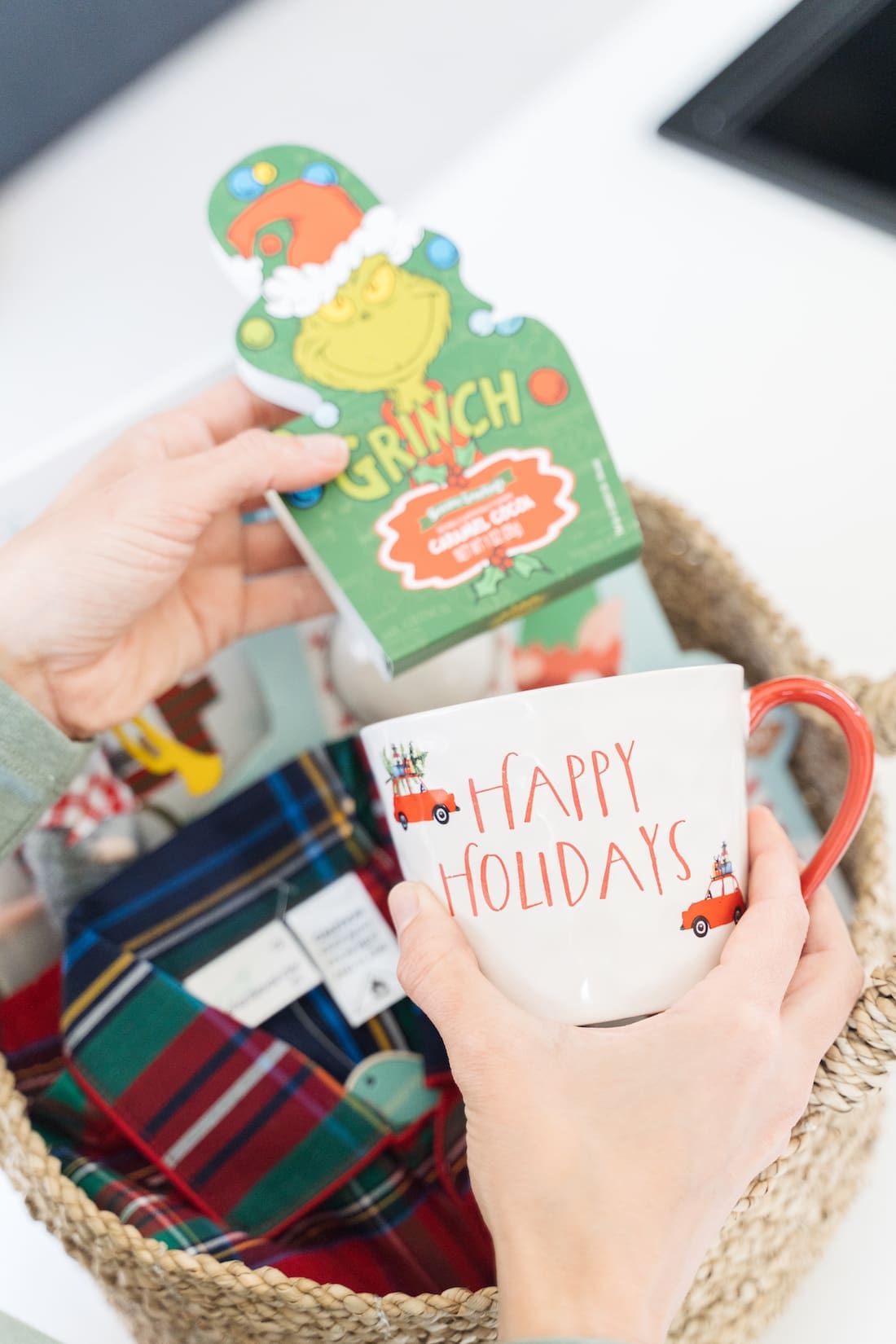 11. Candy canes or other Christmas treats
Who can resist indulging a little at Christmas time?! Children and adults alike will happily welcome some rocky road, Christmas cookies, rum balls, candy canes or chocolates in their Christmas treat box so don't hold back!
12. Christmas ornament
A Christmas tradition I love is taking the kids to buy a new ornament each year. As we decorate the tree, they know which ornaments are theirs and love the stories connected to them.
But not going to lie, some of their choices are… well, unique. So I've also gotten them their own mini Christmas trees for their bedrooms where they can decorate their hearts out!
In their Christmas Eve boxes, I'm including another ornament of their own that's still fun and very them… but also 'main tree appropriate', ha ha. I bought these sweet felt ornaments from Adairs.
Additional Christmas Eve ideas for toddlers or young children
There are some extra Christmas Eve box ideas for children that can bring the magic of Christmas alive. These are my favourite ideas for young children.
13. Reindeer food
Including a bag of reindeer food is a cheap and cheerful Christmas Eve box filler. All you need are some oats and a little bag to put them in. You could also use food dye or glitter to make the reindeer food more magical but be warned, that glitter will stay on your front footpath until next Christmas!
Whatever reindeer food recipe you go with, make it more special by adding one of these cute free printable swing tag labels.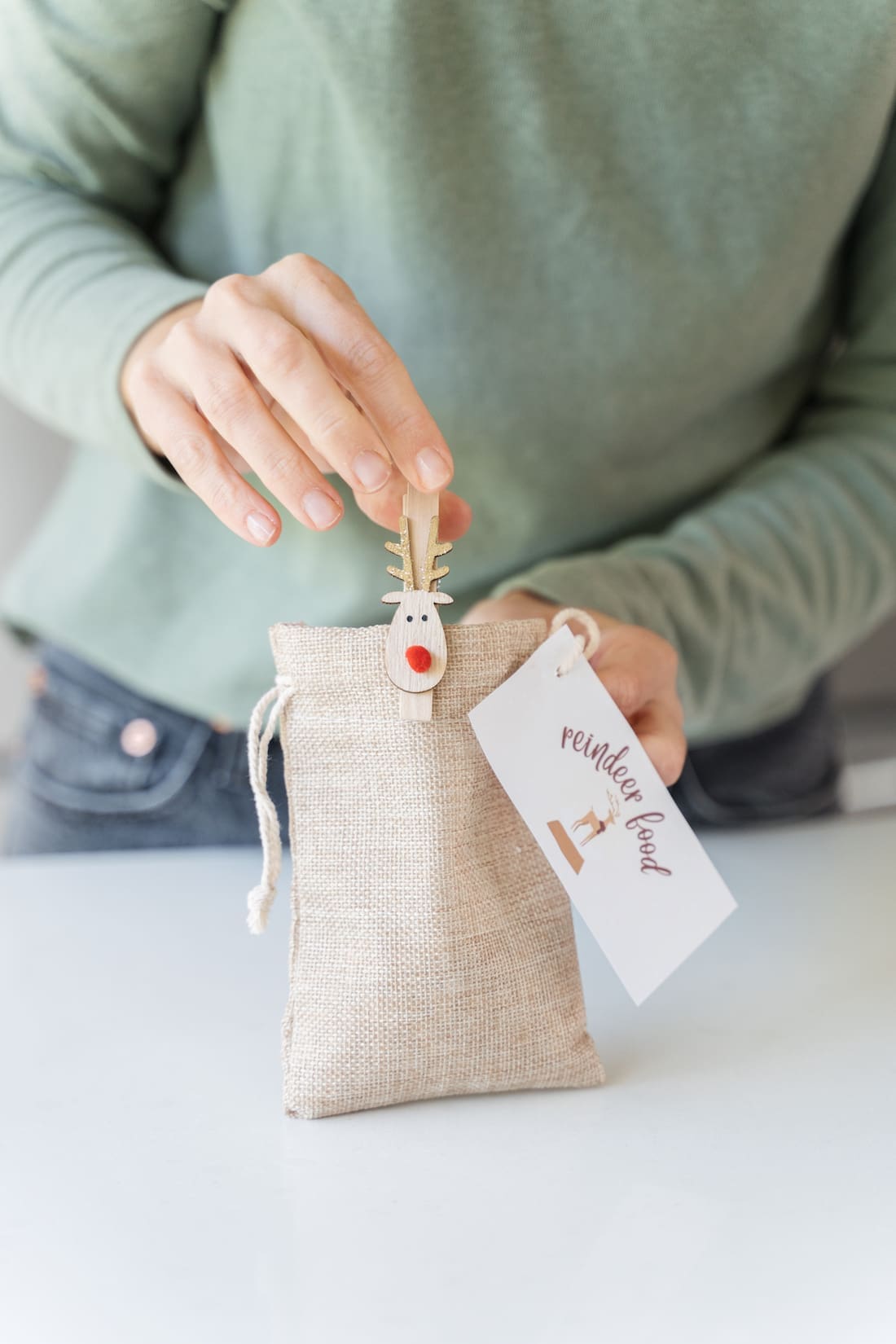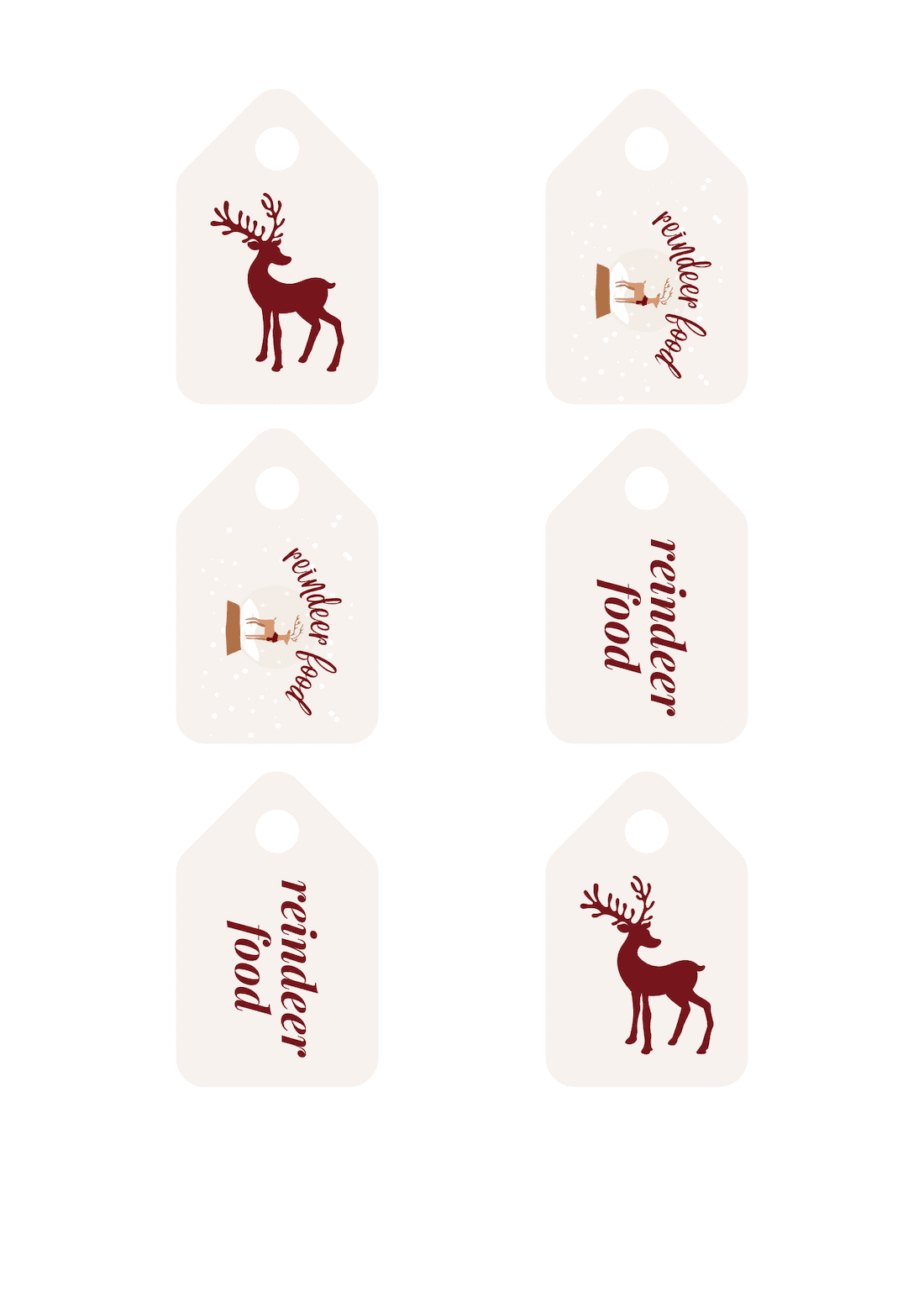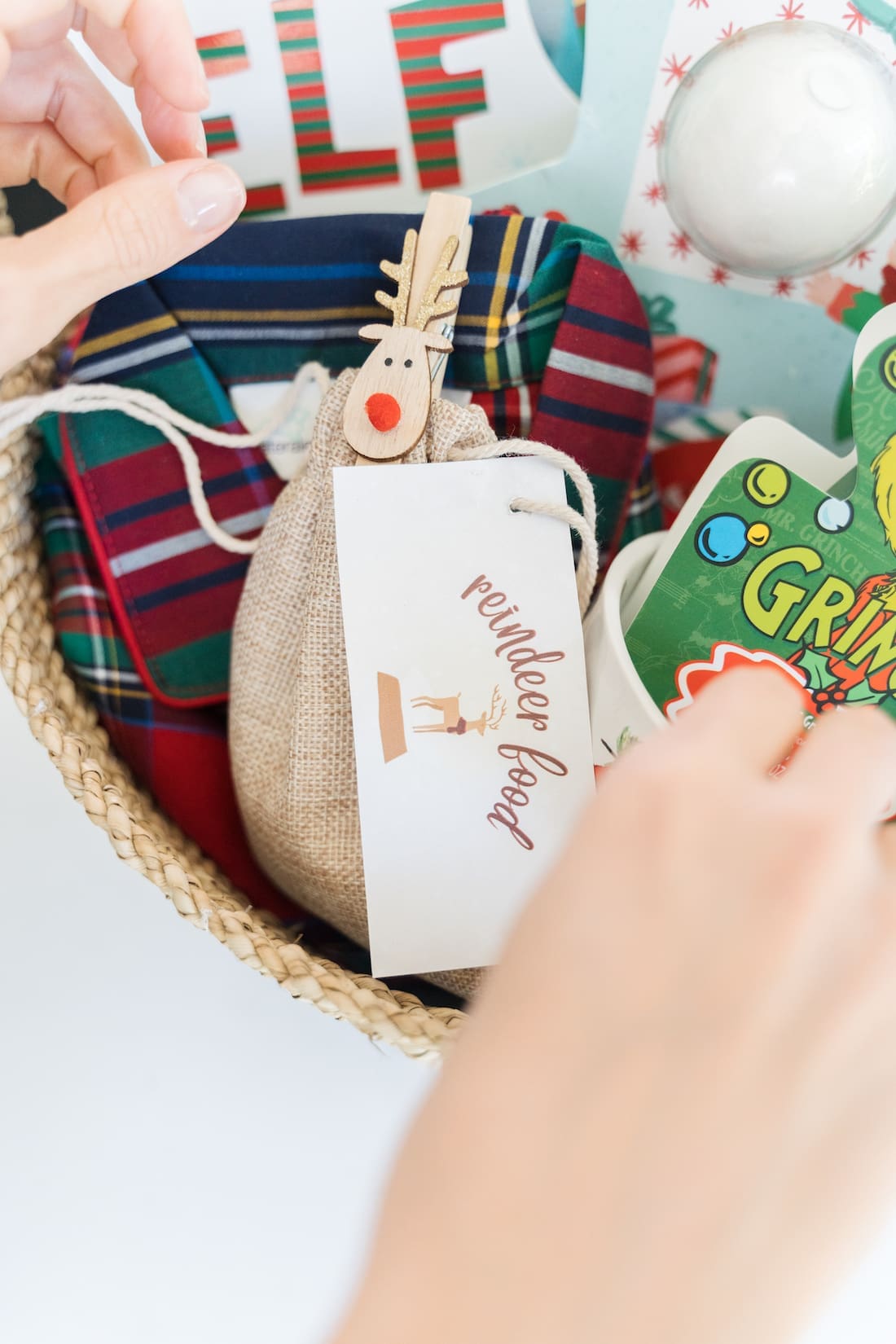 14. Small toys
Another Xmas Eve box gift your child will love is a small toy. Whether they're into stuffed toys or bath toys, adventure toys, blocks or something else, it will be a sure-fire hit.
15. Educational toys
Deserving its own category are educational toys. Think puzzles, science kits, magnetic Connectix and so on. These types of toys can create hours of fun.
16. A letter from Santa
If your child believes in Santa, adding a personalised letter from Santa in your Christmas Eve box can make it extra special. To make this gift inclusion easy, I've prepared a free printable template for you here. All you need to do is write their name in the white space above the letter.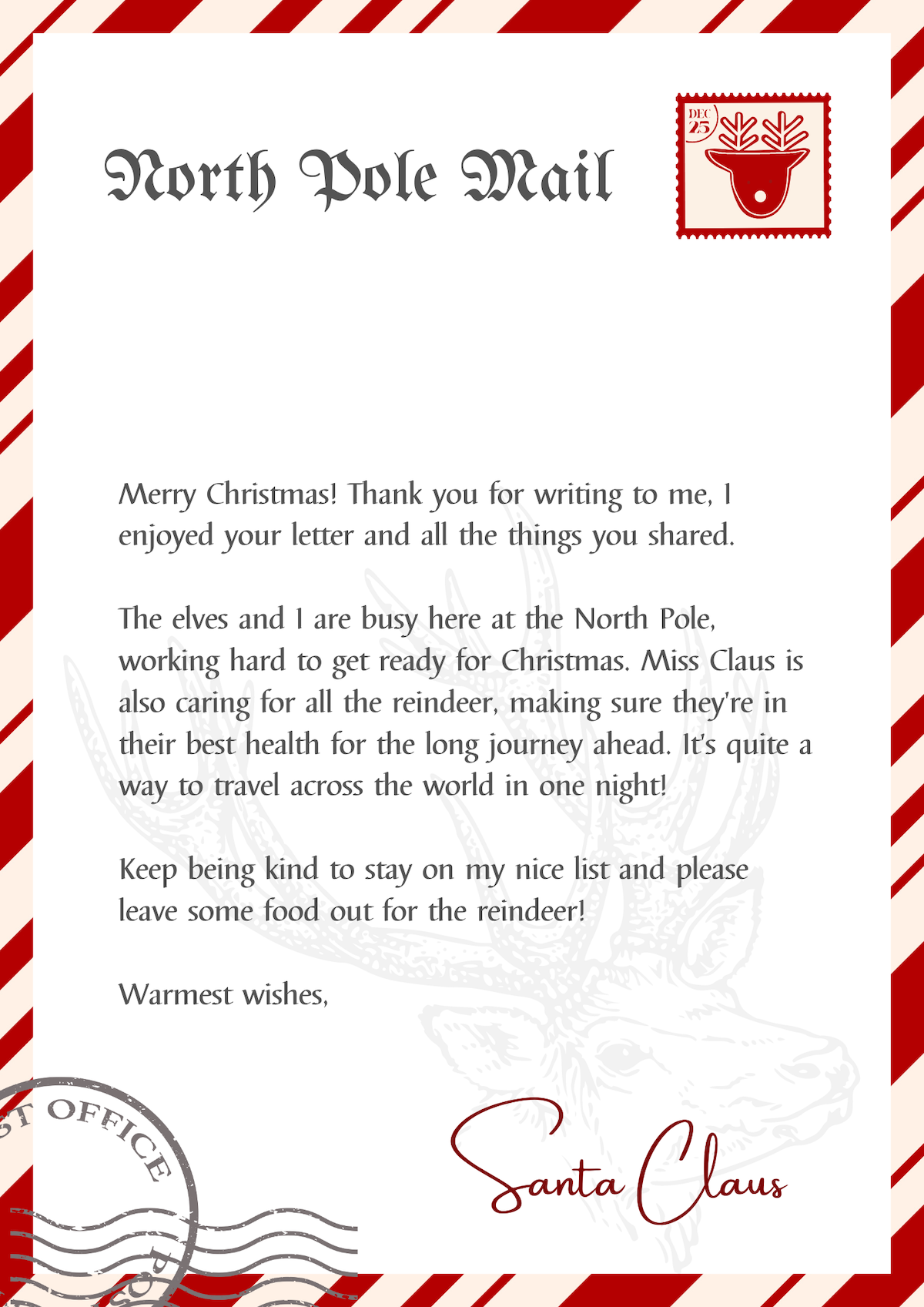 Your filled Christmas Eve box is sure to spark joy for your child! Although as I mentioned earlier, it isn't just little ones who would love this special surprise — Christmas Eve boxes for adults are just as popular. So perhaps treat your partner or another special person in your life with a thoughtfully filled Christmas Eve box.
Has this article inspired you to make a Christmas Eve box for your child? Is there anything you love adding to your box that I didn't include on the list? Drop a comment below so we can make this the best round up of Christmas Box ideas ever!