Ashley Furniture Mondoro Lift Top Cocktail Table
When you shop for a coffee table you may be overwhelmed by the wealth of choices available. Coffee tables, sometimes called cocktail tables, come in many styles and materials. Whether you have a comfortable farmhouse look, breezy coastal decor or sleek contemporary furniture, you can find the perfect coffee table for your main living space. If you make the coffee table the last piece of furniture you choose for the room, it is easier to judge the right style, color, material, size and shape.
Here are some guidelines for finding just the right coffee table to hold the remote and a drink when you settle in for a night of relaxation:
1. Choose a Style


Riverside Furniture Cosmo Round Cocktail Table
Remember that as functional as a coffee table may be, it is really an example of accent furniture. You can select a style that becomes an eye-catching piece in your room to add pizzazz to a matching living room set. Just make sure that the style you choose blends well with existing pieces in the room.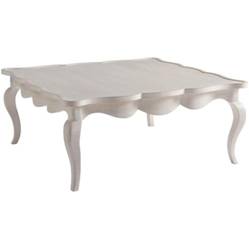 Universal Furniture Bungalow Square Cocktail Table
Choose a cottage style table with an off-white finish that invites you to enjoy life's simple pleasures, a traditional table fashioned with warm wood tones or a table with sleek contemporary styling made of natural materials like stone, metal and glass. Some newer styles have a lift top feature with convenient storage below.
2. Choose the Right Size
Your coffee table should be around the same height as the cushions on your sofa and chairs, or maybe a couple of inches lower. Coffee tables generally come in a height of 16-18″, and the seat height of an average sofa will measure 17-18″. So the higher the sofa, the higher the table.
Some ultra contemporary sofas are lower than you might expect, so if you have a contemporary style pay special attention to the height of the coffee table. The length of your coffee table should be around 2/3 the length of your sofa. If your sofa is 84″ long you will need a coffee table that is around 56″ long.
3. Choose the Right Spot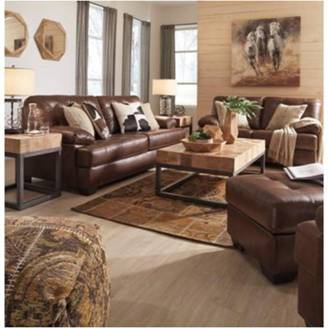 Ashley Furniture Living Room
Choose a coffee table that is in proportion to the other furniture and that will allow you to walk around the room. The table should be around 12-18″ from your sofa and chairs. It should be close enough to reach, yet far enough away from seating so that people will not trip.
Discount Coffee Tables at Home Living Furniture
Find a wide range of beautiful name brand coffee tables at discount prices at Home Living Furniture in Howell and Middletown, New Jersey. Experienced salespeople are standing by, ready to help you make the right selection.