This Elran Furniture reclining sectional is perfect for a large space and plenty of seating.
The idea of a sectional sofa began when a furniture designer decided to attach an ottoman to the sofa, making it one piece. Today's sectionals are versatile staples for the living room, the home entertainment space and the home theater. Many sectionals come with motion features so you can lean back and raise your feet with the touch of a button for the ultimate in relaxation.
Here's how you can choose the right sectional for your space and your needs.
1. Lay Out the Room
Sectionals are sometimes oversized, although you can find models that are designed for small spaces like apartments. No matter what the size of the pieces you choose, it is a good idea to lay out the room on graph paper by drawing the room to scale before you make your purchase. As a rule of thumb, make one inch equal to one foot so you can visualize not only the furniture but the traffic pattern in the room.
2. Choose the Right Pieces
Craftmaster sectional sofa
When you shop for a sectional sofa, you will notice that there are several different pieces you can choose. Most sectionals come with four or five different options – a seat with a left arm, a seat with a right arm, a seat with no arms, a corner piece and a console. Some sectional collections also offer a long chaise. The left arm chair will be labeled LAF, and the right one will be RAF.
3. Pick the Right Configuration
There are three sectional shapes to choose from – the L-shape, the U-shape and the semicircular shape. For a smaller space, you may want to select an L-shape and add a chaise. If space is not an issue, a semicircular configuration using a corner piece can give you more seating.
4. Think about the Traffic Pattern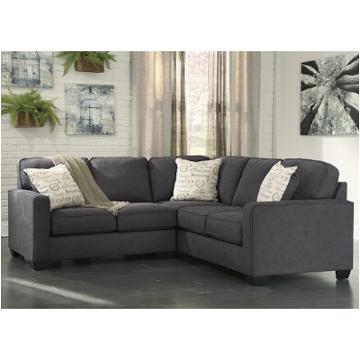 Ashley Furniture Alenya sofa
Refer to your layout and take the traffic pattern into consideration. Make sure you will have enough space to walk around the furniture. If you are adding a chaise, place it on a side of the room where it is out of the way.
5. Consider Extras
Today's sectionals come with options like motion features for your head and legs so you can be comfortable while watching TV or reading a book. be sure that you have enough space between the coffee table and the extended seat. Some sectional collections also offer sleeper options, and others have USB ports to charge your phone. If you choose motion furniture, be aware that you will have to have access to electricity or purchase a battery pack.
6. Match the Fabric to your Lifestyle
You may love the look of today's light colors, but if you have young children and a dog that may not be the best choice. On the other hand, some name brand manufacturers offer performance fabrics that can withstand a lot of use.
Sectionals at Discount Prices
Find a large selection of name brand sectional sofas at discount prices at Home Living Furniture in central New Jersey. Visit the Howell and Middletown showrooms, or shop online at homelivingfurniture.com.