The Ashley Furniture Lou Patio Sectional is a comfortable addition to any backyard.
This year many people are choosing to skip the crowds on the roads and in the air, and opting instead for a relaxing "staycation" at home. Why not make good use of your backyard area to unplug, unwind and enjoy your vacation without the hassle of traveling.
Here are some great ideas for enjoying some R & R – Rest and Relaxation – right in your own backyard.
Pick the Right Patio Furniture

Ashley Furniture Peck Park Sectional
Choose patio furniture that fits your lifestyle. If you love relaxing with family and friends or celebrating "happy hour" at the end of the day, a sectional with an ottoman or table is a good way to fit your needs.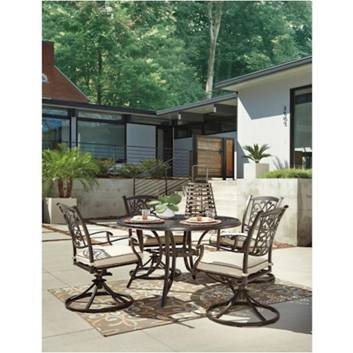 Ashley Furniture Burnella 5-piece set
On the other hand, if you enjoy al fresco dining, you might want to add a table where you can have outdoor meals hot off the grill. Make sure the chairs are cushioned for comfort.
Use a Rug to Define the Space
An outdoor rug can add a pop of color and provide a homey feel while defining your outdoor living and dining area. Choose a rug that can withstand the elements like sun and rain.
Add a Fire Pit


Ashley Furniture Fire Pit Table
What better way to enjoy the outdoors than to invite friends over for a cold drink on a hot summer day. Some outdoor tables, like the one pictured above, transform into a dramatic firepit when night falls and the weather cools down.
Don't Forget the Umbrellas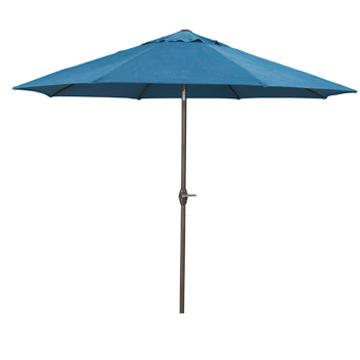 Choose a table with a center hole for an umbrella, and place other umbrellas in strategic areas around your yard to protect yourself and others from the sun. Many umbrellas come with an auto tilt feature so you can adjust your shade as the sun moves throughout the day.
Get a Garden Bench
Furniture of American Alba Patio Bench
If you have the space, an affordable patio bench tucked away in a private place far from your main patio furniture is a good way to increase your outdoor living space. Carve out a secluded spot to read a novel or just relax quietly outdoors. Many patio benches feature a combination of wood and decorative wrought iron.
To make your outdoor area more inviting, you can add large terra cotta pots brimming with colorful flowers and plant perennials that will come back year after year. Make sure that the material you choose on your patio furniture is a high-performance fabric that will stand up to the weather and last for years.
Discount Patio Furniture
Find discount patio furniture from name brand manufacturers at Home Living Furniture showrooms in central New Jersey and at their virtual online store. Discounted furniture for every room in the house is available every day, and weekly promotions and sales can be found online. For further information about Home Living Furniture, visit homelivingfurniture.com.