Just because you're renting doesn't mean you need to settle for someone else's design style. We're sharing 21 clever and cheap tricks to create maximum design impact without breaking the rental rules. Here are our top decorating hacks for rental properties!
Related article: Our favourite places to shop for large rugs
Related article: Turn your house into a home: Tips and tricks to add warmth and personality, without compromising on style!
1. Update your lighting
If you're stuck with horrible fluorescents or outdated light fixtures, there is a super quick and cheap fix. Buy some floor and table lamps and strategically place them in your living areas and bedrooms. Or if it's bare bulbs, or removable lightshades, buy some cheap and pretty DIY light fixtures.
2. Change up the hardware
To instantly modernise a kitchen or bathroom, simply unscrew the handles on the cabinetry and replace with fancy new ones! Just don't forget to pop the old handles in a labelled snap-lock bag and store in a safe place so you can replace them when you move on.
Check out our round up of the best places to buy stylish door hardware and handles here.
3. The more plants the better
Indoor plants instantly make any space feel more homely and beautiful. They're also great if you're in an apartment without a yard. Check out what plants are trending in interiors here or if you struggle to keep plants alive, our top 20 hard to kill indoor plants guide is a life saver!
4. Create your own storage
Custom cabinetry isn't really an option in a rental, but it's quick and easy to add your own storage with a cheap flatpack cube unit. You can style it with beautiful and practical baskets, and balance some art or trinkets on top to make it feel more like home.
5. Use rugs to hide and protect floors
Rental carpets tend to be very practical — read drab. You can instantly glam up a room by adding a beautiful large plush rug. If you invest in a good quality one, it will be able to move with you from home to home. The bonus is your rental carpet is also protected from spills and wear and tear, which you'll be grateful for when it's time to get your bond back! Check out our favourite places to shop for rugs here.
6. Buy beautiful bedding
Treat yourself to beautiful, luxurious bed linen to personalise your bedroom, add colour and texture, and make the space feel really special to you. Your bed makes up one of the largest surface areas in the bedroom so a new quilt will have a dramatic impact — it's one of our favourite decorating hacks for rental properties!
7. Hang curtains to hide ugly blinds and walls
To soften a room or hide an ugly blind, just hang some beautiful curtains! These might be thick textured blockout curtains, or beautiful sheer drapes. You can even get temporary blinds like these ones from IKEA. If you don't want to screw hooks into the wall, simply pick up a spring-loaded curtain rod from your local hardware store.
8. Use temporary wallpaper
There's a huge selection of temporary wallpaper and wall decals available online and it's relatively easy to install and remove when you're done. By just adding the wallpaper to one wall in a room you can create a beautiful point of interest and make it feel more like home!
9. Show off your art
With any luck, there will already be some appropriately placed nails or hooks on the wall that you can take advantage of. Invest in a beautiful piece of art that will work with a broad palette of colours so it can move with you. Here is our round up of the best places to buy artwork online.
If there are no hooks, use the removable command hooks, strips and tape to avoid putting holes in the walls. If there is no appropriate wall space, simply lean your artwork against the wall on top of your bookshelves and storage unit, or even on the floor if it's a large piece.
We've mentioned it before but it's worth saying again — art doesn't have to sit inside a frame. From abstract wall hangings to touch-activated wall lights, there are many out-of-the-box wall art options on the market now. In the case of those wall light panels, they also have the added benefit of adding ambient lighting to your space and many can be operated wirelessly from your phone!
10. Customise your kitchen splashback
If you hate your kitchen splashback, there are so many beautiful and temporary options, like these funky stickers from Etsy! When it's time to peel it off, it should come away relatively easily, and you can use a bit of eucalyptus oil to remove any sticky residue.
11. Decorate your furniture not your walls
If you're nervous about putting things on walls, there are still ways around it! Paint or wallpaper the back of a tall bookcase or storage unit, or if you want something you can easily update, cut out cardboard panels to shape and paint them or wrap them in fabric and secure them to the back of shelves. Otherwise, simply giving your tables, stools and chairs a fresh coat of paint can really brighten up a room. Here's a furniture upcycle Gina recently did for her son's nursery.
12. Create a temporary gallery wall
Use different coloured washi tape as alternative to wall frames — not only does it look great, but it can be easily peeled off without damaging the walls.
13. Invest in the perfect furniture
If you can't change the rooms, buy furniture that you really love to come home to. Try and pick pieces that are versatile and durable and will work in a variety of room shapes and sizes.
14. Use decorative ladders to create hanging space
A wall ladder not only looks great, it's a perfect way to add some colour to your walls without hooks or nails. See how Gina used a ladder in her living room to display magazines and a hanging pot plant here. And in the bathroom, it's perfect for extra towel hanging!
15. Accessorise, accessorise, accessorise
Use throws, cushions, trinkets and rugs to make the space reflect your style. They do no damage and can move with you from home to home. And with the affordable homewares range from places like Kmart, Big W and Target, there is something to suit any budget.
16. Remove cabinet doors
If your kitchen cabinets are beyond ugly, simply take them off the hinges and store them somewhere safe. Open cabinetry is very on trend and it will allow you to display some of your beautiful crockery!
17. Create a custom shower floor
If your shower floor makes you shudder, create a beautiful DIY timber floor like this one to hide ugly tiles and give the space a beautiful modern feel.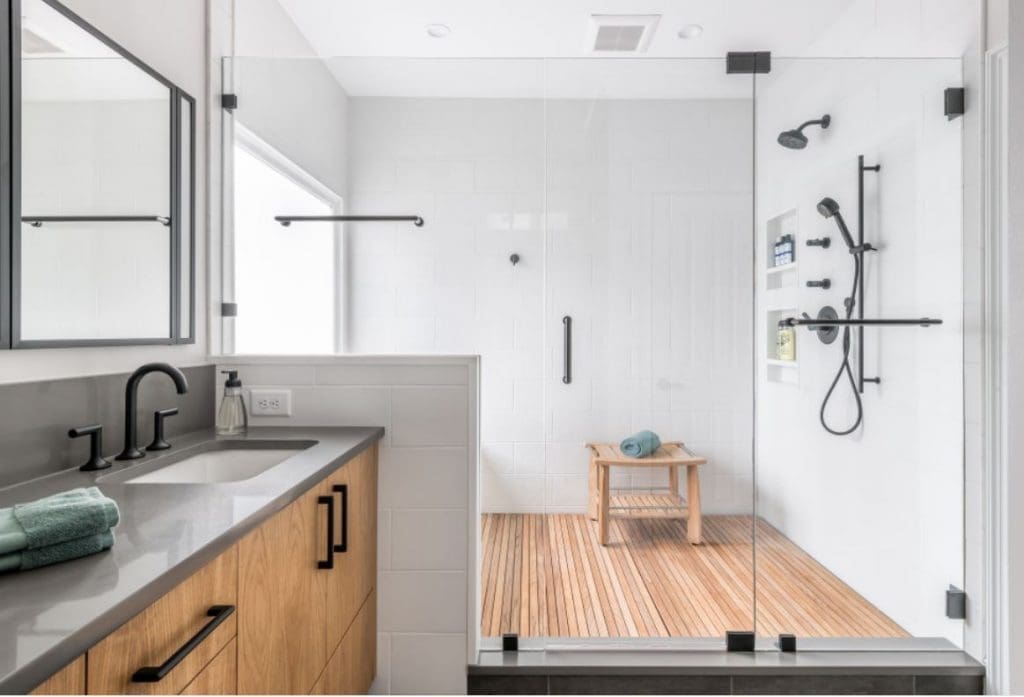 18. Replace your shower head
While you are in your bathroom, replacing an old and ugly shower head with a nice new one can instantly create a luxe feel in your bathroom. Just make sure you keep the old shower head in the bathroom cabinet to swap back when you leave.
19. Use temporary decking to brighten up an outdoor space
These cute outdoor decking tiles from IKEA are easy to assemble and will give your balcony an instant facelift.
20. Update your switch covers
Head to your local hardware store and check out the range of modern powerpoint and light switch covers available. Matte covers or those with flush buttons will instantly make a room feel more sleek and modern. Again, make sure you keep the old covers to pop back on when it's time to leave!
21. Buy a rolling kitchen bench for extra space
If your kitchen lacks bench space, you can add instant space and style with a movable bench. When not in use, you can roll to the side, and store your beautiful pots and pans underneath.
Have you picked up any decorating hacks for rental properties from this list or do you have another hack to add? Let us know in the comments.
Disclaimer: This blog post was originally published in August 2018 but updated with new information. This article contains some affiliate links. This means, if you purchase an item we may receive a commission on that sale of the product at no extra cost to you. We promise we only work with brands we know, love and trust.