Everyone has different needs when it comes to finding a comfortable mattress. After you choose your bedroom furniture, it is time to pick a mattress that allows you to get a good night's sleep. There is a wide array of mattress types, so before you make your purchase it is a good idea to know your options and understand the differences.
Tried and True Innerspring Mattresses

Ashley Furniture Botswick Shoals Bedroom Set
Innerspring mattresses have been around for over 100 years, and they are still the most popular mattress today. Innerspring mattresses are also called coil mattresses because of their coil system. Coils are constructed of durable steel and reinforced with high density foam in layers that range from one to three inches.
People who sleep on their stomach or their back often prefer an innerspring mattress because of the support it provides for the stomach and hips. If you are a side sleeper, make sure the innerspring mattress you are considering provides sufficient cushioning so the mattress will conform well to your body. For those who live in a hot climate, an inner spring mattress is ideal because it allows for a strong airflow for breathability that can keep you cool at night. Keep in mind that with an innerspring mattress you might notice when you a partner gets out of bed or changes position.
Deep Comfort with Memory Foam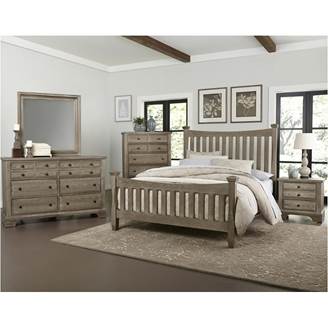 Vaugh Bassett Bedford Washed Oak Bedroom Set
Many people choose a memory foam mattress if they have back pain. Memory foam was created by NASA through cutting edge science and engineering during the space exploration era in the 1960s. A memory foam mattress provides deep comfort by contouring to your body to support your spine.
The memory foam mattress cushions heavier areas of your body with layers of foam over base layers of high density polyfoam. A drawback of memory foam mattresses is that they tend to get hot during the night, so they may not be a good choice if you live in a hot climate. To counteract this problem, manufacturers may use gel beads, bamboo, copper or other elements.
Latex for a Soft Feel and Long Life
Bernhardt Bedroom Set
If you want body contouring but you do not care for the deep comfort provided by memory foam mattresses, consider a latex mattress. Latex is ideal if you sleep on your side. However, if you sleep on your stomach or your back, make sure to choose a firmer latex mattress that will give you the stronger support you need.
Expect your latex mattress to provide a long life span as well as outstanding durability. A latex mattress is also cooler than memory foam. In fact, you can look for latex mattresses that are manufactured with holes in the layers to increase airflow and keep you cool at night.
Finding Bedroom Furniture Stores
You can find furniture stores in New Jersey that offer name brands at discount prices. Just search "furniture stores near me" if you live in the tristate area or shop online at homelivingfurniture.com.