Increasingly, people are getting bolder with their tile choices, and we're all here for it! With great risk often comes great reward and to inspire you to get brave with your tile choices, we've compiled an epic gallery of bathrooms featuring green tiles.
See just how much choice there is in the world of green bathroom tiles!
Related article: 14 types of blue kitchen splashback tiles: Add a pop of colour to your kitchen
Related article: Real terrazzo vs terrazzo-look tiles, what you need to know
1. Kitkat tiles
Starting with our favourite tile shape right now — kitkat tiles! If you adore these rectangular mosaics as much as us, you'll be thrilled to know there's more than one type of green kitkat tile. Green kitkat tiles range from luxe green marble (in light 'Ming Green' pictured below and darker 'Verde Green') to all shades of green porcelain kitkat tiles.
Kitkat tiles have a beautiful rhythm and bring pattern to a space through shape. They work in a wide range of interior styles, including luxe, coastal, mid-century modern, japandi and contemporary.
2. Subway tile
Subway tiles are one of the most popular tile shapes — they're incredibly versatile (subway tiles can be laid in over a dozen ways), affordable, and there's plenty of choice in terms of size, finish and colour. From soft sage tones to deep emerald, it's hard to go wrong with a green subway tile in the bathroom.
Green subway tiles work harmoniously with many other tile patterns, including terrazzo, marble, and more graphic black and white patterned tiles.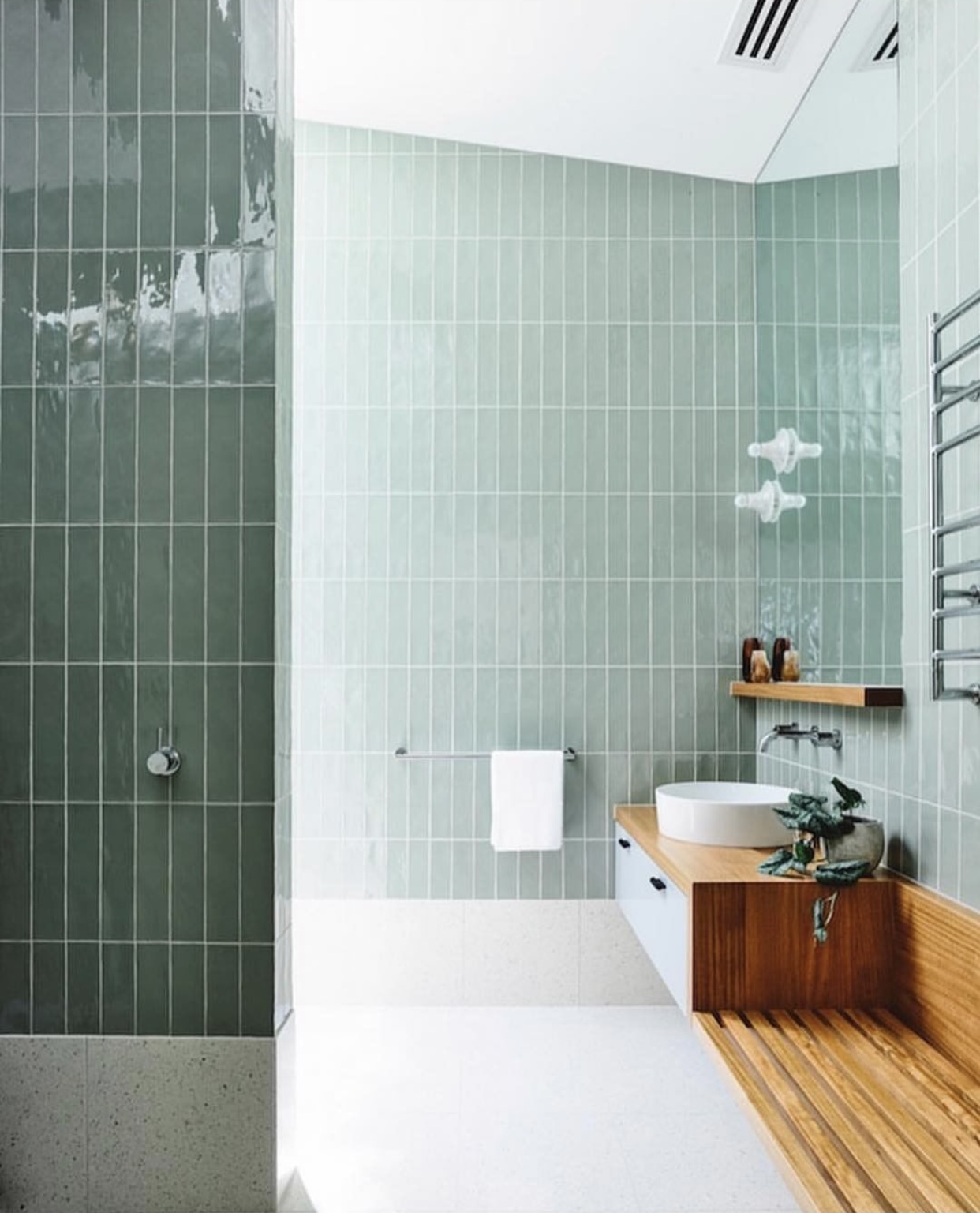 3. Feather tile
A new tile shape gaining popularity is the feather or blade tile. It blurs the lines between fish scale and subway tile shapes. Available in natural green marble or a tonal green porcelain, this one is too pretty to look past.
We especially love this tile shape for contemporary, coastal or luxe bathrooms. Be prepared to see plenty more bathrooms using this tile in the future!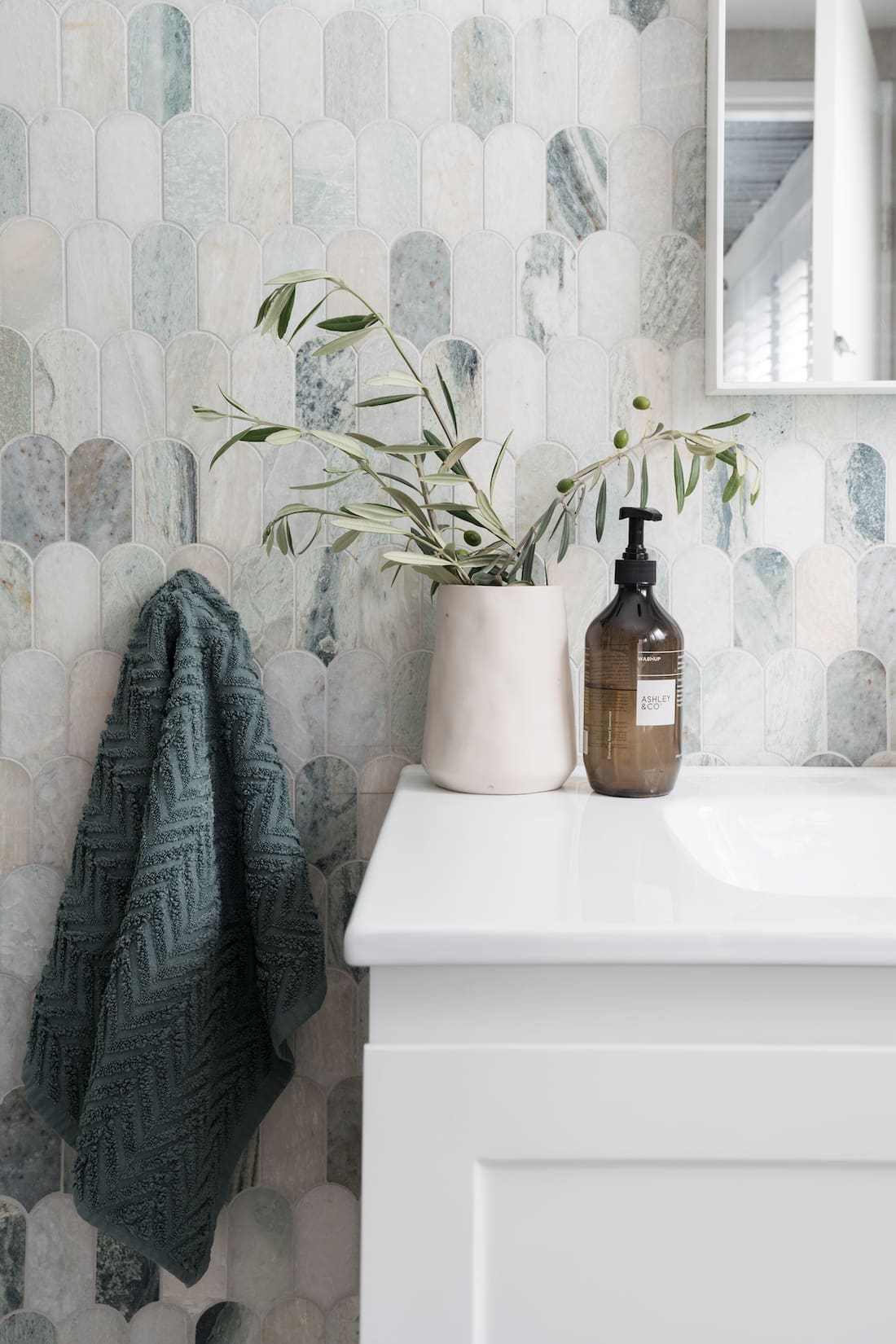 4. Square tile
A classic and timeless shape, square tiles are making a big comeback! Our favourite square tiles have got to be the organic, hand chisseled Moroccan tiles called Zellige. In the bathroom below you can see the soft green spearmint Zellige tile used as a feature wall (and there's also an emerald green option).
Another type of square tile are the perfectly straight, or rectified, tiles that suit architectural style bathrooms to a T. Available in a range of sizes, these tiles are often suitable for floor and walls to create an enveloping bathroom design.
And finally, there are the handmade finish square tiles that offer a soft, organic texture. The third picture below shows the moss green square tile used as a feature wall and we're sure you'll agree with us, it looks amazing!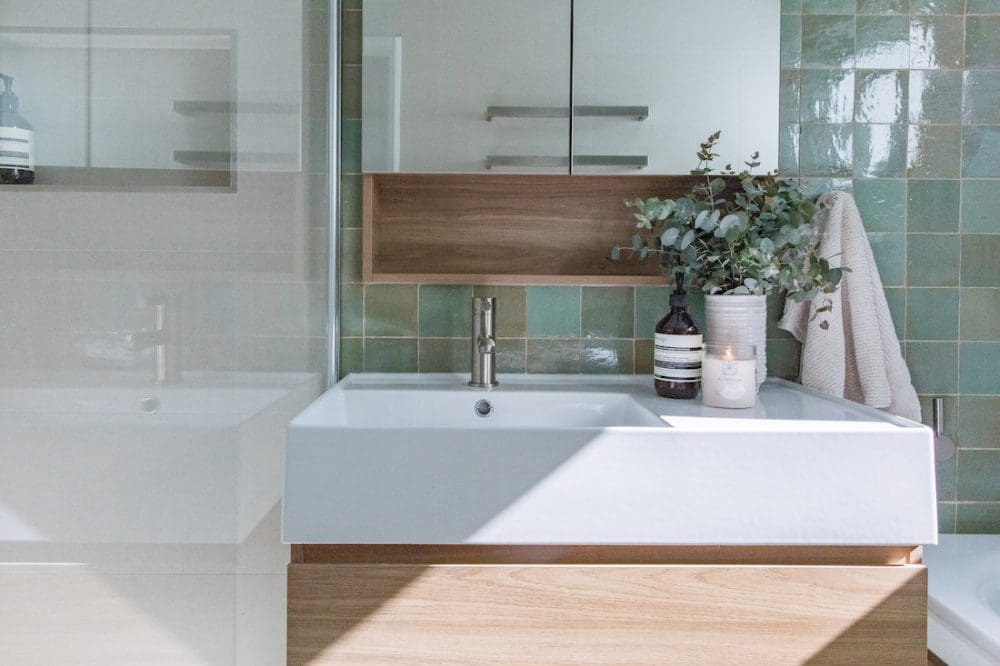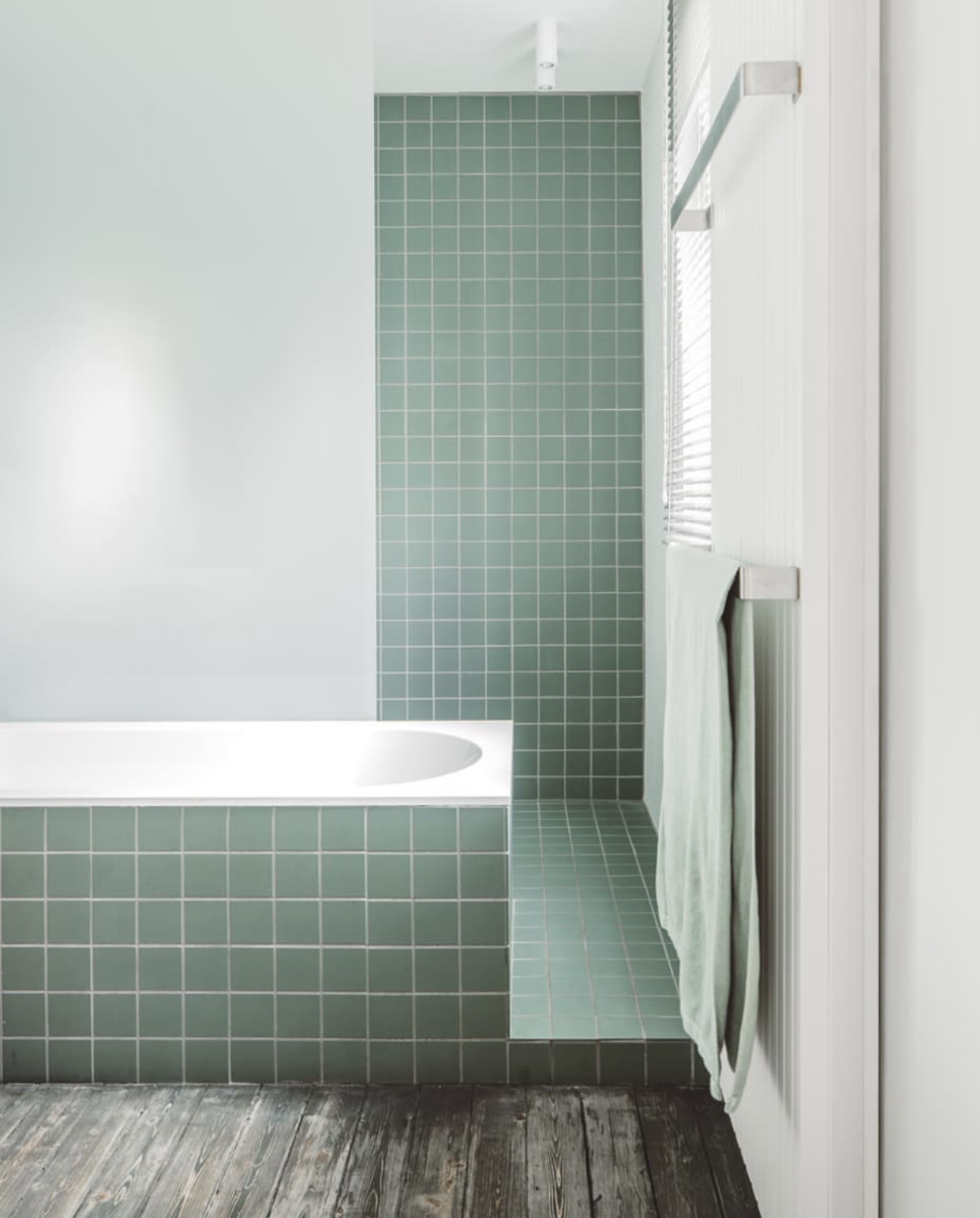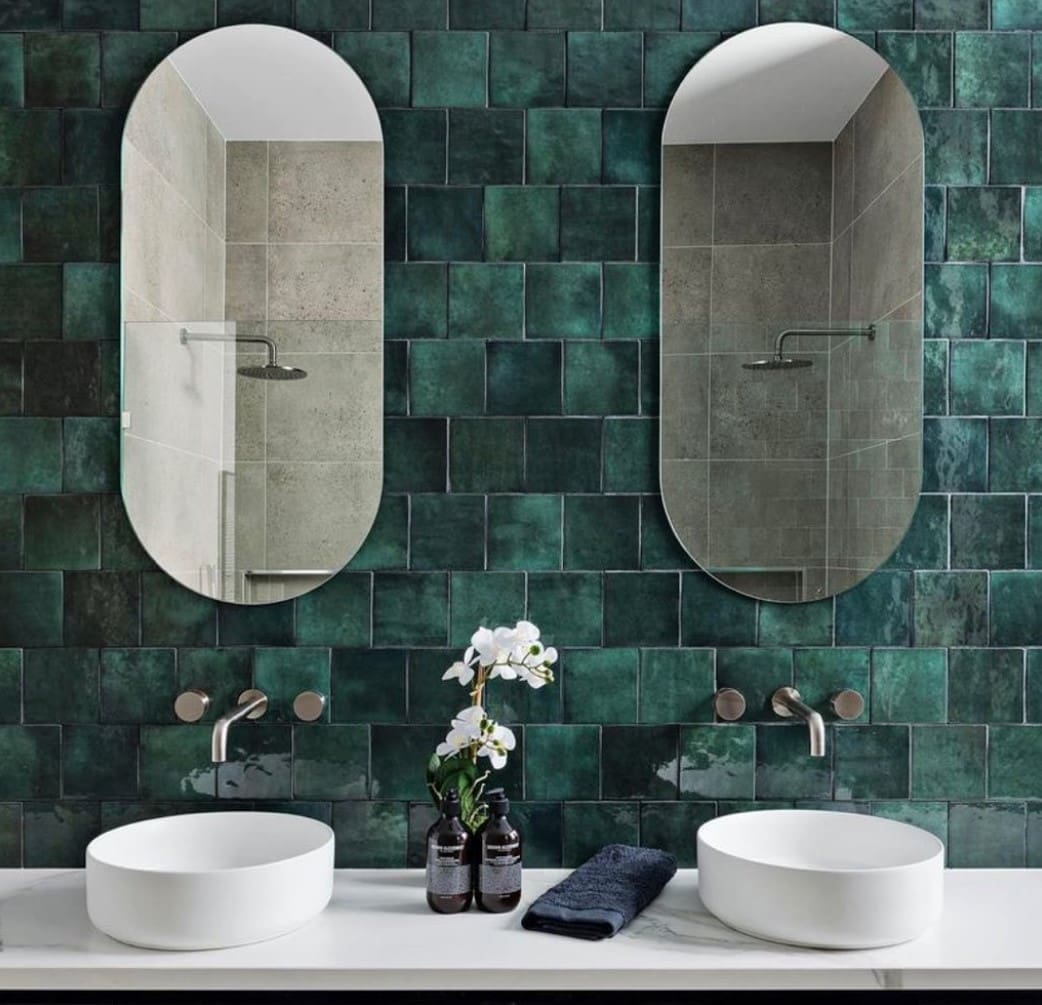 5. Patterned tile
Patterned green tiles is a pretty broad category but generally you'll find these tiles in a 200mm x 200mm size, featuring a tessellating pattern.
From floral prints that suit the Hamptons style, to bold graphic designs better suited to a mid-century bathroom, it's worth exploring the options of green patterned tiles.
While the bathrooms below picture these used on the walls, often a patterned tile is used on the floor with a subway or other simple tile used on the walls.
6. Fish scale tile
A tile shape that immediately transports us to the ocean is fish scale (or fan as it's also known). Laid with the curved side facing either up or down, this tile makes a statement!
Our advice when using a green fish scale tile in the bathroom is to go easy. A little goes a long way so it's best not to overdo it!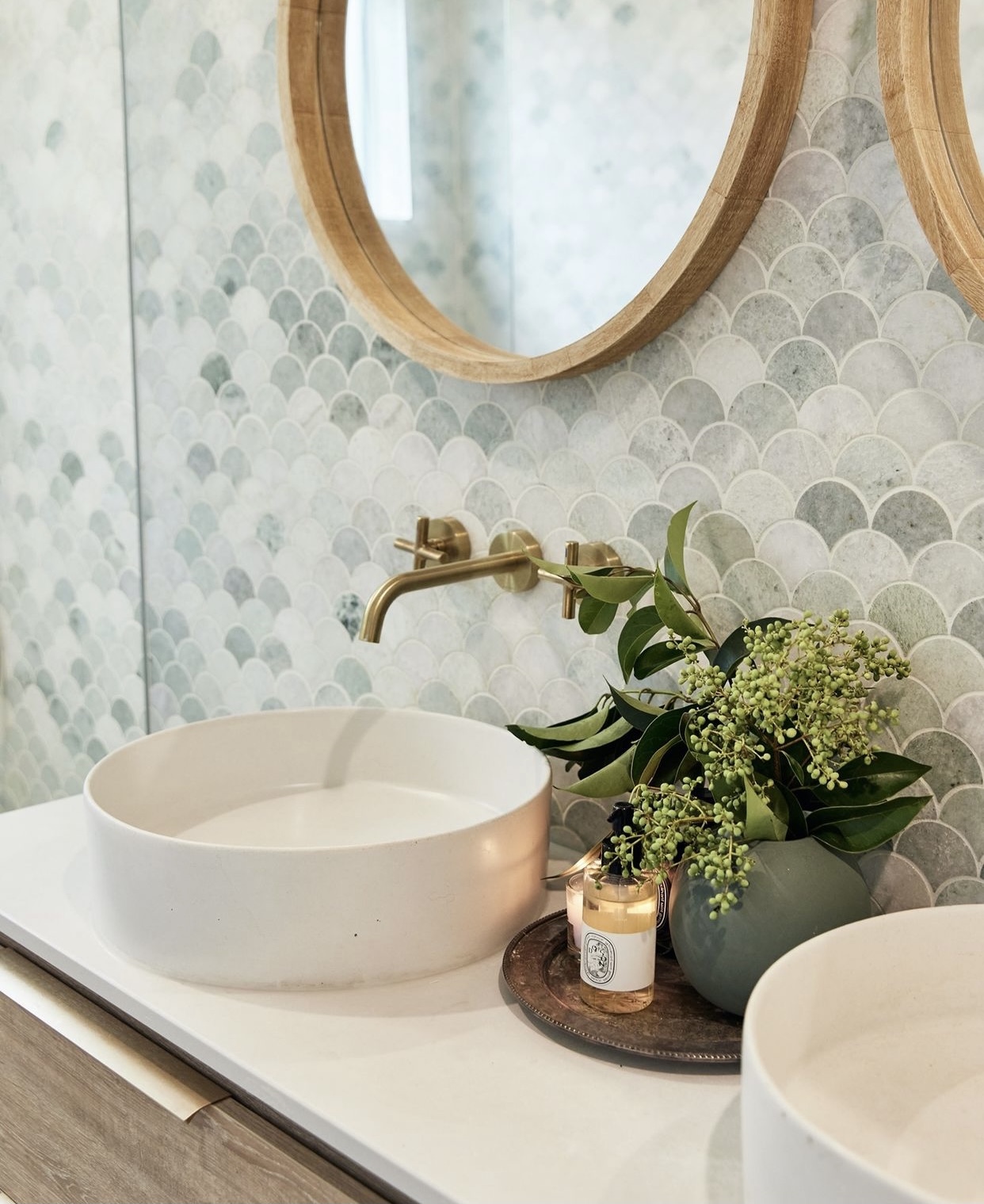 7. Large format tile
Many people prefer to avoid mosaic tiles in the bathroom. We hear you, cleaning grout can be a pain! But you don't have to choose between colour or size thanks to the growing range of larger format green tiles becoming available. The ones pictured below have an interesting scalloped and textured profile, adding to their beauty.
8. Herringbone tile
Instantly dialling up the elegance of any bathroom design, there's good reason why herringbone tiles remain a firm favourite.
You can find smaller herringbone mosaic tiles on sheets, such as the Ming Green marble tiles pictured below, or select a green subway tile that your tiler can lay in a herringbone pattern. Whatever you choose, you can be guaranteed it will look ah-mazing!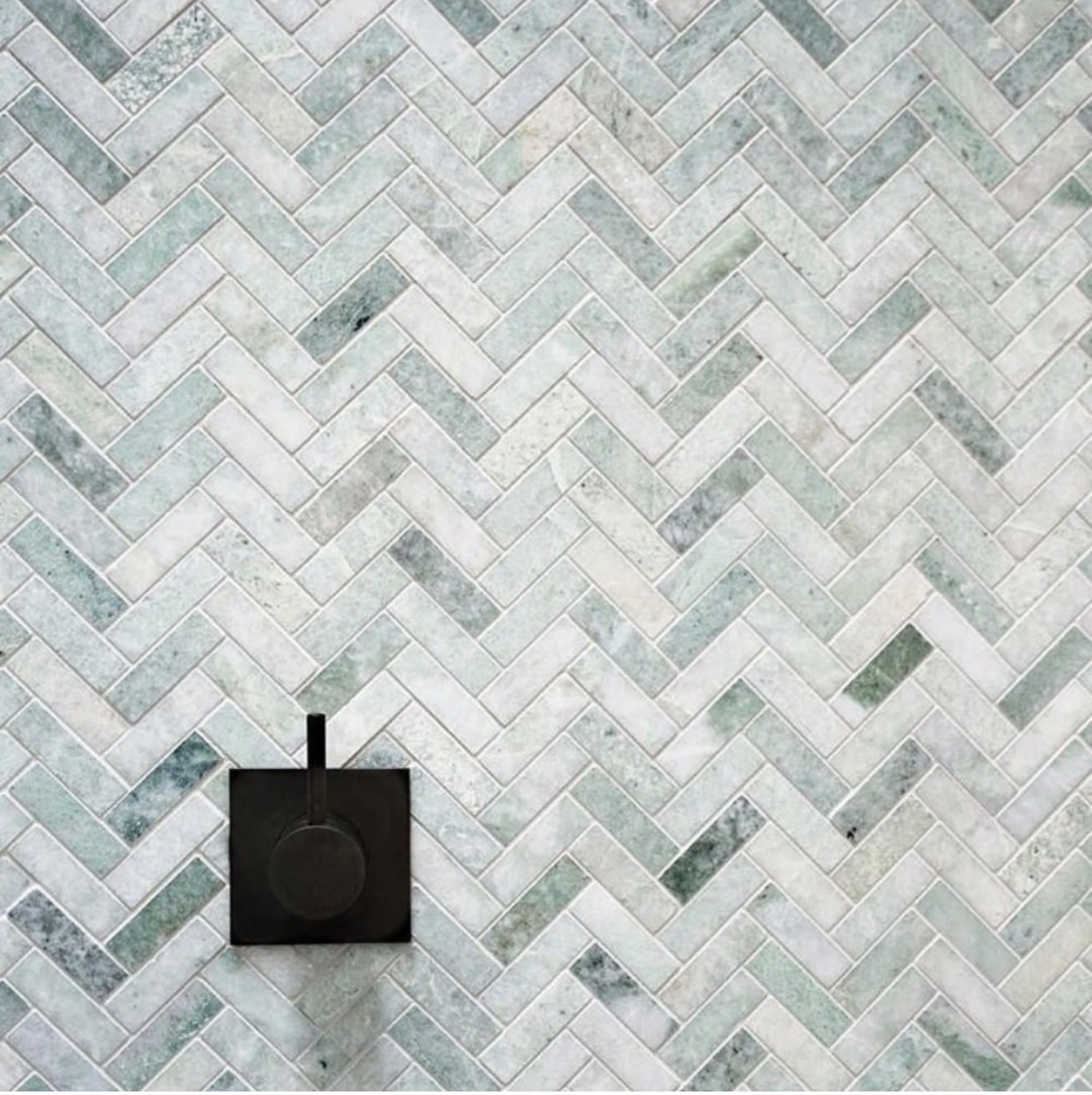 9. Penny tile
Penny round tiles are a classic shape that in the right finish can suit just about every interior design style. They're a popular option in bathrooms because their round shape can soften the hard angles typically found in bathrooms.
Often suitable for floor and walls, they're an ideal choice if you plan to design curved walls in your bathroom.
10. Hexagon tiles
From one extreme to another, hexagon tiles by contrast are highly angular and add an edge to bathroom design.
Available in small mosaics through to larger individual pieces, measuring approximately 200mm in diameter, there's plenty of choice when it comes to green hexagon tiles.
You can find plenty more bathroom inspo as well as a range of bathroom products on Archipro.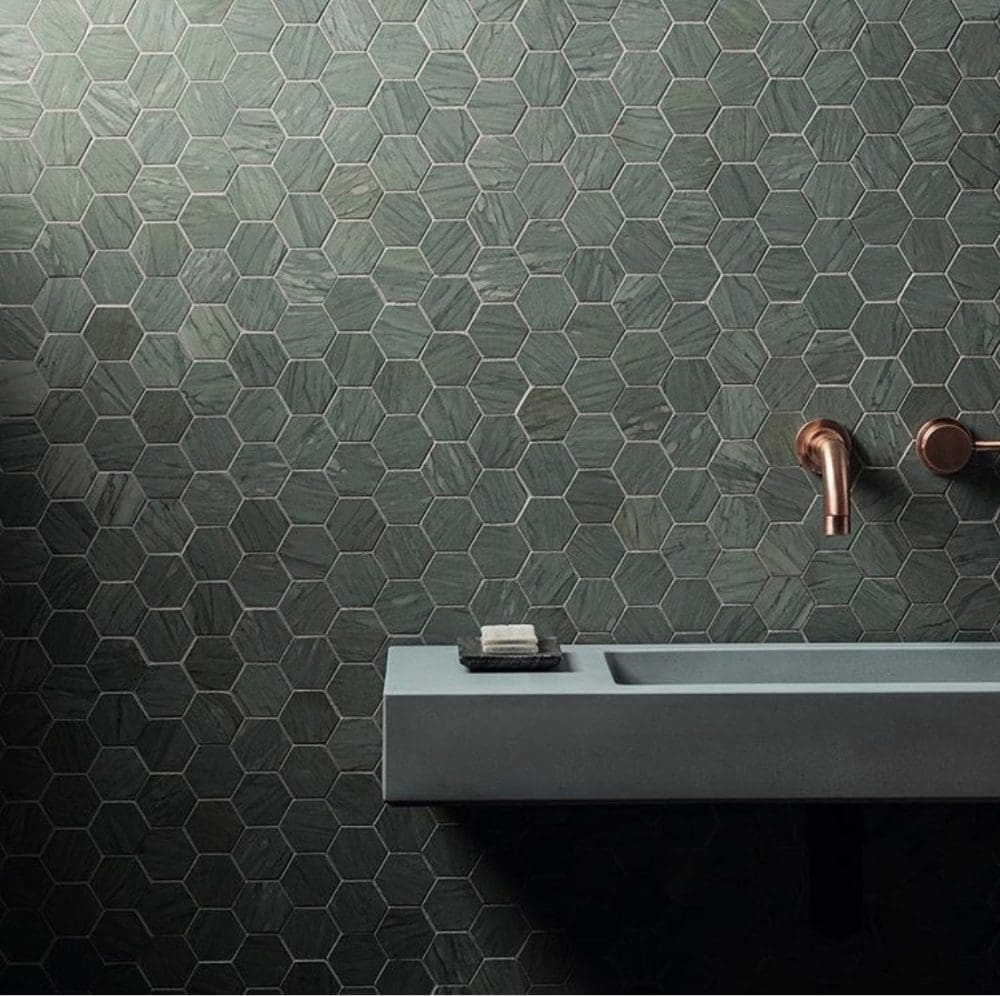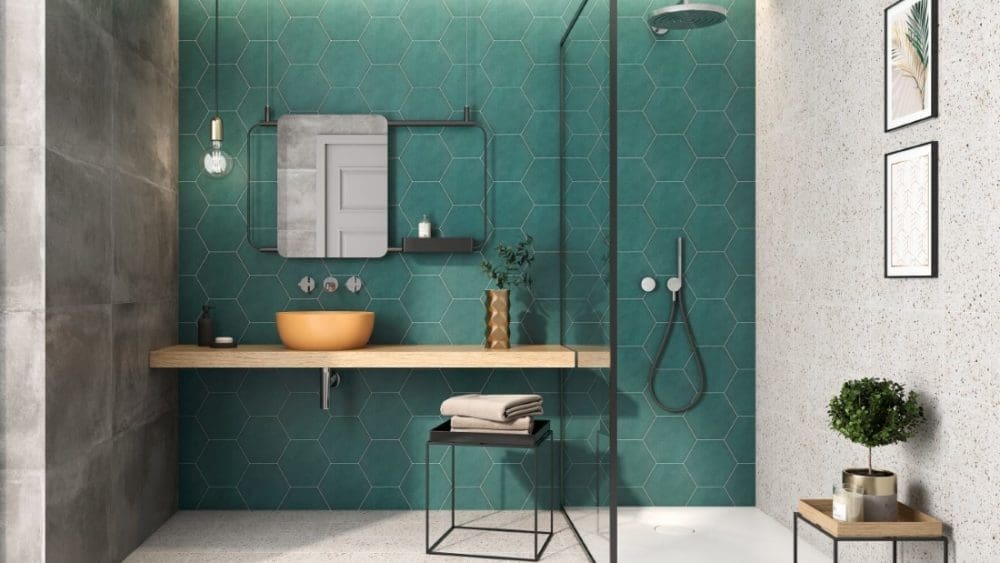 Have you spotted your dream tile in this round up of green bathroom tiles? What tile shape or bathroom is your favourite? We'd love to chat in the comments below!