When you are ready to redecorate, you can turn your home into a beautiful showplace by making meaningful changes. Sometimes just a few strategic changes can add a decorator look to your home.
1. Choose a color scheme

The fall is the time of the year when paint companies start thinking about the color palette for next year and Pantone decides on their color of the year. There is no denying that blue, gray and white have taken center stage recently. If you look closely at decorator magazines, you may find that beige and "greige", a combination of beige and gray, are now becoming more popular.
You might want to stick with neutral tones for furniture and add a splash of color with artwork, rugs and throw pillows. Or, you can go bold with a colorful Chesterfield in a deep blue like the Ashley Furniture piece pictured above.
2. Pick a style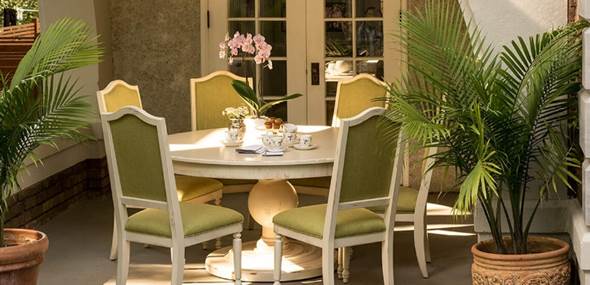 Contemporary styling has gained popularity, along with more casual styles like a comfortable Farmhouse look and coastal pieces that are inspired by towns along the shore. Of course, beautifully crafted traditional wood furniture is an enduring look that will stand the test of time.
If you decide to update your home with contemporary furniture, you may want to avoid a stark feeling by incorporating textures and natural materials that soften straight lines. On the other hand, if you live in a loft in a trendy part of town you might want to go for an edgy industrial look.
3. Add an Accent
Decorators know that adding interesting accent pieces go a long way toward making your home a showplace. Interesting accent cocktail tables and chairs provide more function in your room in addition to personalizing your living space.
If you are adventurous, think about adding an accent piece in a style that coordinates with existing furniture in the room, but does not match. In other words, don't be afraid to add a stylish traditional piece, even if your furniture is contemporary.
4. Consider Custom
These days many name brand furniture manufacturers offer a wide range of custom choices for a unique look. When you shop for furniture, ask about brands that have performance fabrics and design options for upholstered pieces like arm shape, leg style and cushion depth.
Home Living Furniture in Howell and Middletown, New Jersey is a one-stop shop for all your furniture needs. Visit in person or log onto the virtual online store. For information about Home Living Furniture weekly sales and promotions and to shop online, visit homelivingfurniture.com.