There is no denying that the pandemic has changed the way we live. Chances are you left the office for working at home, and the kids attended school right from their bedroom. When we reconsider how we use our space, for many of us flex space and multipurpose furniture is the answer.
1. Design around your Needs
Take a moment to think about the best use of your space to fit your needs. If you need a home office as well as a workout space, you can compartmentalize each area with a shelving unit that creates a physical barrier and acts as a room divider. You can also paint the walls in your workout space a different color than the home office area.
2. Rethink the Guest Room
When you think about it, keeping a guest bedroom waiting for the occasional overnight visitor does not make sense these days when space is at a premium. If you have a free wall, a desk like the Hamlyn pictured above can blend well with a traditional or transitional bedroom furniture in a guest room. Adding a desk can create a home office in the guest room while keeping the furniture you will need for visitors.
3. Use Multifunctional Furniture


This Klaussner Tilly sleeper is a queen size bed masquerading as a stylish sofa. Use sleeper sofas in the office to transform it into a guest bedroom. Or, you can place your sleeper in the living room or great room for extra space when guests come to stay overnight. Sleepers come in other sizes such as twin and full hiding in a loveseat.
A stylish daybed is another way to free up the space you need in your home. A well-placed daybed is a good way to have the convenience of extra sleeping space without having to reserve an entire room as a guest bedroom. Another option is to include a futon.
4. Incorporate Rugs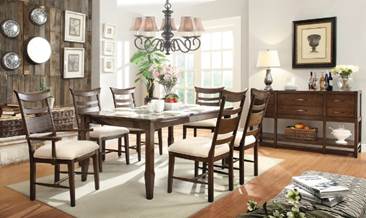 Rugs are a great way to separate different areas visually, whether you have a large great room or a smaller space. A rug under a rectangular dining room table like the Tranquility from Riverside Furniture in a room that also holds a TV can distinguish the dining area. Likewise, a rug under the coffee table near a sofa and loveseat will define the living space.
Finding the Right Furniture
If you are transforming your home into a multi-purpose living space, you will find what you need including sleeper sofas in Howell at Home Living Furniture. Just search "sleeper sofas near me" or visit homelivingfurniture.com.