Supported by Stanley Rogers
I'm always looking for hacks around the home to make life more effortless — and this extends to the kitchen! If you're looking for ways to cut down cooking and baking time, without compromising on taste, the Stanley Rogers French Oven may be just what you've been looking for.
Recently picking up a Good Design Award for outstanding design and innovation, there's more to this product than first meets the eye. Keep on reading for my fave features, exclusive 40% OFF discount code, and to get my go-to festive dessert hack!
Related article: How to create a gorgeous grazing board
Related article: Quick and simple guide to a stylish table setting – every time!
What is the Stanley Rogers French Oven?
Cast iron cookware has long been popular for the way it can distribute heat evenly, lock in moisture and flavours, and create crusty or caramelised foods. And the Stanley Rogers French Oven takes this to the next level with its dual-purpose lid. Essentially the lid also becomes a grill pan that works on any cooktop — including induction — to sear meats, grill veggies and so much more!
This innovative design makes the French Oven an all-in-one kitchen workhorse as it can roast, slow cook, braise, sear, sauté, fry and steam. I've used it to make everything from soups to crusty breads.
How to make my fave festive dessert – Apple and raspberry fruit cobbler
With the festive season around the corner, I wanted to share with you my fave summer dessert. Combining sweet, salty and sour notes, the balance of flavours and textures in this fruit cobbler is sure to be a crowd pleaser.
Best of all, it's quick and easy to make so you'll have more time to enjoy with family and friends. I also love that there's minimal clean up given you can prepare, bake and serve this delicious dessert in your French Oven.
Ingredients you will need:
Fruit filling:
6 tablespoons unsalted butter
3 large apples
1 punnet fresh raspberries
¼ cup honey
2 tablespoons cornflour
1 teaspoon vanilla extract
½ teaspoon ground cinnamon
½ teaspoon ground ginger
Cake top:
¾ cup white sugar
1/3 cup wholemeal flour
1/3 cup plain flour
2 teaspoons baking powder
½ teaspoon salt
½ cup milk
Steps:
1. Start by grilling the apples to start the natural caramelisation. I'm doing this on the dual-purpose grill pan lid of the Stanley Rogers French Oven which gives the apples that cute X design. Simply cut the apples into 8ths and grill them with a generous knob of butter.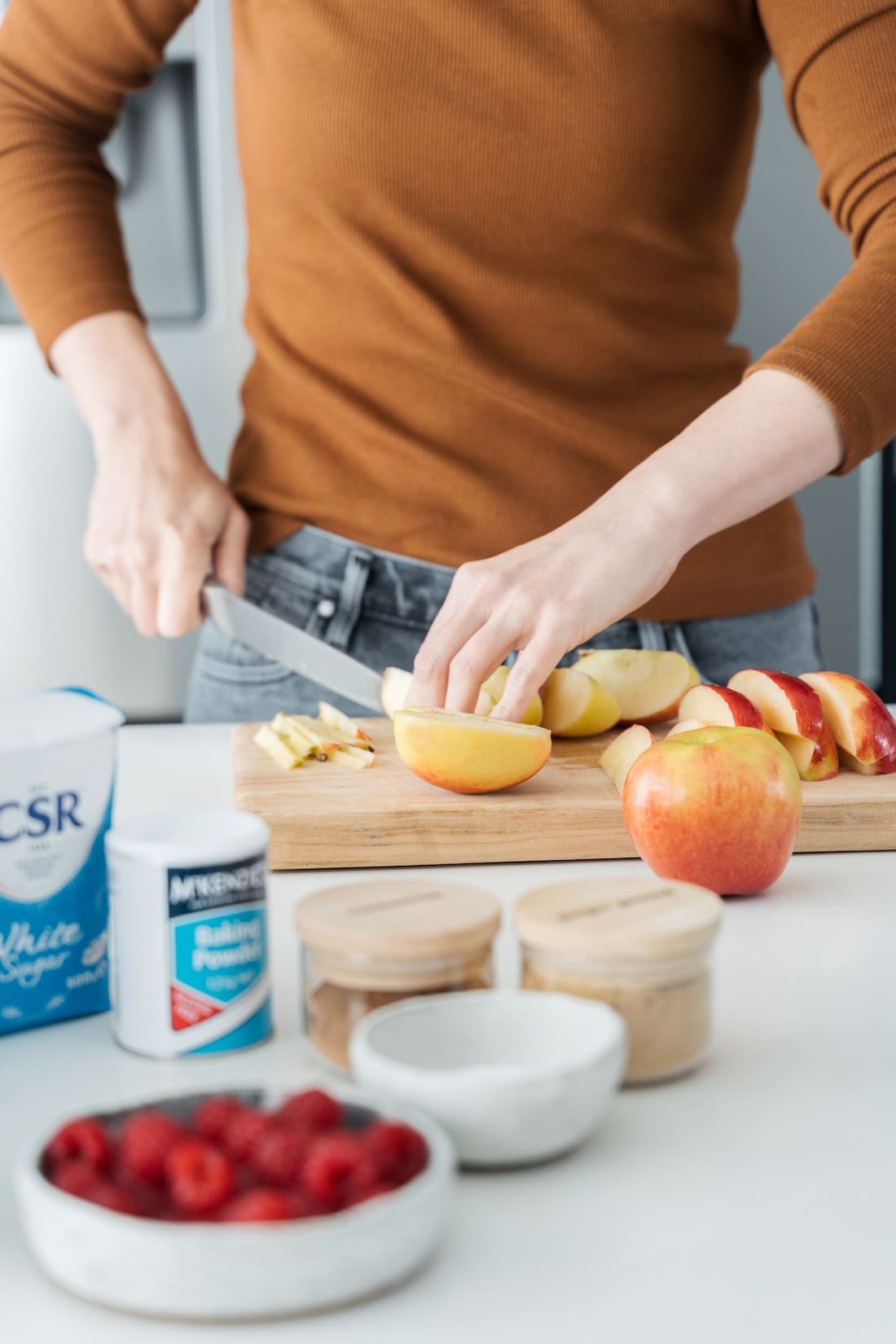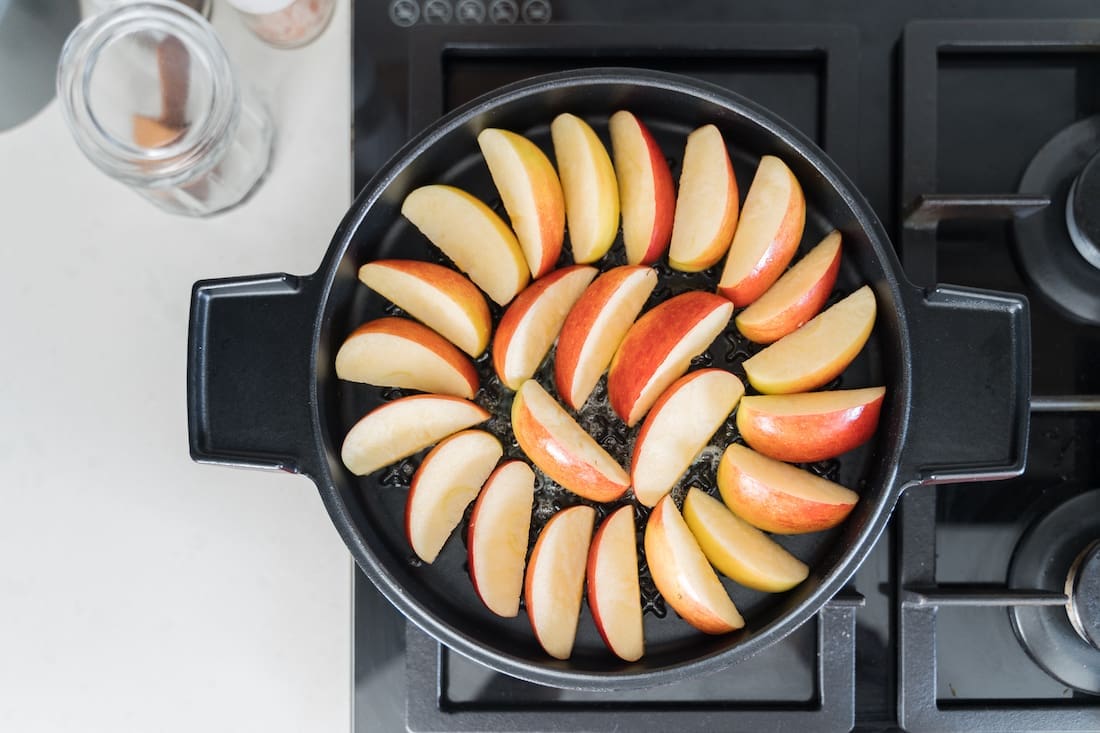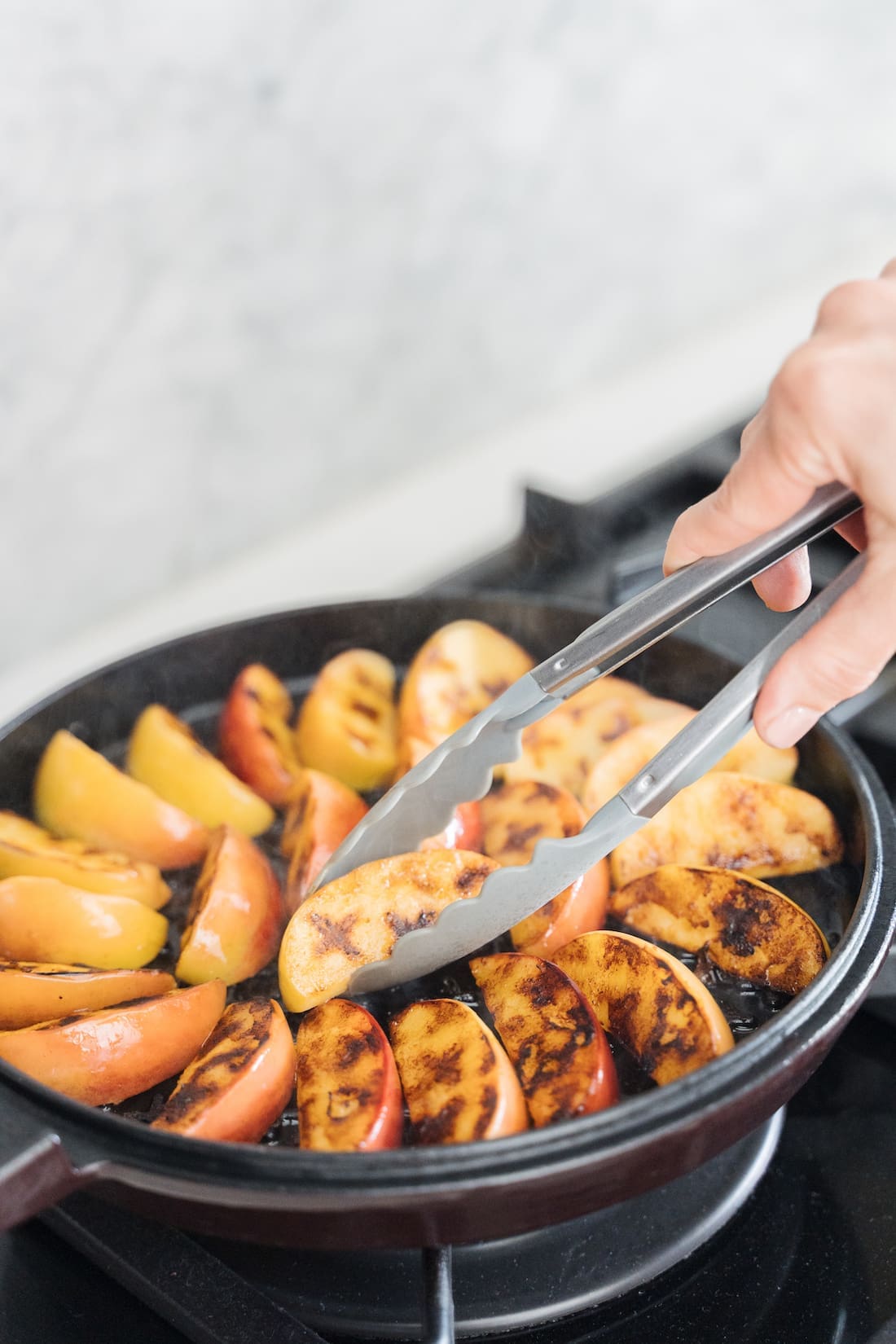 2. Once grilled, add the apple slices to the French Oven pot along with all of the fruit filling ingredients except the raspberries and 5 wedges of apple. Give it a stir and set it aside while you make the cake top.
3. In a separate bowl, whisk together all of the cake top ingredients. Then pour this cake batter over your fruit filling.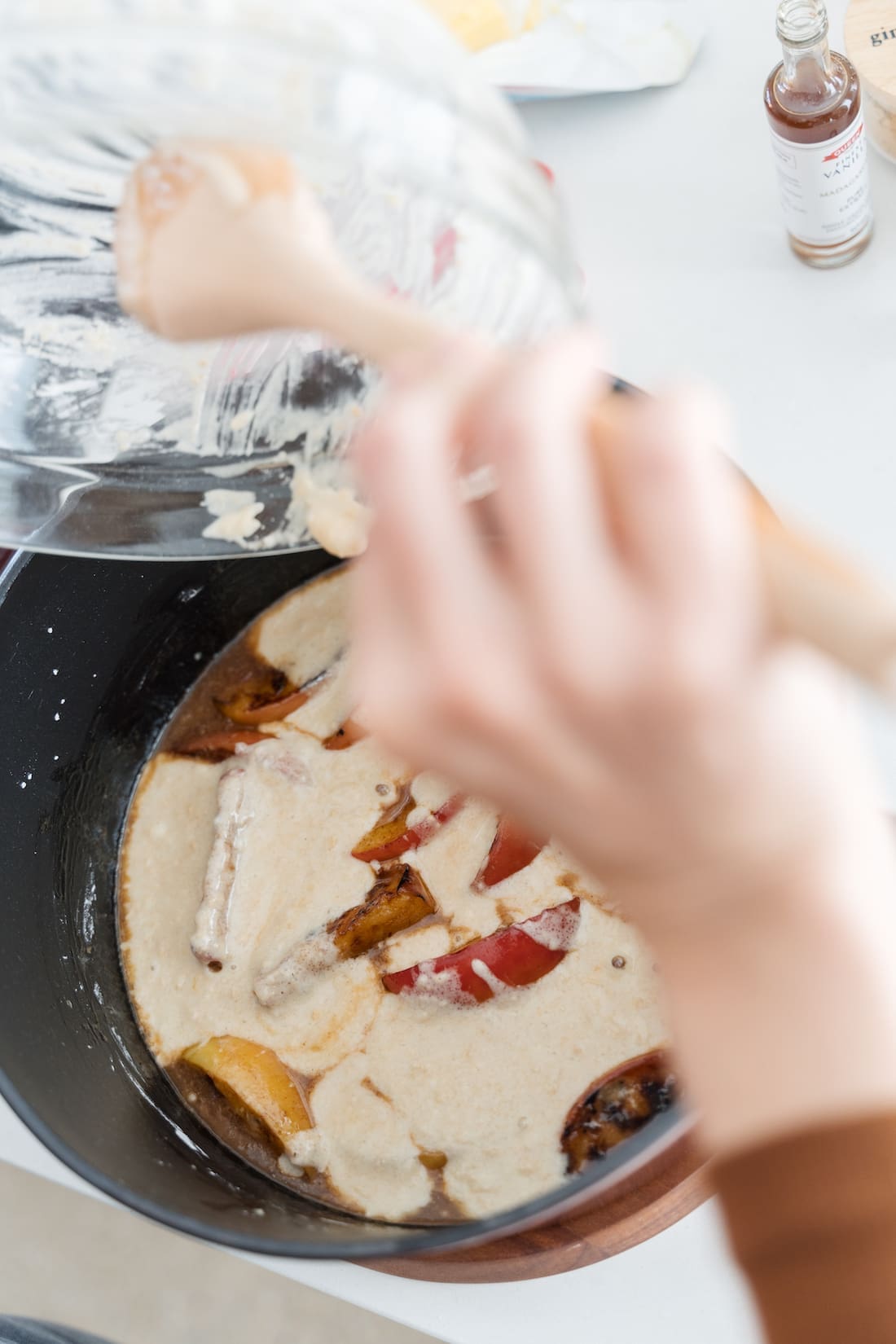 4. Finish by sprinkling over your raspberries and adding your remaining apple slices.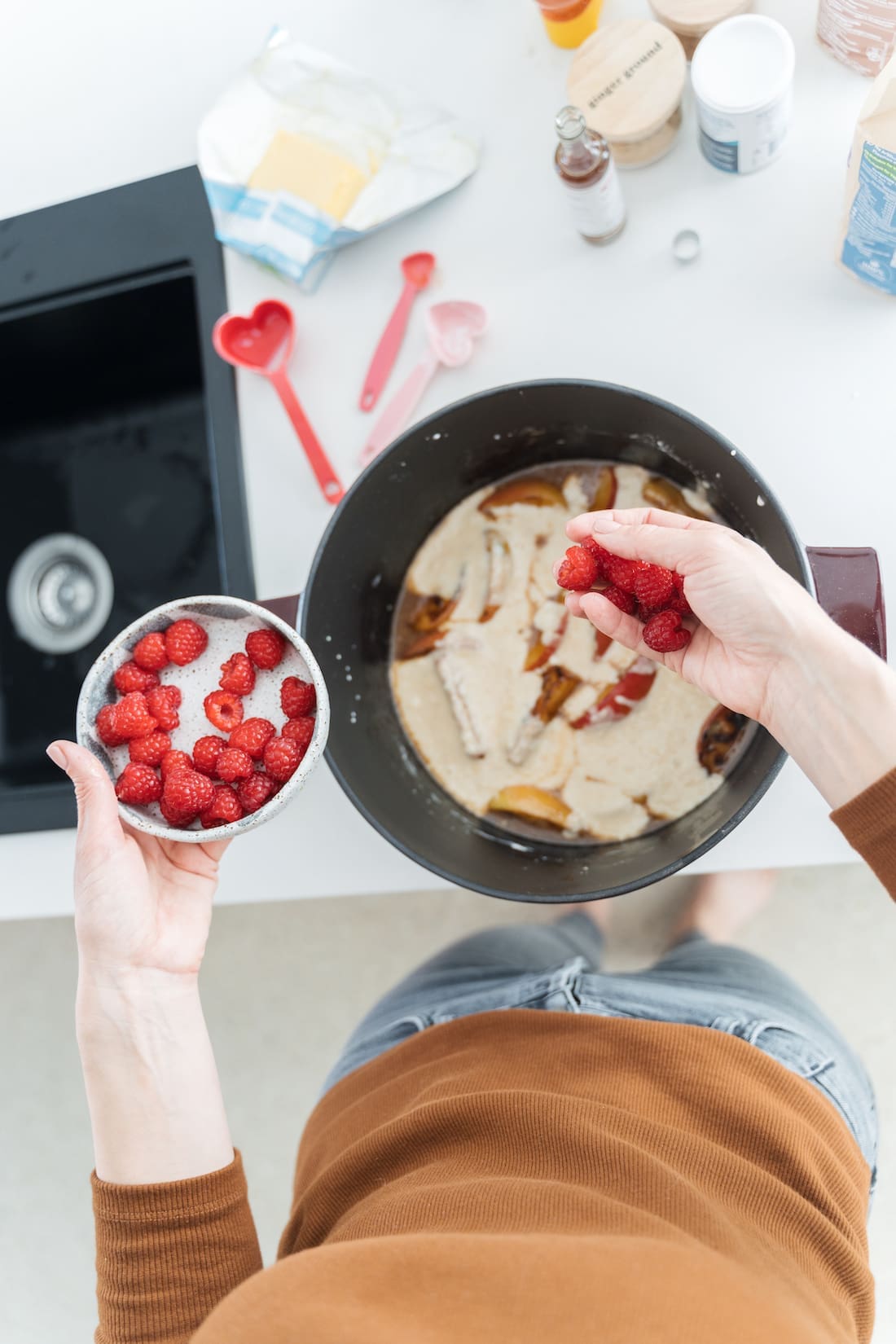 5. Bake it in the oven at 170 degrees for 1 hour. The French Oven will lock in moisture and evenly bake the cake.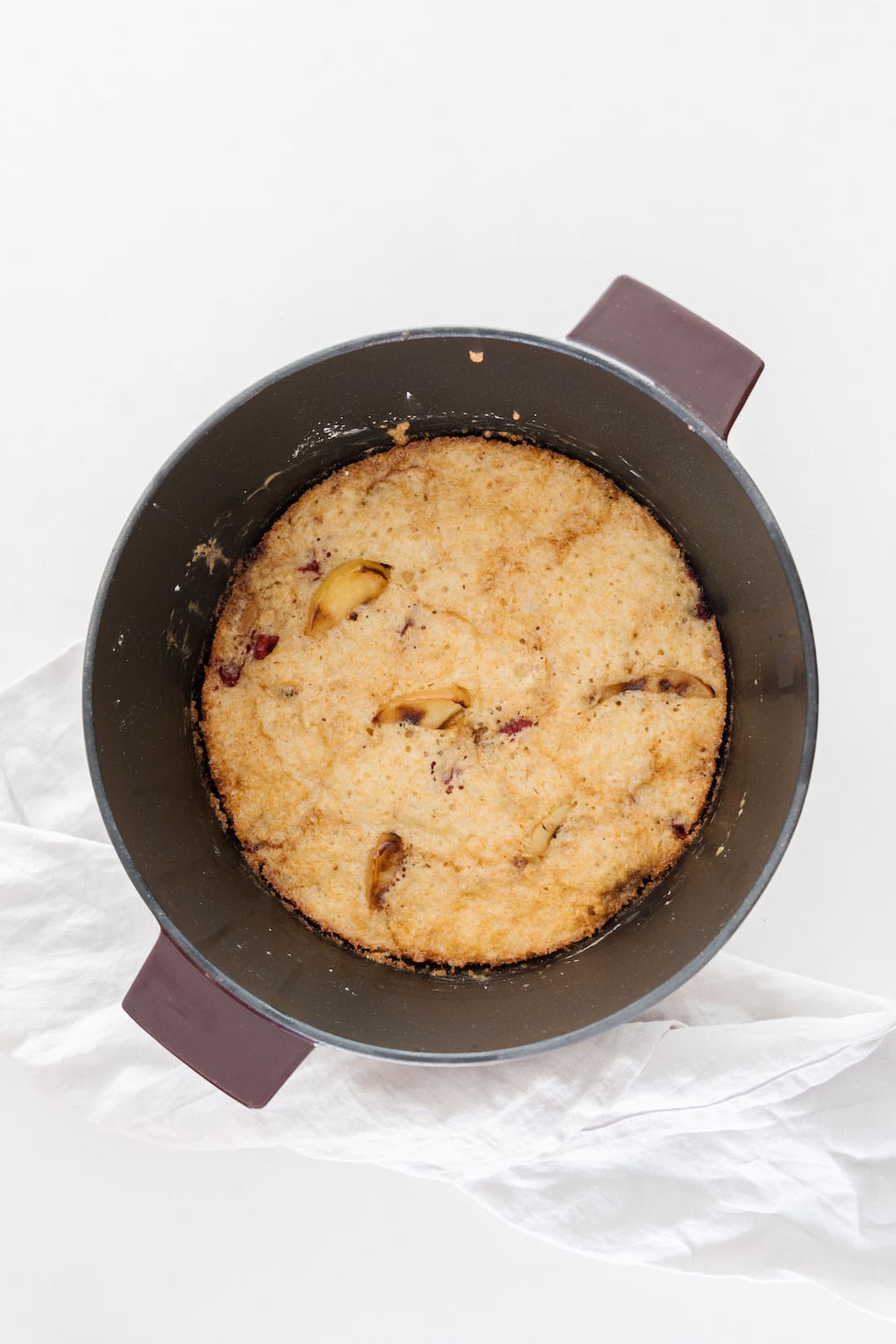 Then it's time to enjoy! I love this apple and raspberry cobbler with ice-cream or you could serve it with Greek yoghurt.
This quantity serves 4-6 people but you could easily double the ingredients as this French Oven has an extra deep pot… it's best to make more as I guarantee people will want to go back for seconds!
Exclusive Stanley Rogers discount code
If you love the look of this French Oven, or any products from the Stanley Rogers range, enjoy 40% off by using my discount code 'GINA40' at checkout.
I'd be thrilled to see what recipes you whip up in your French Oven! Share them in the comments below or email them to hello@stylecurator.com.au.
I hope this French Oven apple and raspberry cobbler recipe comes in handy with the festive season ahead. It's the perfect summer dessert and really is so easy to make! Don't forget to take advantage of my 40% off Stanley Rogers discount code 'GINA40' if you'd like to try this French Oven for yourself or perhaps gift it to someone special.