With the holiday season approaching you might be getting ready to welcome overnight guests. A sofa bed is a useful multi-functional piece of furniture that can transform a seating area into a bedroom when needed.
Have come a long way in recent years, and you will have a much wider choice than you did even a short while ago. Here are some tips for choosing the right sofa bed for you are visitors.
Choose the Right Size
If you are thinking about a sofa bed to accommodate overnight visitors, make sure that you have enough room to fully extend the mattress when the sofa turns into a bed. The dimensions of the sofa depend on the size of the mattress within it. You can find sofa beds in large king sizes with lengths of up to 92 inches and widths of up to 76 inches. Queen sofa beds come in sizes ranging from 67 to 83 inches in length, to 58 to 62 inches wide. A loveseat sofa bed can contain a twin-size mattress, and an ottoman can also offer a smaller mattress for your guests.
Choose the Right Material
Ashley Furniture Leather Sofa Bed
Sofa beds come in a large assortment of materials, from sumptuous leather and leather vinyls to a range of beautiful fabrics. Before you choose the material for your
sofa sleeper
think about Your family and your lifestyle. If you will place your sofa bed in an area of your home where will get a lot of use or if you have children and pets, you may be better off choosing a durable leather vinyl or leather material.
On the other hand, if there are no young children or pets in the house and the sofa bed will get light use, attractive fabric upholstery may be appropriate. Some name-brand manufacturers offer a selection of high-performance fabrics, so you can have the best of both worlds – a beautiful light-colored fabric that will stand up heavy use by your active family.
Choose the Right Mattress Type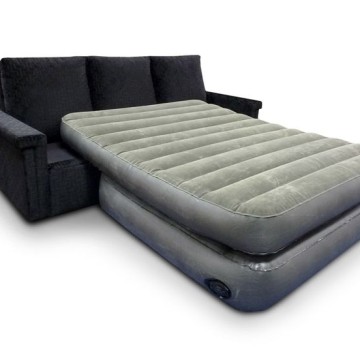 Sofa Bed with an Air Mattress
These days you can find sofa beds in a range of mattress types to fit your preferences, from classic innerspring mattresses to air mattresses and memory foam and memory gel. Traditional innerspring mattresses are a popular choice. Memory foam and memory gel mattresses bounce back to their original position slowly, so they will conform to your body while you sleep for extra comfort. If you choose an air mattress, keep in mind that you can adjust the firmness.
Visit
Home Living Furniture at the Howell and Middletown showrooms or shop online for a large selection of name-brand sofa beds to fit your needs. For information about Home Living Furniture's weekly sales and promotions, visit homelivingfurniture.com.