ART Living Room Furniture
Although things are opening up more this year, Covid is still with us and it has changed the way we live. Many of us are still working remotely, a trend that started even before the pandemic. Spending more time at home means that comfortable surroundings are a must so we can be more productive by day, and more relaxed by night. Sometimes we face supply chain issues that drive us to plan ahead of time, and we tend to be more appreciative of our furniture.
Here are some trends to look for in the coming year:
1. Lighten it Up
Lighter shades are still trending, and that goes for furniture as well as backdrops like walls and rugs. For a truly updated look in 2022, add a touch of black as an accent color to offset shades of white, light beige and gray. A black accent table, throw pillow or lamp can go a long way in providing contrast to a room in neutral tones.
2. Use Natural Materials
Universal Furniture Sofa
Make your home a showplace with sumptuous leathers and beautiful cotton fabrics for your upholstered pieces. Check out high-performance fabrics from well-known name brand manufacturers that can stand up to everyday use and still look fresh. Rugs with patterns and textures add interest to your living room or great room in 2022. Make a strong statement of elegance with natural stone, including marble, in the kitchen.
3. Opt for Comfort
This year it is all about choosing furniture to make ourselves and our families comfortable while spending time at home. Opt for a comfy rocker recliner with motion features that are designed to make the chair a favorite spot in the house for relaxation.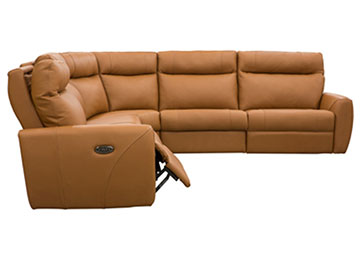 Elran Motion Furniture
Speaking of motion furniture, sectionals with motion options provide a custom configuration and reclining features with the touch of a button, whether your furniture is placed against the wall near an outlet or if it is placed away from the wall in a great room. When you buy upholstered furniture, choose down or down blend cushions for the ultimate in comfort.
4. Think Multifunctional
Next year it is all about creating versatile spaces that can meet our needs. Multifunctional rooms with multifunctional furniture are the name of the game right now to make our homes work for us. Ditch the guest bedroom and choose a sofa sleeper so you can free up space for a playroom or a home office, and yet be ready for occasional overnight guests when they arrive.
Shop online or visit conveniently located Home Living Furniture stores in-person to learn more about 2022 home furniture and decor trends. For information about Home Living Furniture weekly sales and promotions, visit homelivingfurniture.com.