Supported by MYPICTURE
I'm all about displaying photos in a home to personalise your space. They're a fabulous way to remind you of your happiest, most special memories and people. And one way to elevate the look of photos is to have them printed onto canvas. Canvas print photos and art feel different in a home than simply slotting a photo into a frame. Perhaps it's the larger format, or the custom frame… or simply the more intentional way they are created.
Whatever the reason, let me share with you my favourite ways to display canvas photos in your home thanks to MYPICTURE.com.au. Plus, I've got a promo discount code for you below!
Related article: How to: Style a bookshelf
Related article: 21 decorating hacks for rental properties
1. Canvas photos and images in a gallery wall
Hands down one of the most impactful ways to personalise a home is with a gallery wall.
Gallery walls can consist of photos only, or can also include a collection of art and wall décor. From uniform, perfectly spaced layouts, to contemporary, asymmetrical collections of wall art, there's plenty of scope to create a gallery wall to suit your interiors.
Some design tips to uplift your gallery wall:
consider the principles of design: balance, harmony, contrast, rhythm, unity, dominance and repetition. For example, repetition through similar frames or a tonal colour palette, will give your gallery wall a sense of cohesiveness
planning is everything so before taking hammer to wall, create your composition on the floor. Try moving frames about until you create a layout you're happy with
it often helps to place your largest items first (generally off-centre) to anchor the gallery wall.
Using online canvas printing services, like MYPICTURE, is a cost-effective way to create large prints for your gallery wall. As well as printing photos of people, you may like to print photos of flowers or nature, photos from your travels or of animals, such as our free happy goat artwork. You can also order gallery-style framed photos from MYPICTURE if you prefer to mix formats.
Find more tips on creating a gallery wall here.
2. Single framed canvas photo
Another way to display canvas photos is simply hanging them on the wall. You can do this in any room of the home, such as your office, bedroom or kitchen.
I especially love hanging canvas photos on smaller nib walls that might otherwise be left blank. For example, in my office I hung a framed photo of Patrick which brings me so much joy.
If you're renting, you can still decorate your home with canvas prints. Either using removable picture hanging strips or hooks are effective, damage-free ways to do this.  
3. Canvas photos in a bookshelf
Bookshelves offer endless styling opportunities and you guessed it, are another fab place to display canvas photos.
Consider using the full depth of your shelves to layer books, décor and wall art to create interest. But be sure not to overcrowd your bookshelf — leaving some intentional blank spaces can offer breathing room to your bookshelf styling.
Check out this article for all my bookshelf styling tips.
4. Two canvas photos side by side
This one may sound obvious but hanging 2 similar photos or artworks side by side is a design tip that guarantees instant success.
For example, in a coastal dining space, I would create my own affordable artwork by printing two beach-scene photos onto canvas and hanging these next to each other.
Another idea for hanging two canvas prints, is in a bedroom where you may like to display images of your children or loved ones.
5. Canvas photos on a ledge wall or floating shelf
Ledge walls or floating shelves are gaining popularity in interiors and they offer the perfect surface for a styling moment.
Consider printing and displaying a range of photos onto canvas in various sizes and leaning these against a wall. Mix in some home décor, such as candles and ceramic objects, and you've got yourself a stylish, personalised pocket of the home.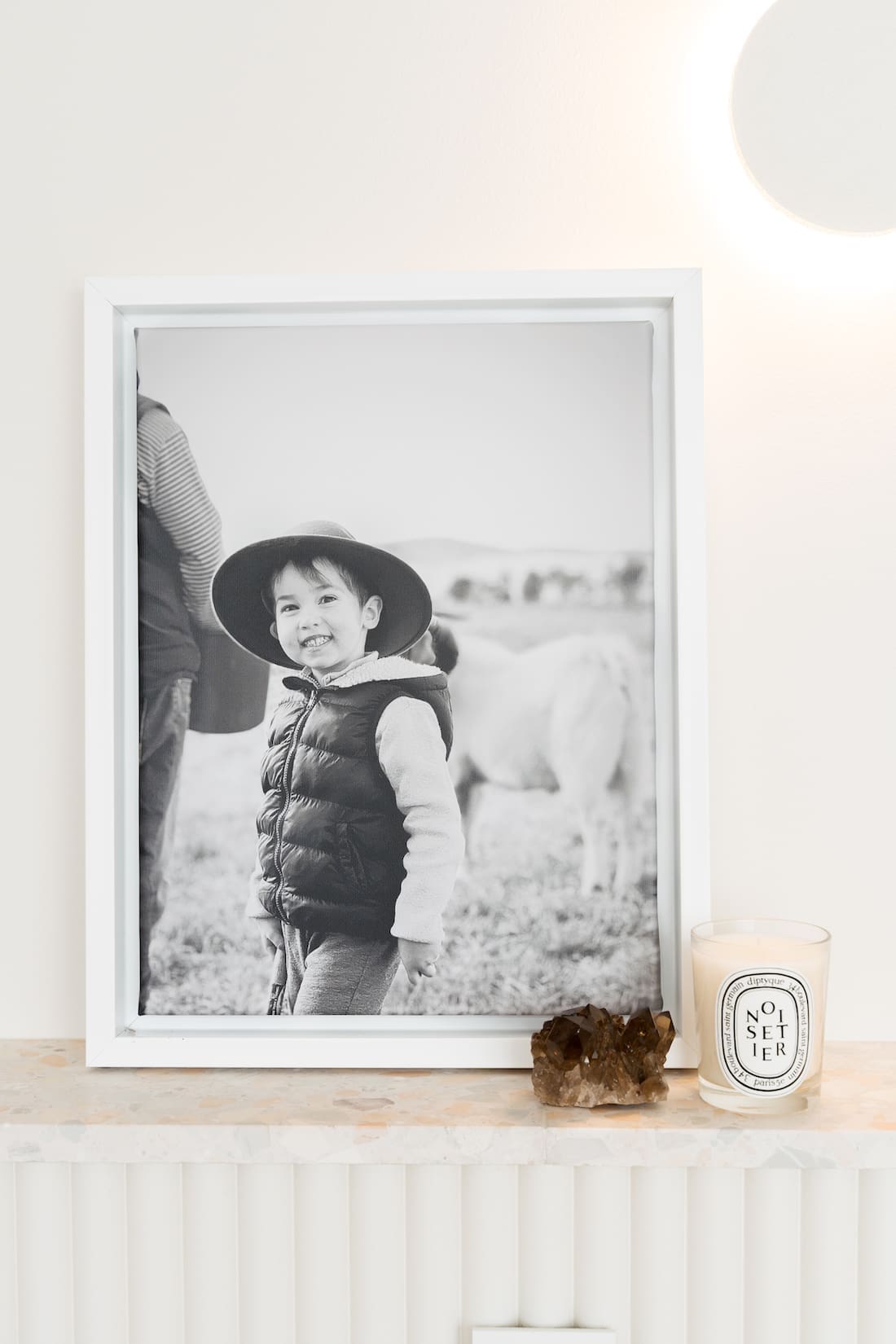 SC discount code for MYPICTURE
If you feel inspired to print some of your own photos onto canvas, MYPICTURE have kindly extended a 10% discount for all SC readers.
Simply use discount code 'STYLECURATOR10' at checkout for 10% off their already reduced prices!
I hope these ideas on how you can display canvas prints around your home inspires you. What other ways do you like to make your house more homely and inviting? Or do you have other favourite ways to display canvas prints? Share them in the comments below!