One form of artwork we don't see enough of are quilted wall hangings. So when we saw the modern quilted textile art creations by Kayleigh Excell of Excell Quilt Co, who we discovered on Etsy, we knew we had to feature her on SC! Today we're delighted to be chatting with Kayleigh to find out more about her craft, which she says is heavily inspired by wanderlust and wilderness.
Kayleigh shares her story about how her beautiful creations come to life and how quilting helped her manage post natal depression.
Related article: The unique textiles and hieroglyphic patterns by Japanese artist, ito
Related article: Check home decor trend: Checkered home accessories and where to find our favourites
Based in the UK, Kayleigh creates her quilts and crafts from her home studio.
"Hello! I'm Kayleigh and I live in North London with my partner, our 2 young children and our rescue cat, Larry. We live in a beautiful part of the city near lots of lovely parks and views over London," smiles Kayleigh.
"I run my small business, Excell Quilt Co, from my home studio in our backyard. It's my little escape from the daily chaos that goes on inside our house!
"I design and make a range of modern quilted textile art and home goods, inspired by the natural world."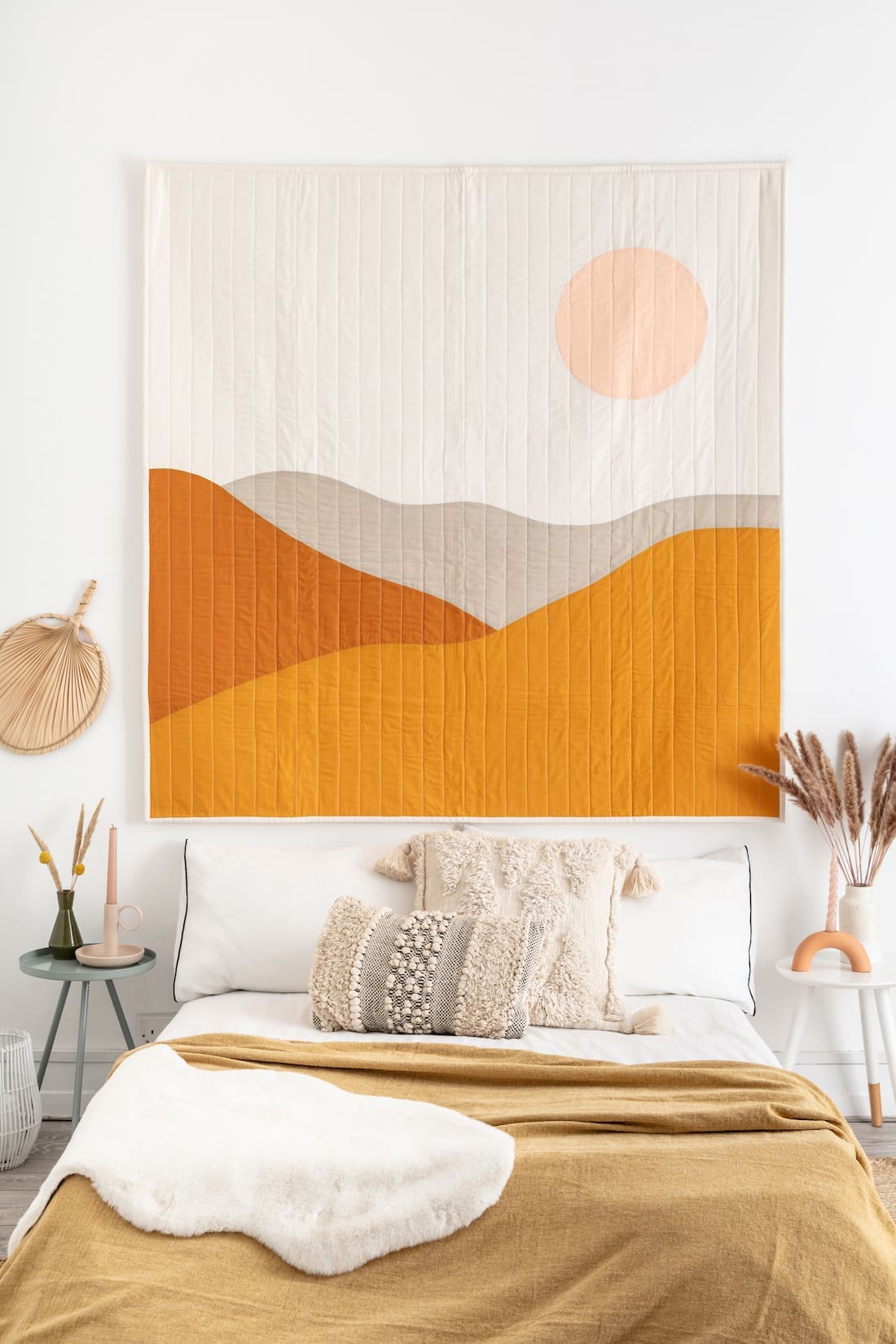 Excell Quilt Co came to life when Kayleigh found herself needing help with post natal depression.
"When my little ones were babies, I struggled with post natal depression," Kayleigh explains.
"I wanted to find a mindful hobby that could help, so I purchased a sewing machine and began watching YouTube tutorials.
"It was from here that I knew it was was something I wanted to make more of and see where this new passion could take me.
"I love sewing and quilting today as much as I did then. Being able to share my work with others from around the world is a dream."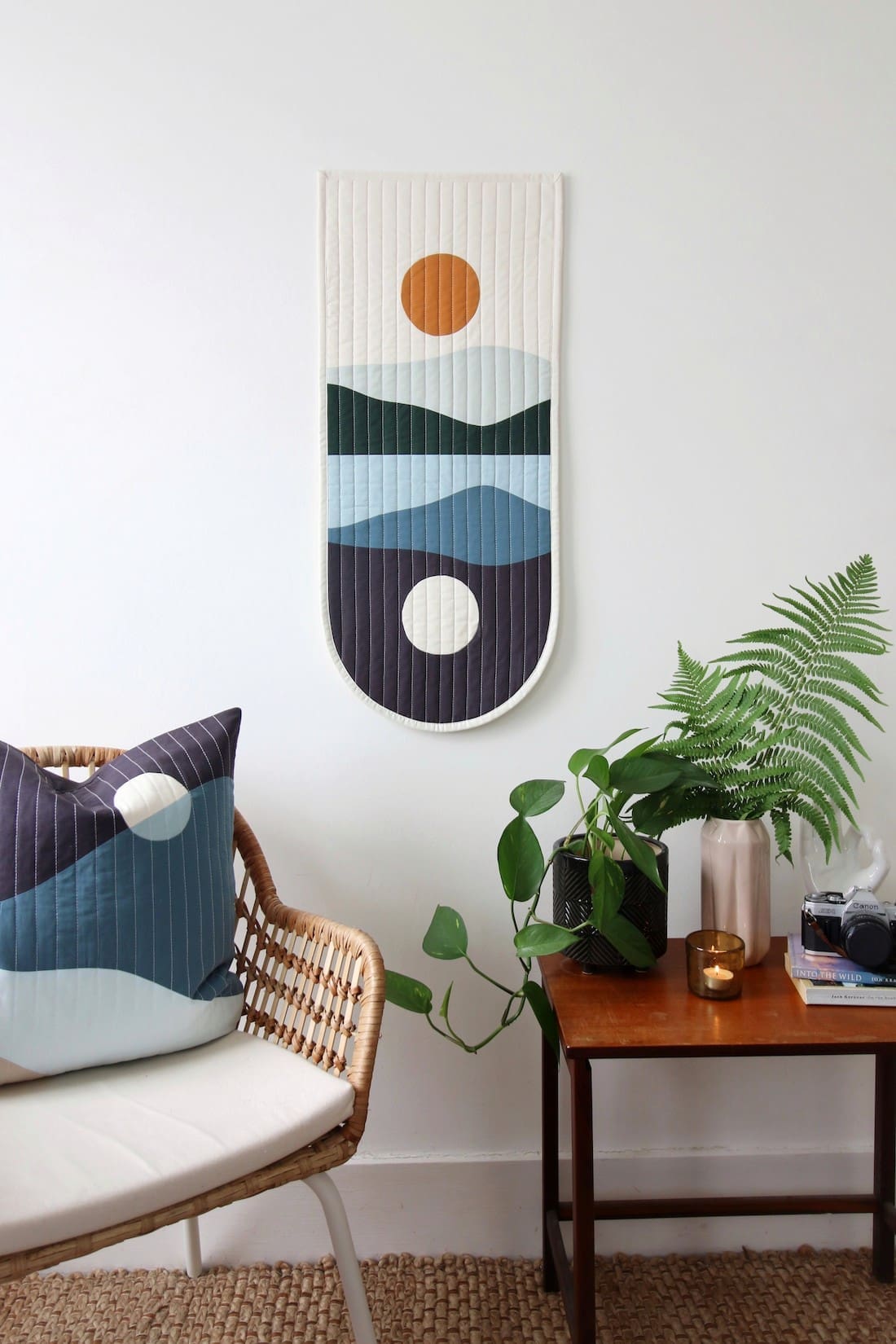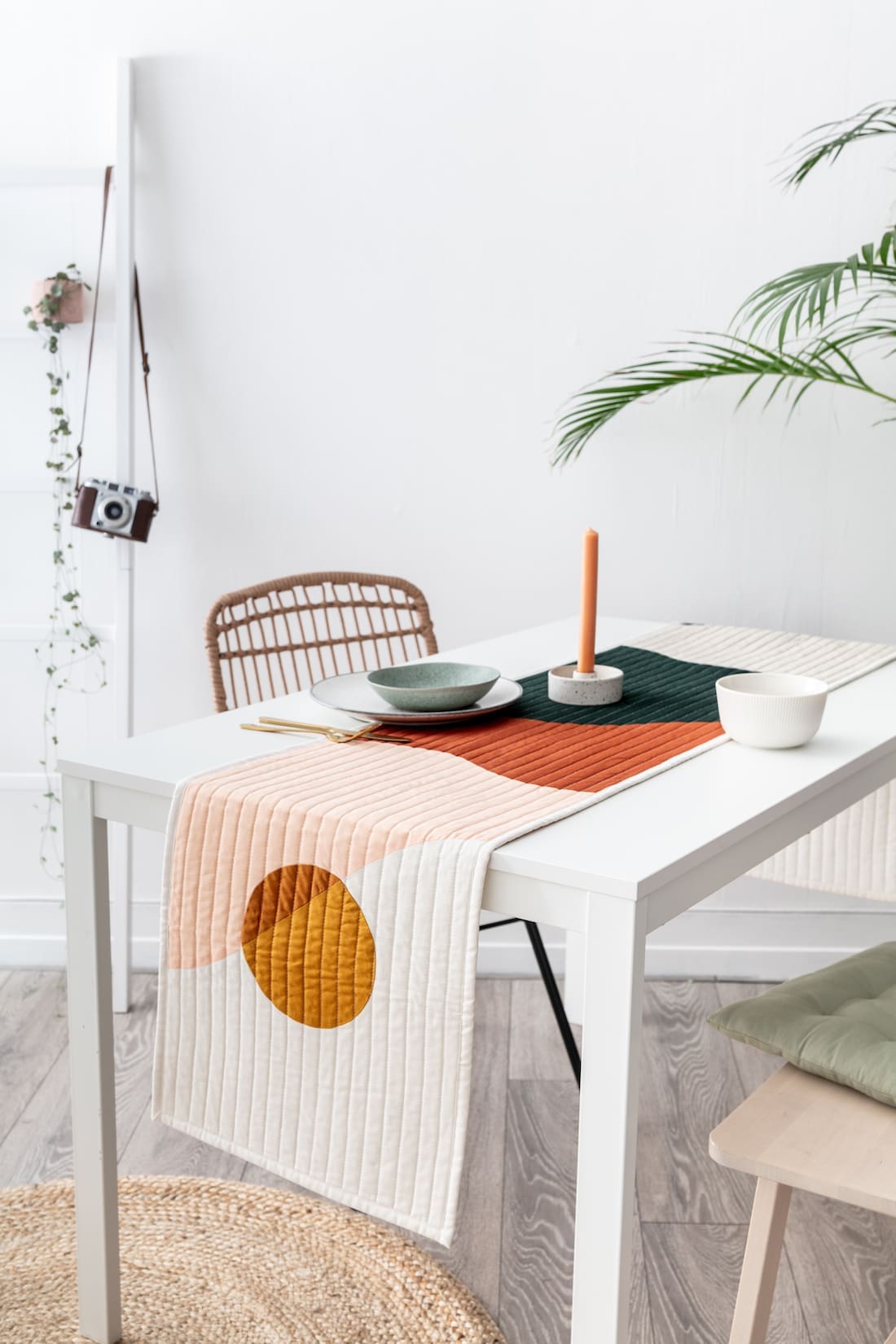 Kayleigh's creations are handcrafted from start to finish with a strong influence from the great outdoors.
"I started creating landscape quilts during the 2020 lockdown. They were likely influenced by an urge to go outdoors and see the world while we were stuck indoors for weeks on end," says Kayleigh.
"I like to reference places I've travelled to, or that are on my wish list. Like the national parks of the US, for example. They're so beautiful and inspiring. Living in a city, I'm always yearning to escape to nature so I feel like that comes through in my style.
"My creative process starts with an idea. Maybe inspiration from a place, a feeling, season, or colour palette. At the moment, I'm planning a family trip to Snowdonia National Park in Wales. The beautiful blues and greens of the mountains and lakes are colours that I want to incorporate into a new piece.
"I've been creating lots of sketches, testing compositions, and researching new colours. Once I'm happy with a design and can visualise it as a wall hanging, then I scale it up and create a paper template.
"Each quilt is handcrafted from start to finish. From cutting, to piecing, and quilting."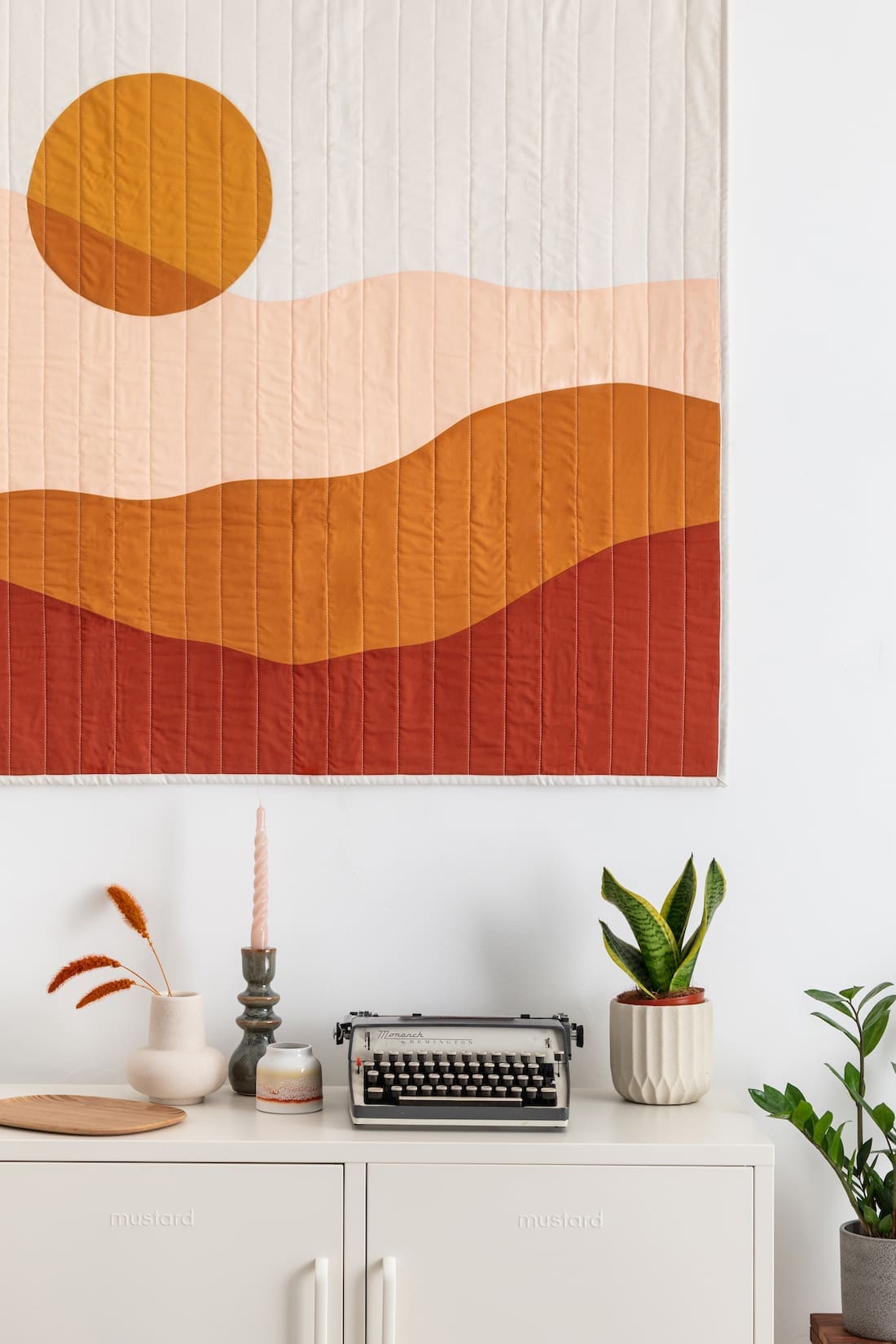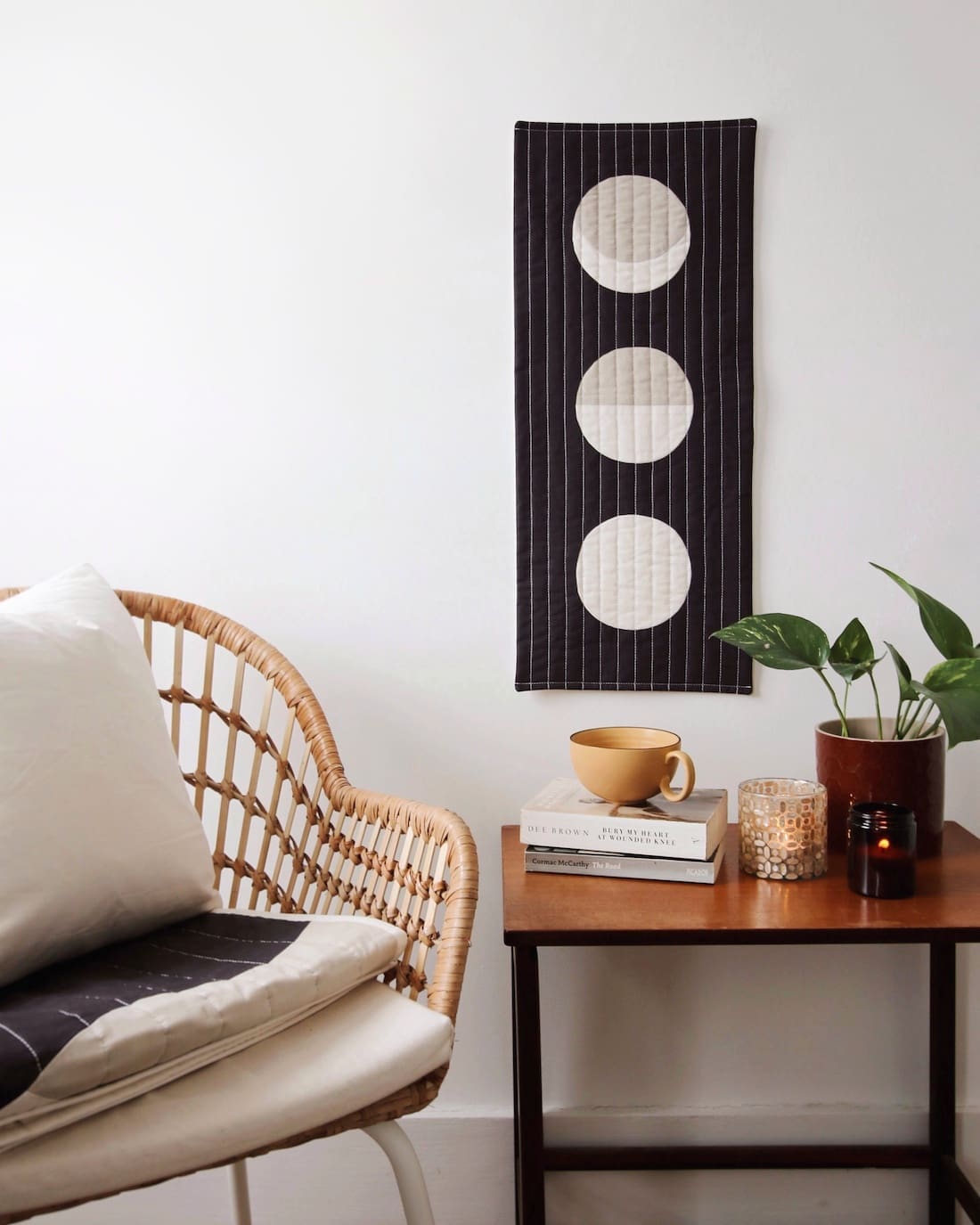 Kayleigh consciously creates each piece with sustainability at the heart.
"The amount of textile waste that is produced every year is really concerning. The cotton industry is a major polluter, so I always keep this in mind with my work," says Kayleigh.
"Craftsmanship is an important factor in sustainability. Handmade quilts are made to last, hold onto, and pass down. The majority of my pieces are made to order, so I only order and use the fabric that is necessary.
"I do my best to limit textile waste by using off-cuts to create one-of-a-kind pieces. Any leftover fabric scraps are sold or donated to other crafters or organisations to use for projects.
"I am very aware of the impact the materials I use have on the planet so I'm am always looking for resourceful ways to respect that."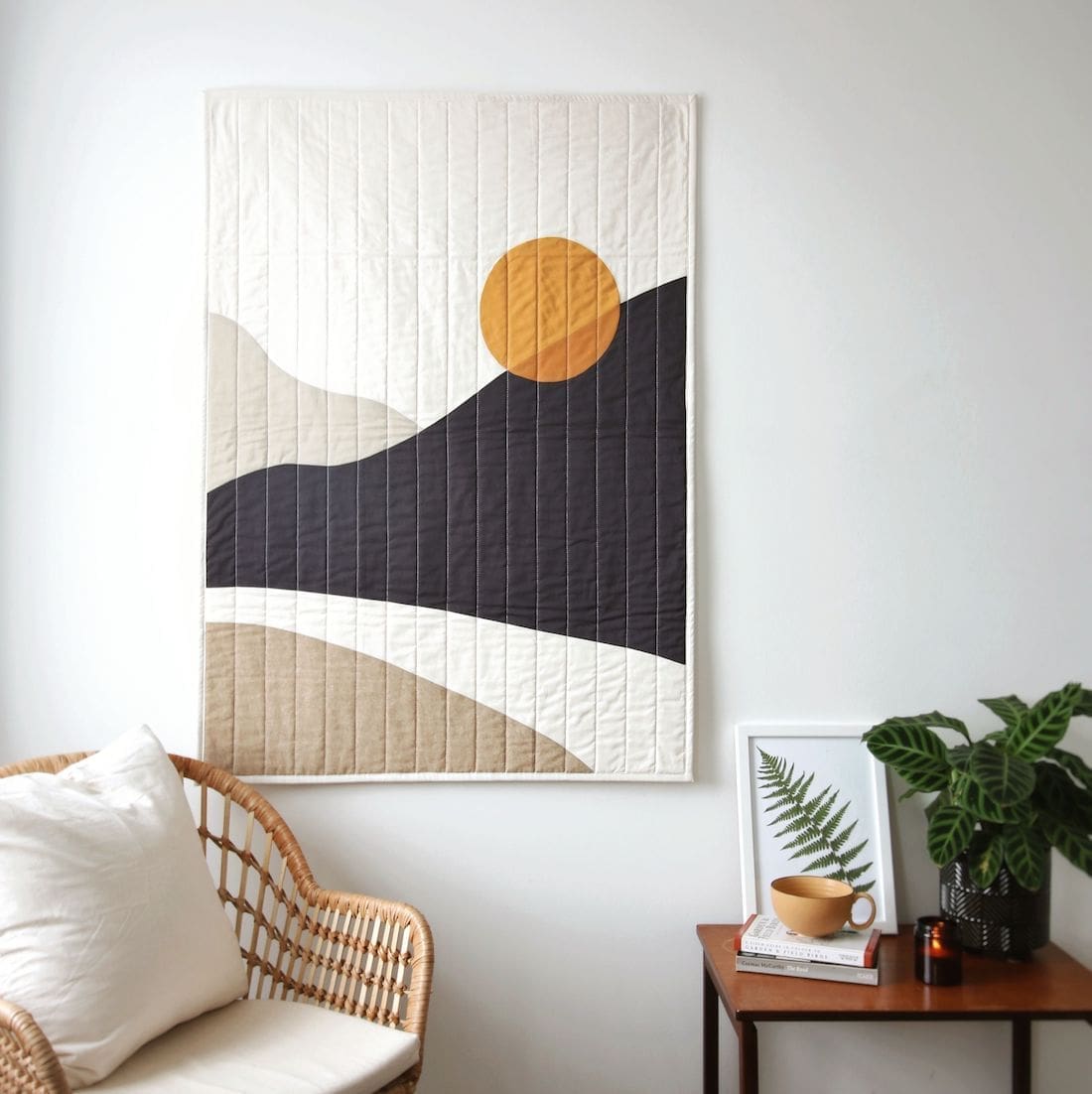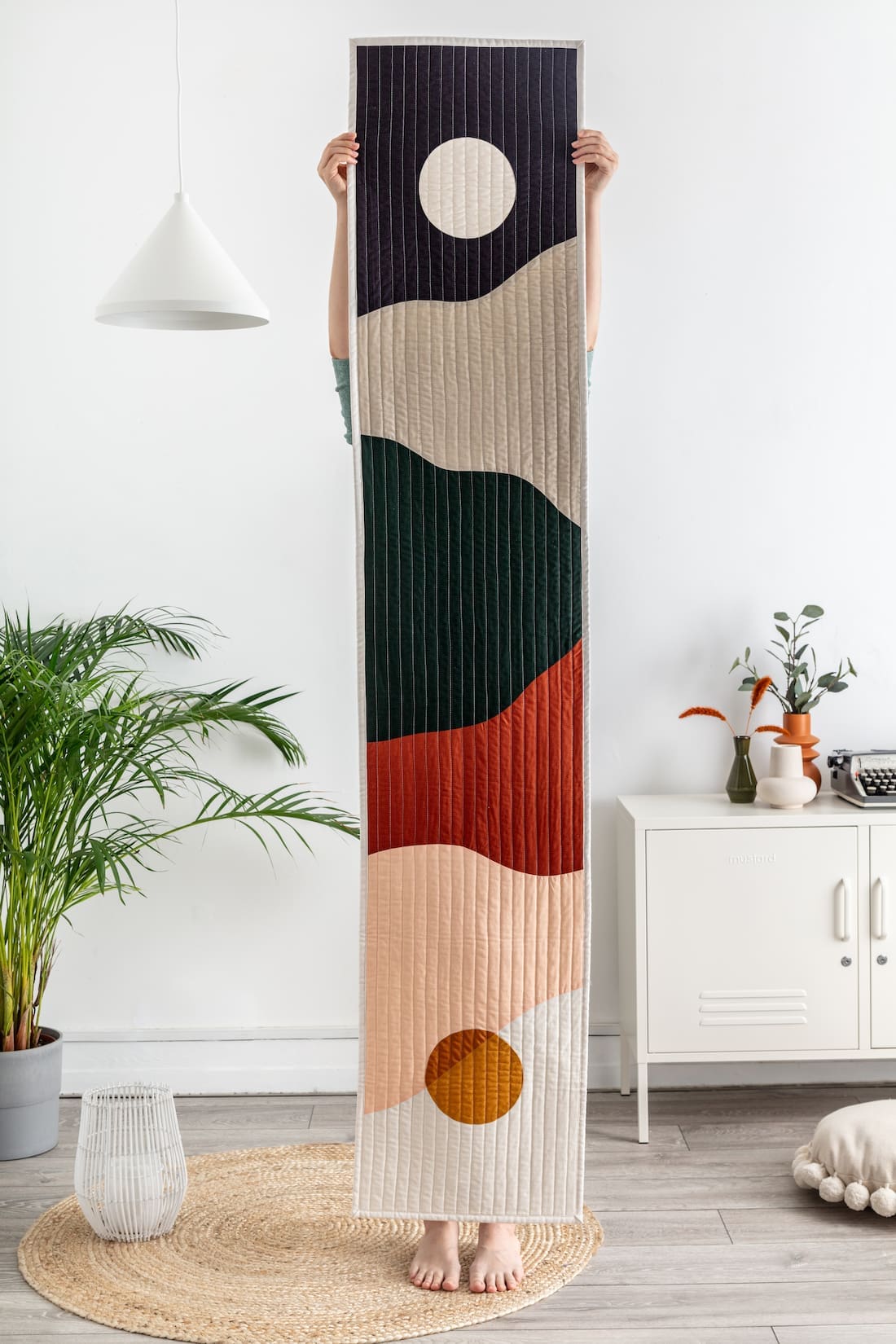 We discovered Kayleigh's work thanks to her recent Etsy Design Awards nomination. It's just the start of what's sure to be a successful career in craft.
"I'm such a bit fan of Etsy as both a customer and a shop owner. It's a real honour to be recognised by the Etsy team who have championed so many other small businesses.
"Another highlight for me was working with an art agency to create 2 large, bespoke quilted wall hangings. I made them for the new AutoCamp Resort in the Catskills Mountains in New York State," says Kayleigh excitedly.
"It felt like the perfect collaboration for me as I love camping and recharging in nature. I can't wait to see my quilts displayed in their beautiful space!
"In terms of what's next for me, I want to keep growing, evolving and taking on new opportunities. I'd also love to do more interior design collaborations and custom designs.
"Working with customers to create unique, meaningful pieces that challenge me creatively is something I truly love. I have a custom enquiry form on my website for anyone who's looking to create something bespoke.
"And then my ultimate dream is to move with my family to the countryside where I can have a beautiful garden studio surrounded by trees and plants. Somewhere that I can escape to… and create!"
Photography — Diana Oliveira
Thank you to Kayleigh for sharing her creative craft with us. Discover more of Kayleigh's stunning creations on the Excell Quilt Co website or in her Etsy store. You can also connect with her on Instagram.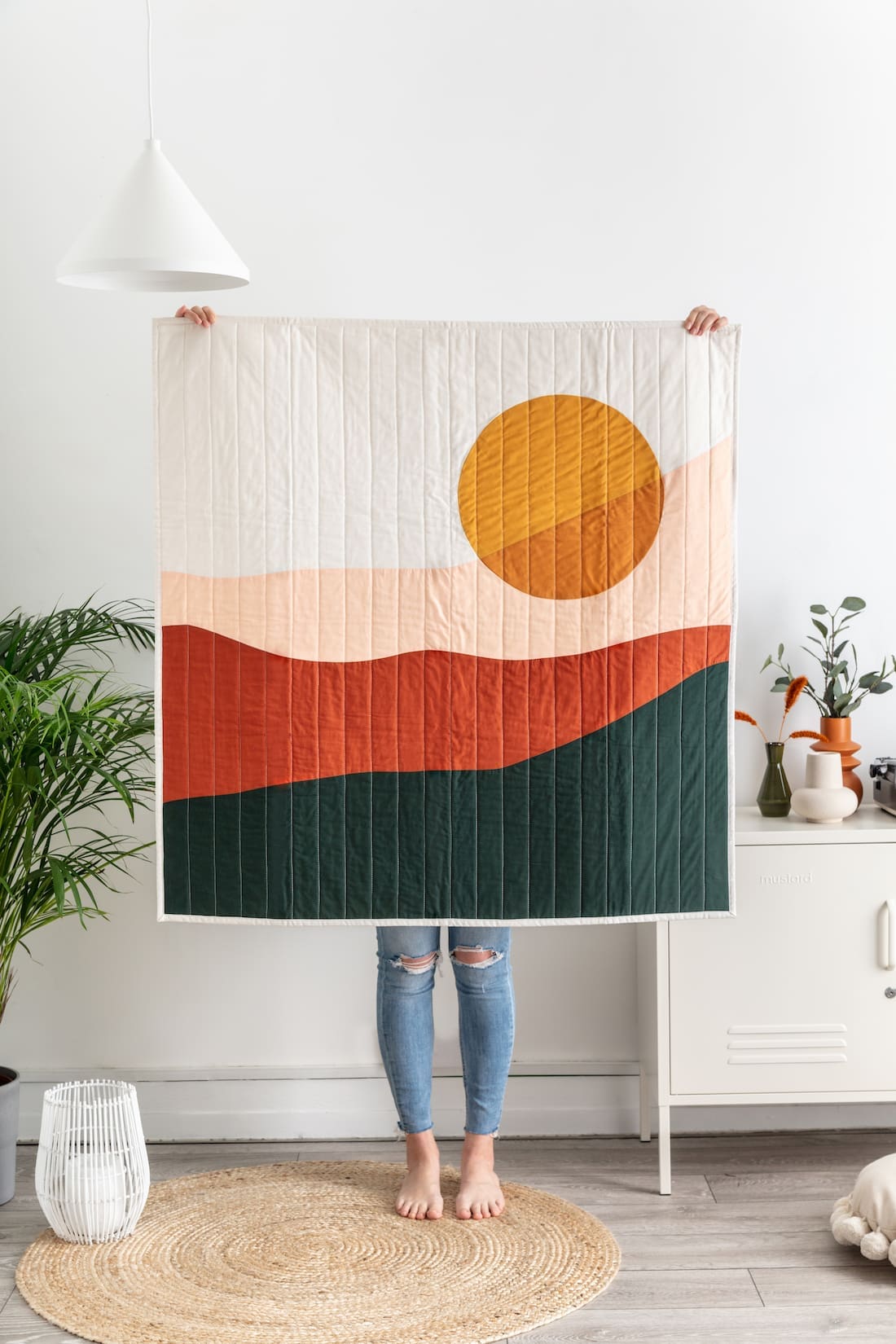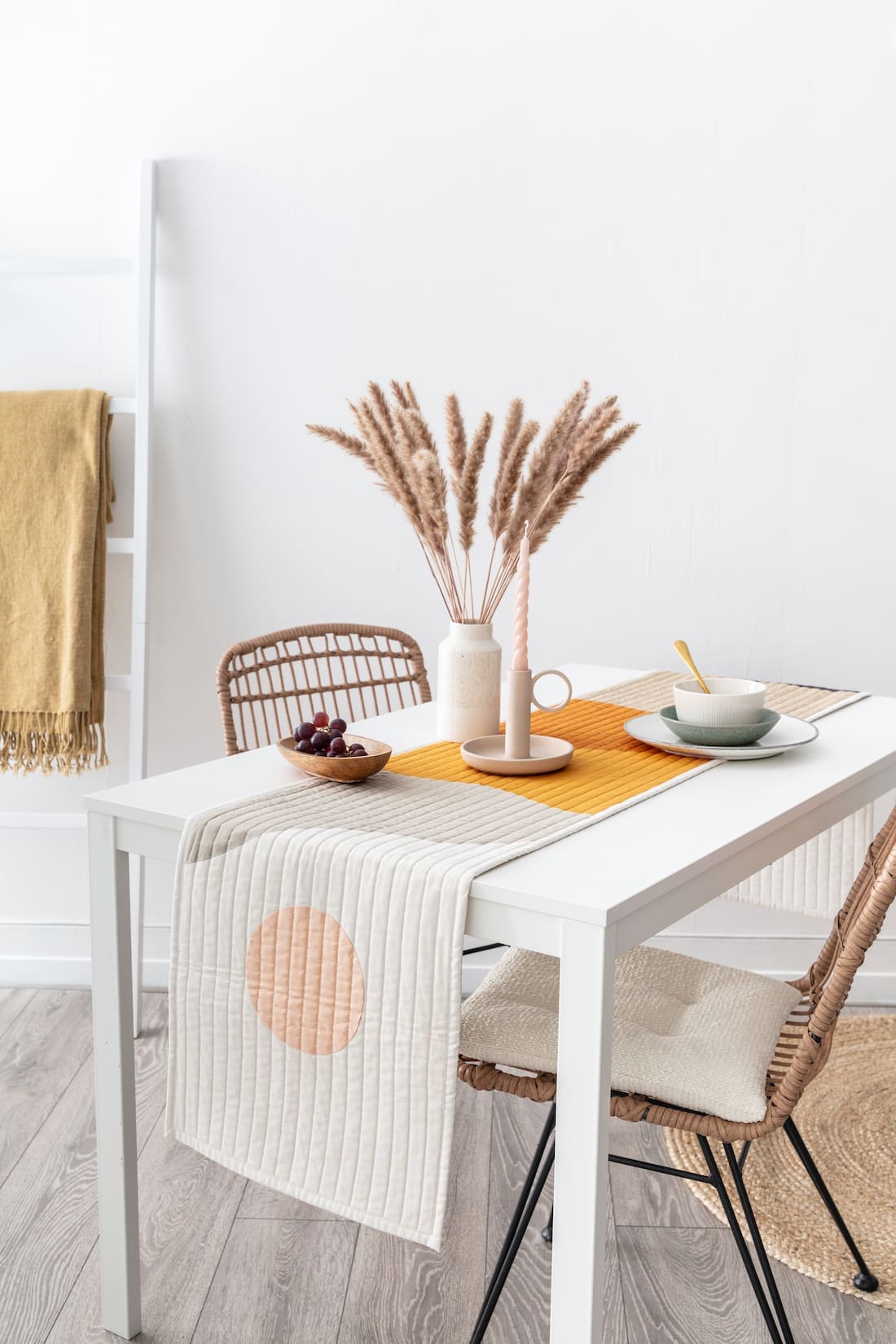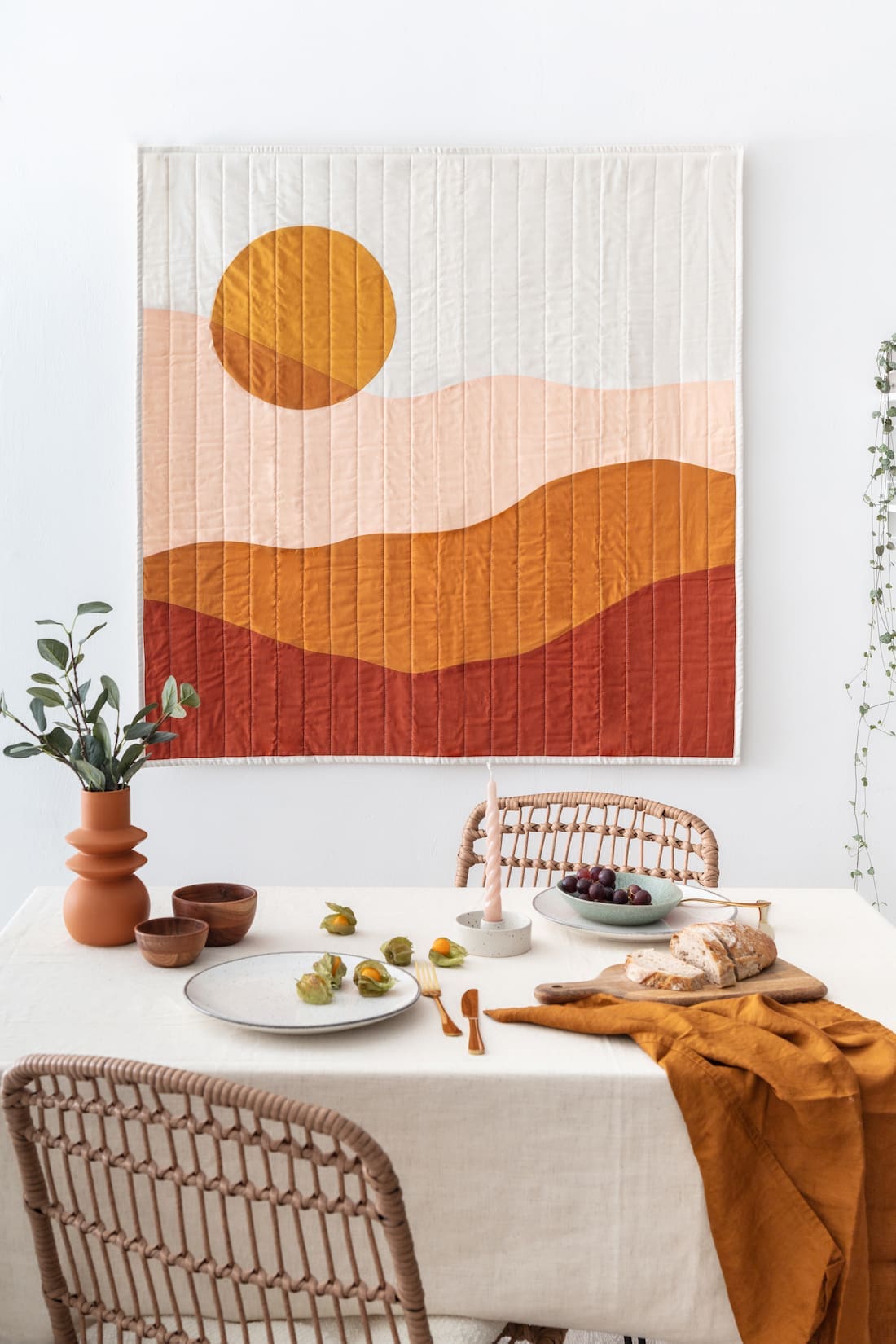 Disclaimer: This post contains some affiliate links. This means that when you click on a link and purchase something from that site, we may make a small commission at no extra cost to you.