Sometimes just a couple of changes can make a big difference when you want to give your home a makeover. Today's tastes often run more toward a contemporary look with lighter colors add straighter lines. You can work with what you have, clear the clutter and add a few accent pieces. Or, you can give your home a total makeover to bring it up to par with sophisticated decorator-inspired homes.
1. When in Doubt, Throw it Out!
No doubt you have heard the mantra "less is more." Bear that in mind when you spruce up your home. One stunning console that makes a strong statement of style is worth a lot of small pieces that create a busy and crowded feeling. Keep it simple as you work toward updating your home for a more contemporary feeling.
2. Incorporate a Pop of Color
If you have a neutral backdrop with a white, black, gray and/or beige color palette, it's time to add a little color to change the mood and update your home. A deep blue sofa is a game-changer for a neutral living room, or you can start small by bringing in a colorful rug and buying throw pillows.
3. Add an Accent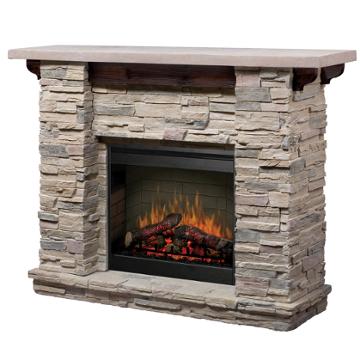 This is your chance to go a little wild, introduce the unexpected and add interest to your room. You can get an accent piece in a totally different style, like an ornate chest in a contemporary room, or choose a stunning electric fireplace, artistic cocktail table or free-standing bar.
4. Go Multi-Purpose
Multi-purpose furniture can give your home a new look by eliminating the need for more items in your home. With smart planning, you can convert your spare room into a home office that still provides space for the occasional overnight guest with a sleeper sofa. Some cocktail tables have a lift-top that serves as a computer table, and others have seating ottomans that stow away neatly when not in use.
5. Get Organized
Buying a buffet for the dining room, a stylish chest for the living room and an armoire for the bedroom can go a long way to keep you organized. You can store table linens and serving pieces out of sight and keep your electronics all in the same place when you get the right storage pieces for your dining room and living room. Extra storage furniture in the bedroom can keep out-of-season clothes out of sight.
The Furniture you Need at Home Living Furniture
When you are ready to give your home a makeover, you can find what you need at Home Living Furniture in Howell, New Jersey. Find a wide selection of name brands at discount prices every day for the living room, dining room, bedroom and home office. Shop online or visit the 40,000 square foot showroom in person to find furniture for every room in the house, along with eye-catching accent pieces.
Home Living Furniture has discount prices every day, along with weekly sales and promo codes for even greater savings. For further information about Home Living Furniture and to shop online, visit homelivingfurniture.com