Bernhardt Living Room Furniture
Our desire to create a refuge where we can work, play and retreat will continue to affect our decorating choices in 2022. Gray is giving way to beige, straight lines are softened with curves and we are increasingly connecting with nature to nourish our spirit.
Here are some design trends to expect in the coming year.
1. Curves are In



Bernhardt Sofa
After years of ultra-contemporary furniture with razor-sharp straight lines, curves are back to add comfort to our lives. Graceful curves started to make their appearance again in 2021, and the trend is continuing into next year. Curves are expected to show up in statement furniture like a Chesterfield sofa, curvy accents and decor items like mirrors.
2. Beige is Back
In recent years, gray was the neutral color of choice. Now the pendulum has swung, and beige is having a moment. It's are easy to transition to a warmer look by adding touches of beige and "greige" to your door for a more updated look. Make sure to pick a beige that is light and neutral like a bone beige if you want to stay with a contemporary look.
3. A Connection with Nature

Ashley Furniture Sofa
Along with a neutral backdrop comes a desire for comforting colors like foliage greens and sky blues that blend well with a peaceful atmosphere. Nature-inspired furniture colors, natural materials and greenery make staying at home for remote work and entertainment more satisfying.
4. An Emphasis on Multifunctional Spaces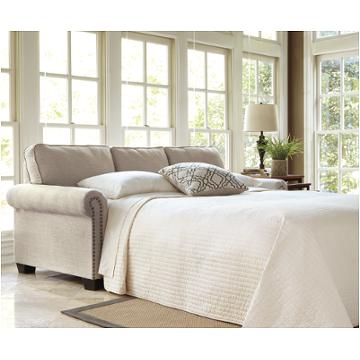 Ashley Furniture Sofa Sleeper
Multifunctional spaces are here to stay in 2022. The pandemic forced many of us to rethink how we use the space in our home and figure out how we can make each room function better to fit our lifestyle. Today there are many options for multifunctional furniture like sleeper sofas that can open up a guest bedroom for use as a home office.
5. Eco-Friendly Materials
Sustainability and eco-friendly materials have gained traction in recent years, especially with younger generations. More and more, people are taking advantage of integrating energy-efficient lighting and temperature control products in their homes. Natural materials like wood, glass, stone and cotton fabrics are expected to be popular this year.
6. Adding a Vintage Look
The coming year will see vintage accent furniture that lasts longer and is mindful of the environment. Besides finding repurposed furniture in flea markets, name-brand manufacturers are now offering more choices for a classic, vintage look.
Multifunctional Furniture at Home Living Furniture
Find a wide selection of furniture for the way we live now at Home Living Furniture in central New Jersey. Home Living Furniture is a one-stop-shop experience for every room in the house, including the home office.
For information about Home Living Furniture weekly sales and promotions and to shop online, visit homelivingfurniture.com.