Craftmaster Farmhouse Furniture
Neutral colors are still popular, but sometimes it's good to break out of the minimalistic mode and go for a pop of color.
Last year's neutral backdrops of gray, black and white are found in many homes. However, we are now noticing more touches of beige creeping into the interior design along with natural colors like sky blue and foliage greens that evoke the natural environment.
The year 2022 promises to bring in calming green tones like Benjamin Moore's October Mist to get us through Covid restrictions, paired with exuberant happy colors like Pantone's Color of the Year Very Peri as we look ahead to the end of the pandemic.
Interior decorators know that it is important to understand complementary colors, whether you are adding just a touch to a neutral room or if you are incorporating trendy blues and greens into your home decor in a serious way. Pantone offers suggestions for color harmonies with collections of complementary color palettes that enhance this year's new color look.
A Balance of Warm and Cool Tones with Balancing Act
Pantone's Balancing Act is a palette of complementary colors that balance warm and cool hues to enhance the look. Look for subdued lilac, pink, orange, yellow, rose and elderberry to pair with Very Peri and Granite Green. As we strive to find balance in our lives, adding color can bring a welcome feeling to our homes as they remain a calming oasis to make our home a haven.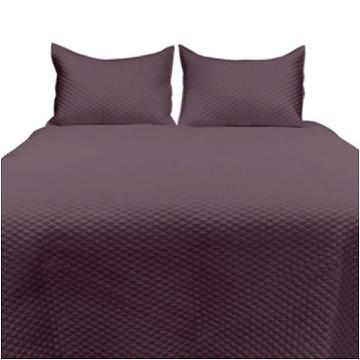 Ashley Furniture Plum Quilt Set
It's easy to add a more vibrant color to a room by using a more subdued shade on the walls and furniture and incorporating livelier hues in bedding like linens and comforters.
The Nature-Inspired Wellspring Color Palette
Ashley Furniture Blue Comforter
For a more infused color palette, look at the Wellspring collection of nature-inspired shades. Medium green Greenbriar, yellow-green Foliage and dark Treetop green are suggested to offset Very Peri Periwinkle blue. Deep yellow, mustard, Dewberry purple and light Eggshell Blue are included to complement Very Peri. The emphasis is on nourishing natural tones of greens, blues and others to bring the outside in and invoke health-giving properties that to help us through challenging times.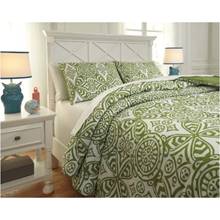 Ashley Furniture Green Comforter
Discount Home Living Furniture Name Brand Collections
Now you can find a wide selection of discount name brands, accent furniture and bedding displaying the latest trends at Home Living Furniture in Howell, New Jersey. Shop online or visit the 40,000 square foot showroom to see the furniture for every room in the house. For further information about Home Living Furniture and to shop online, visit homelivingfurniture.com
Find discount prices every day, along with weekly sales and promo codes for even greater savings.